Why all brands need a Passbook strategy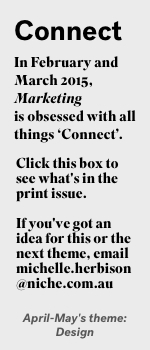 Apple's Passbook is the newest, most simple way to streamline customer connection and grow loyalty, writes Rob Marston of Zeus Unwired. With ApplePay all set to launch, explosive growth is coming.
Now is the time to get your Pass on. Take it from a self-confessed tech addict, the next shift in mobile marketing technology is a game-changer. It will drive the future of direct marketing and m-commerce. I'm talking about Passbook on iPhone and its soon-to-be pocket-pal ApplePay, which, when combined, will be the single biggest driver of m-commerce globally.
Brands need a Passbook strategy now, to both capitalise on an untapped market of consumers and, importantly, to be on the forward foot for m-commerce in this country.
Passbook Schmassbook. What is it anyway?
I'm glad you asked. Passbook is just a little app that now exists on every iPhone and is native to iOS7. It's also downloadable as an app for Android. The unassuming icon does little to give away its brilliant future.
It works like an App, but is more affordable and easier to maintain. It puts brands into one location on a phone. Users find it easy, convenient, consistent, intuitive, which is why they're jumping on board in droves. Brands, unfortunately are lagging.
ApplePay will sit on this page in Passbook, alongside the passes window: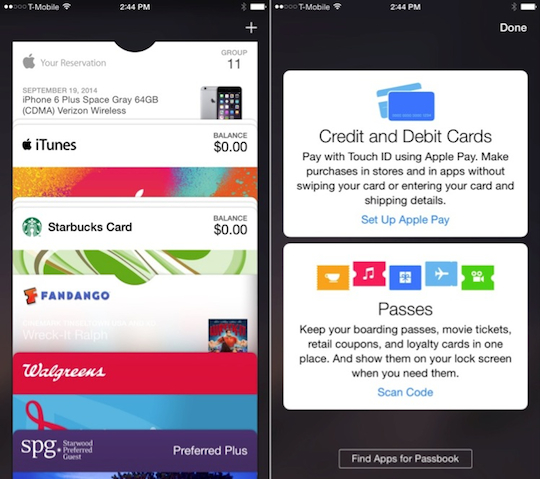 So who's already on board?
The big pioneers are major airlines and ticketing brands. Their users check into flights via Passbook and store event tickets on it. These brands already understand its value, usability and growth potential, as well as how to best leverage its simplicity and ubiquity.
I might leave my tickets at home but never my mobile…
Exactly. But imagine using it not just for ticketing, but to order and pay for a morning coffee; to check for city parking before circling the five floors; to get discounts when approaching a favourite store or cafe. Imagine buying merchandise by mobile and never queuing after a gig again. Or receiving free gym access at your hotel after passing through the lobby.
Imagine using your phone as a wallet. Passbook will do this.
The hold-up to date is that conservative voice in many marketers' heads: when will users reach a critical mass? When is it worth the spend?
Take advice from Keithe Weed, CMO of Unilever and a massive mobile advocate, when he says: "Don't try and catch up with where your consumers are – be where they are going to be and welcome them".
When this thing goes bananas in 2015, your brand should already be there, and be ready for m-commerce when the time is right.
Give me something I can use to convince the team.
No problem. These are the three key reasons why brands need to act:
An untapped market of users already there,
affordability, comparatively to app development, and
a smooth quick-step into the future of m-commerce.
1. Your untapped market of users
For consumers it's a no-brainer – they see all the brand promotions that they've opted in to, in one place. It's simple, manageable and perfectly understandable every time.
What other channel has customers literally sitting on a device totally enabled to receive communication from brands they like? And what other channel has users already seeing its value in their lives?
We know there will be more users every day. We know there will be a huge jump after ApplePay. We know this is a different market, they are m-commerce savvy, they are ready to receive.
Having your brand there first means market share, and customer loyalty.
2. It fits the budget
80% of what brands want to do with apps can be done with Passbook, for a fraction of the price, meaning Passbook has the potential to make mobile marketing accessible to all brands, even as small as a local cafe.
Brands piggyback on the operating system (iOS), which handles all tech development and system maintenance. Brands design a Passbook 'pass' that customers download via eDM, social, SMS or scan directly in-store using the inbuilt QR code scanner in Passbook. Once the pass is added to Passbook, brands can communicate directly with their consumer, sending offers, updates and information based on time, activity or location. Brand messages appear on the phone's lock screen just like an SMS, meaning immediate recognition and, importantly, higher open rates.
3. Be there for the break
When CEOs got their first iPhones, didn't they ask: "Where's our app?" The question this year will be, "Can our customers buy on mobile?".
ApplePay will share Passbook's page, meaning just one click from marketing campaign to spend. All tracked. This is the seamless connection between consumer, campaign and purchase that we've been waiting for.
Can we see some stats? (My business likes stats. A lot.)
When ApplePay launched in the US in October, in the first 72 hours it had more users than all the other contactless mobile payments providers combined. Four months on, Tim Cook has confirmed it is already accounting for two in every three dollars spent via contactless payments. This is BIG.
Passbook with ApplePay together will provide unparalleled consumer tracking visibility and ROI. Capturing data from who added the pass (age, gender, friends etc.) to what highly targeted offers they received, activated and how much they spent on the credit card linked to their ApplePay account.
Roger that. What should a strategy look like?
A good strategy will be a simple, effective plan to engage with the iPhone audience (and Android users via apps like Pass2U or Passwallet). It will work with or in place of an app, depending on marketing budget and required reach.
It will be about smart activations, good messaging, excellent intuitive thinking and highly targeted.
How are the other players doing it?
One early adopter Passbook brand is Dan Murphy's. It uses Passbook to empower passholders to be the first to know about promotions – simple and effective. Cleverly, Dan's drives user growth via social media and uses the Passbook platform to motivate sales via targeted offers. Simple and effective.
Push notifications looked like this on the lock screen from the recent Dan Murphys Passbook promotion: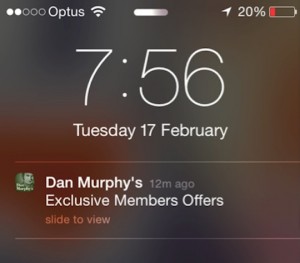 You said simple and effective twice.
I know, that's the key. Another example is Virgin who isn't using Passbook to drive customer or sales growth, but to simplify and speed up its customer experience by reminding passengers on flight details and any travel related offers such as Hotels, Care Hire and travel insurance. Similarly, many ticketing brands including Eventbrite and Moshtix are using it to communicate with customers in real-time.
Who else will emerge as a leader in Passbook?
The opportunity is still there to own this space. Given the low cost of entry, any brand can be a pioneer. So replace the old question, "How many people are on it?" to a smarter question relevant to emerging marketing channels, "How many consumers can I reach and keep if I dominate this channel early?"
Watch this space to see who takes the lead. Will it be you?
Top 5 practicalities about Passbook for campaigns:
Low cost campaign development and tech spend,
native to iPhone, its in consumers' pockets,
high visibility messages from brand to consumer – push notifications appear on locked phone screens along with text messages, instantaneously, with a 90% open rate,
versatility – campaign activity can be triggered by location, time, beacon etc.,
agility – campaign changes and updates are in real time, and
trackable and quantifiable results every step of the way, from activation to spend.