The future for socially conscious grocery shoppers?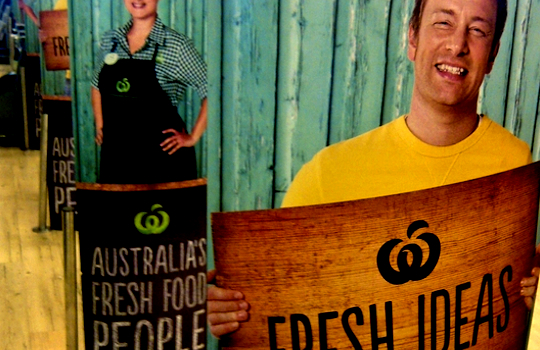 Adam Joseph writes that ecommerce grocery players are missing an opportunity to tap into values beyond convenience, making the case for a grocery scoring system that helps consumers navigate price, provenance, ethics, health and sustainability.
The new 'click and collect' deal struck between Ebay and Woolworths, allowing online shoppers to collect their Ebay purchases at supermarkets, underscores the grocery retailer's appreciation for convenient web based retail on one hand, and their desire to draw customers to bricks and mortar sites on the other.
It's a logical partnership between the companies. Ebay shoppers who cannot access one of 6990 Australia Post outlets during business hours (or who prefer not to receive Ebay parcels whilst at work) can choose the convenience of collection after hours at their local Woolworths.
While it remains to be seen how Australia Post's 'e-services' Strategic Business Unit will respond to this significant challenge to its market share of parcel delivery, it's a development that's sure to generate thought amongst those interested in retail sector concentration, those keen to see grocery retailers become more responsive to modern consumer trends, and business planners who follow trends in personalised electronic marketing.
Many see the growing competition in online grocery ordering and delivery by supermarkets as ultimately not in the best interests of the retailers themselves, but rather something they're doing in response to external factors.  By enticing consumers to the physical stores (and by placing popular staples far from the check-out), shoppers make additional impulse purchases.  It makes sense, therefore, that Woolworths isn't offering to add Ebay parcels to home delivery services (and why the grocery delivery services aren't made too convenient).
Yet the growth of home delivery services, partly in response to online grocery services like Aussie Farmers Direct, demonstrates major supermarket chains are alive to consumer demand for web based shopping and home delivery.
Given this, it's perplexing that grocery retailers haven't extended their thinking beyond satisfying time poor consumers with web based delivery convenience.  In major capital cities at least it's worth considering what a time poor, socially conscious consumer, on a high income, would pay to 'feel good' about their shopping.
Traditionally, grocery shoppers have been influenced by a set of factors, including (but not limited to):
Value for money/cost per unit,
taste (flavour) preference,
nostalgia (or simply familiarity/habit),
trust/product safety,
heightened brand awareness through exposure to advertising, and
convenience.
In 2015 there is heightened interest in additional social motivators of grocery shopper choices. These include (in no special order):
Ethical treatment of animals [1],
fair treatment of suppliers [2],
sustainability [3],
health and nutrition [4], and
provenance [5].
Despite this, it remains a practical impossibility for the average consumer to spend a full day comparing one basket of groceries to another depending on this bewildering set of factors, especially in light of confusing labelling, misleading descriptors and conjecture over accuracy of claims by manufacturers.
Yet the rise of e-retailing offers a potential solution.
It's possible for a leading Australian supermarket to audit their top 10,000 consumer brands according to social consumer motivating factors, and present this information to online shoppers with the option of 'filtering' their online basket of goods.
For example, a low-income shopper might place a higher value on price of a dozen cage eggs than on the ethics of sourcing more expensive (and higher margin) free range product.   Yet, empirical research points to growing consumer interest in things like ethical treatment of animals.
A web based grocery shopping service can be built to allow consumers to select brands that are 'filtered' by socially conscious shopping factors, as rated by recognised experts in various fields.
The average shopper would not know which of the major five supermarket chains stocks stocks iconic brand Golden Circle tinned pineapples (IGA), what country currently supplies its ingredients (Indonesia), or how this item compares in price to 'home brand' tinned pineapples (like Woolworths home brand – Australian Made). Typically, shoppers keen to find local food either spend an eternity reading FMCG labels in supermarkets, buy from the delivery service Aussie Farmers Direct, or shop at an Australian Farmers Market Association outlet.
In the internet age, this need not be extent of Australian grocery consumer choice.  That said, allowing for such online filtering by socially minded consumers is by no means easily achieved.
First, any major supermarket attempting this new channel would have to consider the opportunity cost of losing in-store impulse buyers, against the potential to drive impulse sales through pop up advertising.
While identifying comparable product prices online (and price per unit) is a straightforward matter, it would be necessary to have recognized experts provide a score for other factors.  Settling on agreed sources of 'authority' would be contentious, and the challenging assertions made by 'experts' about consumer brands might rule the whole exercise impossible.   Just consider these potential experts per influencing factor:
Consumer choice influencing factor – Potential sources of authority
Ethical treatment of animals – Animals Australia
Fair treatment of suppliers – Fair Trade, NFF, ACCC
Sustainability – Australian Conservation Foundation, WWF, National Packaging Covenant, Visy
Health and nutrition – Australian Medical Association, Heart Foundation, Food Standards Australia & NZ (FSANZ)
Provenance – Australian Made And Grown Campaign
Balancing this, any SKU ratings system (to rate ethics, sustainability, price, health, provenance and supplier treatment) would only work in practice if ratings were made on standard, objective measures, which were consistently applied.
After years of debate around nutrition standards and country of origin definitions, Australia edges closer, albeit slowly, to a shared understanding around these motivating factors.
Of course, the organisers of this web-based shopping and home delivery service would (and should) also be open to defences put by manufacturers, growers, Choice, AFGC and others representing food manufacturing and production if this system is to be fair and reasonable.
The failure of the 'Grocery Watch' website proves this is a job for the private sector, not for government.
Despite all the difficulties involved, one outcome looks likely.  In the absence of a major supermarket delivering a web based service for socially minded shoppers, the vacuum will be filled by an external entrant in the Australian grocery market doing this, potentially collecting groceries from existing supermarkets and avoiding significant infrastructure cost.
If the success of distressed inventory sites operating in the tourism market (such as Trivago, Bookings, Wotif et al) is any guide, this is potentially an extremely lucrative business model that also empowers individual consumers and encourages continuous improvement in price competition and corporate social responsibility.
Footnotes:
[1] Including hormone free or grass fed beef, sow stall free pork, free range chicken and eggs, and sympathetic slaughter practices.
[2] See research conducted by Paul Bourke et al, published in the European Journal of Marketing (cited in 'Not buying into it: ethical product scrutiny' (by Esther Han, Sun-Herald newspaper, 8 February 2015).
[3] In recent years there has been heightened attention brought to confectionery that contains palm oil produced by cutting down rainforest
[4] The Blewett Review into food labelling has attempted to achieve a universally agreed ratings system to measure health indicators.
[5] Including local sourcing, local manufacturing, and local ownership of company.  2013 research by the Australian Made And Grown Campaign identified that a majority of Australians say they would be prepared to pay extra for locally grown and manufactured food.  At the same time there is doubt around the authenticity of provenance claims made by manufacturers.