Why is trust in brands and institutions declining? Experts weigh in
Why is trust in brands and institutions declining and what role can marketers play to turn the tides? Our brain trust of three marketing experts discusses.
This article originally appeared in The Trust Issue, our June/July 2018 issue of Marketing magazine.
Jemma Wong, head of audience growth, AFL
The battle for trust is ongoing and I doubt it's a new one.
The natural response is to say, 'emotive branded content will solve this!' But marketers should avoid the trap of using 'authentic branding' as a gateway to building trusting and meaningful connections. Trust is about reliability, experience and quality, which ultimately transfers to value. And we should know the difference.
The ones that know how to champion the needs of their audience and their people, talk about it with their board, pitch it to their executive and influence the decision makers to meet needs rather than sell dreams, will jump ahead.
Great examples of this: Zappos does a brilliant job at going above and beyond for people and creating genuine relationships. Netflix has invested significant dollars into its platform and recommendation algorithm to not only serve, but anticipate the needs of its customers through a hyper-personalised experience. To some, trust implies tight brand controls. But I prefer to think about it as opening the whole thing up. Because the community holds the power now.
The smart ones, like LEGO, will tap into that community to crowdsource development or, even better, not sell to that community, but enable people within it to sell and talk to one another. In the process, you'll learn more about their needs, patterns and perceptions than you would behind a desk. That's where the real value lies.
My challenge to marketers is to question your motivation behind trust. Is it about sentiment box-ticking, customer referrals and preference? Or is it about purposeful impact? Because I guarantee that trust is not earned within the short-term. It requires authenticity, intent and consistent action. The best examples of this are when companies develop this trust culture first internally.
In times of uncertainty, be the stamp of reliability, integrity and innovation for your category or industry at large, not just your product. Look at what regulatory role you may need to play to protect data, maintain balance or ensure progress. With voice, AI, frictionless payments and disruption in search, there is so much we can do to ease transitions.
Work through your motivations and ensure trust is a shared and owned belief system, and ensure everything stacks up to a higher-order company purpose that contributes to people and the world. Get your service, experience and quality right, be consistent, be prepared to hand over the keys to your community and invest in the right people to deliver a trusting culture and therefore a trusted customer culture.
Matt Zilli, chief customer officer, Marketo
The breakdown stems from all different places, but I think the biggest one comes from the fact that we're still in a world that's evolving radically, and you don't always see the impacts. Take the most recent news about some of the biggest companies and their data challenges. In some cases they weren't trying to do anything bad, they just didn't keep up with how good they had to be at protecting data.
But consumers don't really care – it's 'I trusted you and you broke that trust'. That's all it comes down to.
Because of the quantity of data and all the things that are happening, a real bright spotlight is shining on this issue right now, and I think the rules for the best companies have remained the same irrespective of this. The rules have always been: be transparent around what you're doing and use what data you have to provide value, not to torment people, blast them or annoy them to death. And that's where marketing makes most of the decisions around how that data turns into something effective for the customer.
Marketers play an enormous role in that and – if they choose to abuse it, or try to play a volume game where they don't really care about what they leave in their wake in terms of customers but care a lot more about just getting that next customer – they'll do whatever it takes. That will destroy trust between a brand and a consumer these days. On the other hand, marketers that have really taken advantage of it, stick to it, are transparent about what they're trying to do, and use data to provide value? I firmly believe that's what customers and consumers want, regardless, and it's only when that breaks down that they really get upset.
Mike Harley, managing director XPotential ANZ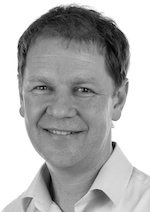 It's declining because of two factors.
One: there is a general move to question large organisations, governments and other institutions more broadly – not just brands – over the last 10 to 20 years.
The other is the transparency that's now available. Any behaviour that an organisation has – large or small – is so much more readily visible to the community, more than ever before.
You essentially have a community that's sitting out there that is able to understand right or wrong and interpret companies' behaviour. 25 years ago it never used to happen. It was so easy to cover things up. You can't do that anymore. Social and digital media enables that.
The role of challenger brands has changed a lot. If you look at where a lot of the growth is actually coming from in most markets, it is coming from smaller players coming in and disrupting the market. In that disruption they are also challenging the status quo and the trust of larger brands.
Marketers can help – internally, to actually act in a way that builds trust as an organisation at all touch points with your community. From a marketing point of view, first, help people within the organisation – whether that's leaders or people on the factory floor or wherever else – understand the role they play in building or enhancing the reputation and trust of a business.
If it's not developed and aligned internally, it doesn't matter what you do externally with your communications. People won't believe you. The more you talk about the positive things, when people experience something different when they actually deal with you, the less trust you're going to build.
Internally marketers have a much bigger role to play.
* * * * *
To purchase a copy of the latest issue, or a subscription to Marketing magazine, visit the online shop »
* * * * *
 Image copyright: andreypopov / 123RF Stock Photo