Ajax helps users spray'n'wipe away unwanted social media spam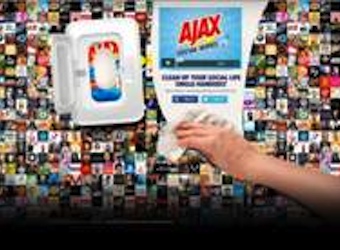 A nifty new digital initiative created by cleaning brand Ajax enables Facebook and Twitter users to spray'n'wipe away unwanted spam on their social media channels.
Developed by GPY&R Australia, the application, called, 'Ajax Social Wipes' helps 'wipe away' 'Likes' and 'Follows' that people no longer use or want on their page.
After users log in to their Facebook or Twitter profile via the campaign microsite, a list of Facebook pages they have previously 'Liked' or Twitter users they follow is displayed. Users then have the ability to conveniently access these interests/users in one place, and unlike or unfollow them as they choose with a single click.
Irene Gidarokostas, Ajax senior brand manager, explains, "Each day, millions of users are bombarded with social noise and clutter as a result of their past 'likes'. This application is a fun and clever way of saying goodbye to unwanted updates on your newsfeed."
"The application is an imaginative tool designed to clean up social news feeds single-handedly. A simple way to communicate how Ajax multi-purpose wipes can cut through old dirt and stains with ease."