Brands that don't harness 'New Media' will be left behind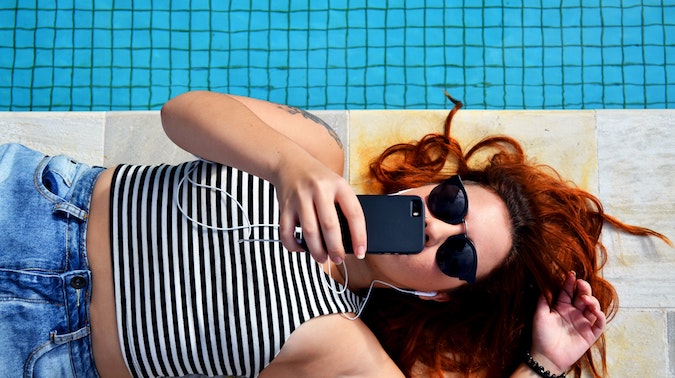 The founder of fashion tech app Mys Tyler, Sarah Neill, calls on two other incredible Australian female founders to share what they think are the next big trends to be aware of when it comes to New Media. From micro moments to micro influencers – what's next?
In adland, 'cutting through the clutter' takes centre place. But how it's achieved is increasingly shifting from content to context. Misunderstanding the various environments within which your brand appears can take your clever line from spot on to cringe worthy… or worse. And that's if you even know about all the places that your brand can appear. 'New Media' is a term that captures the evolving landscape of what space you can meet your customers on to create a dialogue. It could be a result of new technology and devices, a repurposing of existing spaces and channels, tapping into new platforms like Tik Tok, or even, creating your own.
The media landscape used to be easier to navigate. Which TV show will resonate with my target market? What magazine are they reading? Who are they listening to on the radio? Back then, developing a brand name that started with an A (or AA, or AAAA) could put you at a huge advantage, when you were being found in the analog version of the yellow pages. Now there is so much media, it's really hard to know about all the places you could be playing, let alone understanding the complex algorithms that run them. These days, it feels like you need to be a data scientist to run an effective Facebook campaign.
But just as being called Aardvark Adventures was a 'growth hack' back in the day, so now is New Media. Understanding where conversations are taking place, and how to intercept them in a non-disruptive way, is key. I chatted with a couple of other Aussie tech founders to find out what we think are the trends to keep an eye on.
Teresa Aprile, Co-founder and CEO of Brandcrush
Experiential & partnership marketing: With mass events and public gatherings off the table for months to come, we will continue to see a rise in local community events and hyper-targeted micro activations. These experiences offer powerful opportunities for brands to meet consumers where they live, (and now) work and play, building values-driven relationships by integrating with the support-local movement. Brands should be looking to target activations at a community level and connect with consumers through their trusted local businesses, which offer valuable customer reach and local influence. As well as localised in-person experiences, we will also see continued growth in in-home experiences driven by direct-to-consumer businesses including retailers and home delivery services. These businesses offer a valuable channel for brands to surprise and delight customers with free samples and special offers, all from the comfort of their own homes. These New Media channels will continue to grow in importance as COVID-19 renders more traditional mass experiential and event marketing on hold, and will likely continue to dominate long after thanks to their high share of voice and intimately effective customer engagement.
Hannon Commazetto, CEO and Founder of AirRobe
Micro-Moments: As we move further into the age of on-demand everything, it's critical to be there for your customers at the exact moment they need you. Micro-moment marketing is about being able to answer the questions for your customers in their moments of intent: 'I want-to-know…', 'I want-to-do…' and 'I want-to-buy…' If you can field these demands conveniently, your customers will act with conviction.

Purpose-Driven Marketing: Purpose is now taking the stage as the heart of marketing and a key factor in galvanizing long-term loyal customer relationships. According to a survey by Deloitte, 91 percent of millennials prefer to buy from companies associated with a social cause and purpose-driven-companies grow three-time faster than competitors. Consumers are more aware than ever that companies have the power to drive impact and they will gravitate towards companies with purposes they align to.

Success in this arena is about building purpose into the customer experience in an authentic and organic way. Start by finding purpose-driven value-adds that resonate with your community and look at ways to build these directly into your offering. A prime example is Patagonia's Worn Wear program which gives customers a store credit for trading in their past purchases which are then refurbished and resold. The magic of purpose-driven marketing is that over time your customers will champion your brand and become your voice.
Sarah Neill, CEO and Founder of Mys Tyler
And now for my hot tips:
Micro Influencers: Consumer preferences have shifted from influencers with the biggest audience (macro influencers) to influencers with a smaller following (micro influencers) that are seen as more relatable and authentic. It's become less about who everyone else is following and more about who is relevant to you! While the image we conjure when we think of an influencer may not represent the general population, micro-influencers who come in all different ages, sizes, ethnicities and have different perspectives, values, budgets and styles. For brands, this is critical, because while macro influencers have reach; micro influencers have higher engagement and the relationship elevates from (often inaccessible) inspiration, to something more actionable.

Performance Marketing – Digital media made marketing dollars accountable. Now that marketing channels have a measurable 'Cost of Acquiring a Customer' (CAC) it is really hard for any channel that can't prove its ROI. Affiliate marketing is one of the fastest growing marketing channels, expected to exceed $US8B by 2022. It's powerful because it allows online content creators to monetise their reach via recommendations. By partnering with brands, it can drive traffic to sites it recommends and, in return, earn an agreed upon commission. For brands, this means they are only paying out if a sale comes in, and, by setting the price, it can ensure it's at or below their blended CAC. It's a no-brainer for marketers. Affiliate platforms like Commission Factory or AWIN makes tracking, attribution, reporting and payments more scalable, allowing brands to work with hundreds of partners in a simple way. Affiliate marketing used to have a negative stigma, but now is the time to take another look at this powerful marketing tool.
Marketing will continue to evolve, consumer preferences will change and new platforms will emerge. What's critical as a marketer is to allocate time and budget to continually experiment with and explore New Media. Having a diversity of ages and interests in your team or network also helps a lot. However you do it, make sure you understand the audience, and their expectations, so that when you do play in their space (when you find it), you don't miss the mark.
Sarah Neill is the CEO and Founder of Mys Tyler.
Photo by Bruno Gomiero on Unsplash.