Breakthrough: How GE is championing content globally
GE has enlisted Ron Howard and Brian Grazer to help make science documentaries more entertaining for the company's latest content project: a global documentary series.
GE is no stranger to branded content. In recent years, the infrastructure company has created a suite of content projects; the content marketing platform GE Reports, a science fiction podcast The Message, and a segment on The Tonight Show with Jimmy Fallon called 'Fallonventions'. For its latest project, GE has partnered with some of Hollywood's finest to create an engaging documentary series called Breakthrough.
For Breakthrough, GE enlisted Imagine Entertainment and National Geographic to help take content to a new level with a global release and an ambition to make science programming accessible and entertaining. The series, which is directed by Ron Howard and Brian Grazer, among others, explores a range of scientific breakthroughs and examines how these innovations are changing the world.
Danielle Long spoke to Emma Rugge-Price, vice president – brand, marketing and communications for GE Australia, New Zealand & PNG, about Breakthrough and how it fits with the company's global and local marketing plans.
Marketing: Breakthrough is an ambitious and remarkable branded entertainment project, how did it come about?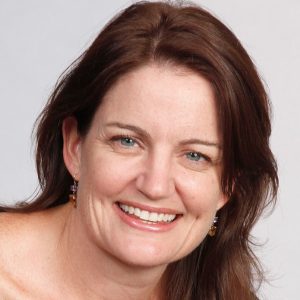 Emma Rugge-Price: Breakthrough is what happens when Beth Comstock, GE's Vice Chair and Chief Marketing Officer, meets Brian Grazer from Imagine Entertainment. The two got talking about creativity, ideas and innovation and the outcome was the idea to co-produce this series. It's a bit of a personal commitment from Beth to do something different in content and take it to a new level.
M: What is GE hoping to achieve with Breakthrough?
ER-P: The aim of the project is to celebrate science and technology while showcasing the innovations GE is working on a day-to-day basis and examine how these are changing the world. The program explores challenges that impact your everyday life such as the brain, and the role of robotics in ageing. It also explores how we are solving problems such as the global issues of water and how we are fighting pandemics such as the Ebola virus.
The objective is to create an entertainment program, which explores those issues in an entertaining and compelling way. I think science can often be presented in a less than compelling way and countering this was a big goal behind Breakthrough.
M: So, as a project Breakthrough aims to educate and inspire people?
ER-P: Yes, absolutely. It's all about celebrating science. Beth was the champion of GE's Open Innovations strategy, which was all about looking for new and innovative ways of doing things and creating collaborations. We ran a number of Open Innovations sessions looking for new technologies and different manufacturing, and this project is another example of this strategy.
I think what is really unique about Breakthrough is that we actually produced it. This isn't a partnership of client / publisher or a client / producer, this is something that GE has created working with production companies and National Geographic.
It is unique and that's probably because of our background in media. Beth set up [online TV platform] Hulu when GE owned NBC and she has a strong background in entertainment and content, so Breakthrough is a natural fit for her and for GE's content strategy.
I think you have to try new things. I'm a big believer that you can't just go out and say "we're innovative", you have to really be innovative and I think Breakthrough is a great example of that. It's a big play obviously, but GE has taken on a part of the risk, we're not just a brand name behind it, we created it so it's an investment.
M: Content has played a significant role in GE's marketing over recent years – what is the strategy behind this?
ER-P: Our content marketing strategy came into play in 2013 when we shifted from the interruption of advertising to the interaction and integration of publishing and content. This change in strategy was driven by a couple of dynamics. One was the globalisation of GE, and our desire to build the brand across a number of global markets. We wanted a singular strategy that would work in lots of different markets. So, we created a global content marketing strategy and we implemented it at the local market level with local media partners. Since then we have continued to push the strategy through the creation of new content and digital distribution.
Q: How significant is content for engaging audiences for GE in Australia and New Zealand?
ER-P: I think it is critical. Creating relevant, engaging, quality content is critical to the communications function and strategy. This is especially true for a company like GE because we are complex and diverse. Being able to showcase what we do and being able to do this in compelling ways that really engage and entertain people is critical.
Q: How do you balance global and local marketing objectives, particularly with a huge global project like Breakthrough?
ER-P: We have a number of communication channels where we are always looking for new content. I think content like Breakthrough, which is very global in its nature, can be applied to any channel. We will create events around this content and distribute it through our content platform, GE Reports. We will also push it through social and host screenings with University students. I think there are a lot of applications for this type of global content. I'm not saying all global content is as universal but, in this case, it definitely is.
Q: When it comes to a project like Breakthrough, how do you measure the ROI?
ER-P: As the biggest reach for this project will be in the US, I don't think we'll be measuring it per se. What we measure overall is brand reputation, the number of communications channels and reach. The expectation is that globally we will get really good reach and GE is supporting the content with major activities in every market. There are events in Brazil, China, Australia and the UK. It's a great opportunity for us to interact with our customers and stakeholders to help differentiate ourselves.
Q: GE has been one of the leading companies when it comes to embracing branded content, is there a mandate for marketers to create innovative local content?
ER-P: Yes absolutely. I was at a conference once where [Xero CMO] Andy Lark said, "When you work for a company like GE you are stretched as a brand manager because the brand is so innovative." Globally we do really interesting things, we go big, we go first and we are not afraid to try new things.
GE was the first company to embrace social media, that was before it was ok for companies to do, and I think that's pretty interesting for a company that is 130 years old. We were also one of the first on Snapchat and WeChat in China. GE as a company likes to lead by example.
When I look at what we do in the US, I'm inspired by the fact that it is pretty much open season. As long as it fits the criteria around content marketing and it embraces interaction and integration versus interruption, and as long as I am creating locally relevant content that is compelling, then I am meeting the brief of my brand. Obviously, I also need to measure it on an annual basis through our brand research and ensure that we are making progress.
GE has a healthy competitive dynamic between markets. We work as a team, but we are also constantly pushing each other to try new things and invest in new things and learn from each other.
Q: Five years ago Australia was a key market for GE thanks to the booming mining industry and the strong economy, is this still the case? Has the slowdown impacted GE and what affect has this had on marketing?
ER-P: We took an approach five years ago that we needed to fix the perception and understanding of GE locally and shift away from financial services to technology, infrastructure and innovation. At the time, we knew that was going to take quite a big investment. This shift came as we were also experiencing pretty phenomenal growth off the back of the biggest mining and resources boom that we'd ever seen. That initial investment in 2011 and 2012 really shifted the dial on our brand as an infrastructure company and since then we've been bedding down our positioning and our investment in the brand has matched the market that we are in. We don't spend as much as we did five years ago, but we are at a different stage in our brand journey.
Q: Finally, what's next for GE?
ER-P: That's a great question! At GE we always want to be first, although that means we might not always be the best at committing to something for the long term. I think this strategy of content and media partnerships and digital is still really powerful and impactful so the challenge is how we keep evolving that strategy and keep it fresh. That might be looking at more experiential projects or more high production content or even low production content – we're still working it all out.