Changing the market: how the modern workplace means changing B2B marketing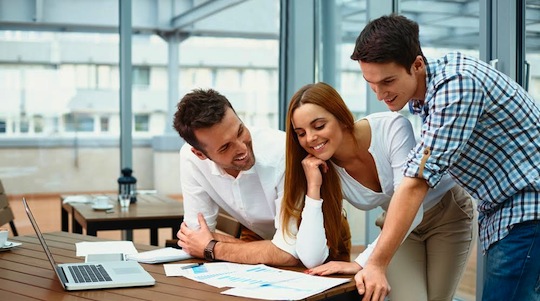 The state of B2B marketing has changed, writes Cat Prestipino.
Most of the time, I don't think of myself as B2B (business to business) marketer. B2B marketing conjures up images of men in suits and functional but design-poor websites. Anyone familiar with the AdRoll brand in Australia will know that we're definitely not that.
I remember being at an online advertising event when Facebook first announced it would be monetising the platform. During the Q&A a member of the audience asked how Facebook saw B2B marketers using the platform. The Facebook exec looked suitably stumped for a few seconds and responded, "Well, businesses are run by people…". At the time, his response was widely criticised for being weak and most of the B2B marketers in the room were certain they would never be advertising on Facebook.
But over five years later, things have changed. And so has B2B marketing. Facebook has become entrenched in our daily lives. There are many people out there using Facebook for work (or at work) just as much as they are in their spare time.
AdRoll recently released our 'Facebook by the Numbers' 2015 report and it has an interesting story to tell B2B marketers. Nearly half of AdRoll's Australian B2B customers are using Facebook and we've seen their average spend per advertiser increase 124%. That's nearly three times the increase in average spend of our retail customers. Globally, we've seen a 140% increase in click through rate (CTR) and a 42% decrease in cost per acquisition (CPA). That's pretty incredible for a vertical that were sceptical about using Facebook.
So what's changed?
Traditional B2B marketing assumed that buyer decisions are more rational. As a result popularity, status and emotional triggers don't play into the decision making process therefore, B2B marketing has been a lot more serious, focusing on risk, return and strategic advantage and earning an unfortunate reputation for being a touch boring.
But business culture has changed. Work environments are now more flexible, technology has made it possible to work anywhere and, for better or worse, the lines between our personal lives and our professional lives have blended together. So it's not surprising that during the last two years or so, we've seen the rise of human-to-human marketing.
Brands have been encouraged to create a more human-like persona. They now talk to their customers in a genuine voice, whether they are based in a business-environment or not. The most successful brands put their customer at their centre by asking themselves: What features are customers looking for? What benefits do I offer them? How can I impact my customers?
Cat Prestipino is head of marketing APAC at AdRoll.