Chinese social media represents both a huge opportunity and challenge for brands
The sheer scale of the growing consumer market in China has been widely reported, though how their population use social media differs vastly from the west. There are a great many lessons we can learn from China's highly developed social media environment, while also leveraging some strategic fundamentals that are common to both markets.
China provides scale and a unique culture
As the saying goes there's one born every minute and Shanghai alone has a population of around 23 million people, equal to the population of Australia. And there's a reputed hundred plus cities in China with a population greater than Sydney alone.
Traditionally, the inclination has been for international brands to start marketing to the tier one cities. However, social media also presents the opportunity to reach second and third tier cities, faster and a lot more cost effectively than traditional advertising channels.
Today, it is crucial to understand the nuances in consumer behavior by city tier, category type and socio-economic development level. Indeed, many people point to the fact that China's second and third tier cities represent the biggest opportunities and arguably the most important consumer segment on the planet.
Overall population growth is slowing but the aspirational urban population is rapidly expanding and there are some interesting and uniquely Chinese population traits. As China's urban population grows, the 'balinghou' is perhaps the most significant group.
The balinghou, are the so-called 'little emperors' born out of the one child policy. While their parents experienced political struggles and economic hardship, the balinghou were the first generation to grow up under genuine social stability and growth. Their pursuit of personal satisfaction, self-fulfillment and pleasure are the biggest traits of the segment. They are supported by active economic contributions of their parents and four grandparents, the 4-2-1 phenomenon.
The balinghou has, to a great extent, changed the lifestyles and moral values of Chinese society today, with consumption by this generation expanding more than 20% annually. The balinghou, who are now in their 30s with families of their own, have become the core drivers of consumption in China. While their spending patterns are now more grounded, today's generation of 'Millennial' consumers are replicating the desire to live in the moment. This trait could not be better illustrated than in the concept of FOMO (or fear of missing out) and their addiction to mobile technology.
Planning and buying media in non-digital channels is inefficient
In the same way that Texas is different from California, China has many distinct markets. While the written language is predominantly the same across the country, there are a reputed 292 living languages and 56 ethnic groups. With so many separate markets, planning and buying advertising in non-digital channels is challenging and inefficient. Social media can provide an effective consumer engagement solution in the same way that it does in a geographically diverse market such as Australia.
According to Internet World Stats, China has the world's biggest internet user base of 513 million people, more than double the 245 million users in the United States. The Chinese market is also one of the most active social media users with multiple accounts, mainly on mobile and the majority actively following key opinion leaders.
Facebook, Twitter and YouTube would never dominate in China, even if they were permitted to. The Chinese government have blocked their access, but significantly, there are numerous Facebook and Twitter imitations, many feature more advanced platforms and they each have millions of active users.
China's social media landscape. Graphic courtesy of CIC: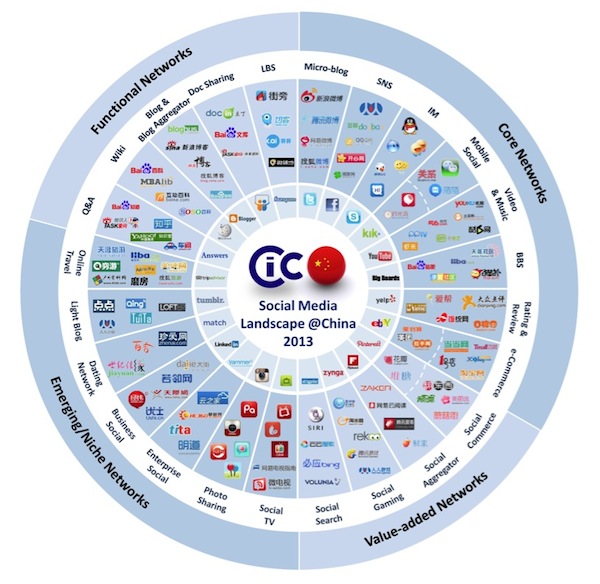 Examples of some of China's leading social platforms:
Sina Weibo, literally, 'Sina micro blog' is largely a mobile-focused social network and mass communication platform. Its Twitter-esque usage model is often leveraged by celebrities, brands and industry experts.
Tencent Weibo is similar to Sina Weibo in terms of functionality and demographics.
WeiXin or WeChat is a voicemail-based social networking service and is one of the few platforms to operate in both Chinese and English.
Douban is sort of a Chinese MySpace, popular with special interest groups and communities. It's mainly used for networking around specific topics.
Renren (literally, 'everyone'), was born as a network for re-connecting school friends. It has a reported 100 million active users and pretty much looks, feels and does what Facebook does. Renren is innovating fast to stay relevant in the fast-growing mobile space.
An effective and customised brand strategy is key for Chinese consumers
When adapting western marketing strategies for China it is vital that both adherence and respect to local cultural nuances is maintained for success. Ideas developed with this in mind can have a powerful impact when they get amplified through social channels.
How to win in China with social media?
For marketers to win in China there are a number of challenges to overcome to leverage the strategic opportunity:
How to work through Chinese regulatory, IP implications and distribution opportunities,
selecting the right local partners to provide advice in regards to cultural nuances for content,
how to leverage key opinion leaders – Chinese are skeptical of formal institutions and authority and disproportionately value opinion leaders in social networks,
how nimble and responsive can you be? With opportunity comes risk. Competition is fierce and businesses need to tread carefully, negative news travels fast and with scale, and
keeping on the leading edge – market fragmentation means local partners can provide essential technical and platform expertise.
Data integrity – a big watch-out
The 'bear traps' of getting it wrong in China are many and varied. Choosing a partner with integrity and with the appropriate quality checks put in place is vital. In an analysis of global tourism brands Core undertook in China, we uncovered that a significant number of Chinese 'followers' of tourism brands are not on mobile devices nor are they following key opinion leaders. This would suggest that a phenomenon called the 'Water Army' of fake followers is amplifying the numbers being reported and paid for through their current programs.
Enduring strategic fundamentals
The fundamentals of strategic and executional best practice from the Australian market also hold true:
Ideas work. Make content authentic relative to the brand and user orientated – be socially relevant,
focus on understanding what works and why. Adopt a test and learn approach.
Support overarching brand goals with sustained ideas amplified by social media efforts – driven by real data,
celebrate innovation. New models need to be created to effectively manage engagement and communicate brand identity (home market knowledge is important too), and
champion the geeks! The right analytical tools need to be deployed to gauge performance.
James Hudson of the Australia China Business Council sees China as, "A great opportunity for Australian business and brands to take advantage of potential scale and margin opportunities in China". He further explains, "Finding the right partner for distribution and marketing is critical as competition increases with businesses wanting to tap into China's growing urban middle class".
Innovative clients are asking how to win in China and demanding local knowledge. Therefore Australian agencies need to take steps to partner with service providers in China, to enable brands to leverage the power of Chinese social media, and maintain strong knowledge of brand, data, technology and partnerships in both markets.
If you're interested in understanding how to engage the various segments of Chinese consumers, both in China and in Australia, Marketing is holding a breakfast seminar on Thursday 3 April in Melbourne.