Facebook gets a CMO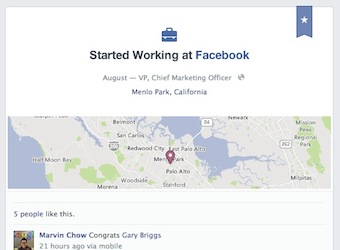 Social networking site Facebook has appointed its first-ever CMO, with former Googler Gary Briggs stepping into the role.
Facebook so far has not been completely marketer-less, of course – since 2010 its marketing efforts have been overseen by vice president of product marketing, Eric Antonow, whom Briggs is officially replacing.
Briggs comes to the social network from Motorola Mobility, where he was chief marketer since being appointed last year amid the leadership overhaul that took place when Google finalised its purchase of the hardware maker.
Prior to that, Briggs was vice president of consumer marketing at Google, overseeing efforts for the web giant's search, commerce, Chrome and Google Plus, and previously worked at eBay for six years in another VP of consumer marketing role.
In a statement, Briggs says of his appointment: "Facebook isn't just a company. For more than a billion people, it's their connection to the friends and things they care about most. Telling the story of such an important and still very young brand is an incredible opportunity, and I cannot wait to get started."