Facebook Messenger's new camera and 3D mask capabilities look pretty familiar
Messenger has a new camera which features art, 3D masks and special effects for users to share with one another.
Following the steps of Snapchat and Instagram Stories, Facebook's Messenger now joins the bandwagon to make photo sharing a much more instantaneous and expressive experience. Messenger's new photo function allows users to add art, 3D masks and special effects to photos, and share them with friends – very much like the other two social platforms.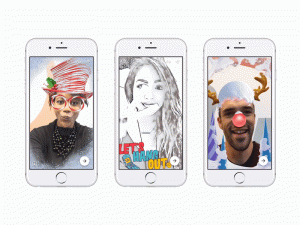 One unique point of Messenger is that some of the new material and masks were developed in collaboration with influencers and artists worldwide, including Ally Chen, Aiden Alexander, Natalie Tasha Thompson and Carrie Liao.
New features include:
Quick and easy functions to share photos,
artwork and 3D masks,
thousands of stickers, frames and effects, and
palette icon which enables addition of art and images to text messages.
"We've seen that the way people are messaging is becoming much more visual," says the newsroom release announcement. "In some ways the camera is now replacing the keyboard."