Filtering fallacy from fact: social media in times of crisis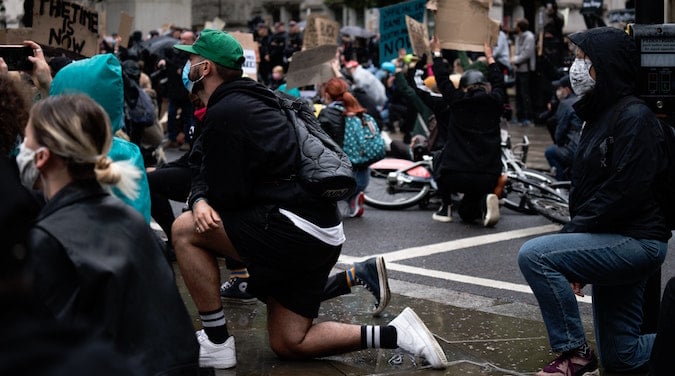 In what feels like a year of snowballing global crises, Michelle Gallaher explains how utilising social media in a timely and relevant manner can demonstrate leadership and help to distinguish fake news from facts.
Social media has played a dominant role in the crises of 2020, but its democratising force in spreading both good and bad information is vast, and in a crisis, this is amplified.
The recent death of George Floyd at the hands of police has sparked civil unrest in all 50 states of America and across 18 countries worldwide, with the Black Lives Matter movement seeing social media become both a catalyst for social revolution and a battleground for race relations.
Coinciding with the human rights movement, Twitter broke records last week with Sensor Tower reporting one million global daily downloads. In the United States, daily active users topped 40 million people.
Heavily-broadcast protests in the United States have empowered activists on a global scale to question their nations' relationship with their own histories, with social channels used to amplify black voices, images and events.
Meanwhile, the 'Blackout Tuesday' hashtag turned Instagram dark on 2 June. What began as a response from the music industry, described by its founder as "an urgent step of action to provoke accountability and change" turned into a viral show of solidarity and virtual performative activism. Although well-intentioned, #blackouttuesday copped widespread and fair criticism for eclipsing central black voices of the movement, as well as pushing-down protest coverage and vital educational resources necessary in shaping opinion and more inclusive behaviour.
In another crisis earlier this year, the 'Burnt Summer' that plagued Australia's bushland saw state emergency services and local firefighters use Twitter as a critical channel to inform the public of fast-moving bushfires, keep media and government up-to-date, and locate emerging fire fronts. Social media was the key tool used to collectively raise $140 million in bushfire relief funds, with campaigns like Celeste Barber's rapidly going viral.
Throughout the fire season, the trending hashtag #arsonemergency was shared widely by alt-right commentators, bots and trolls, as was a wave of fake images, including misleading maps depicting false fire locations and scale.
Following the bushfires, COVID-19 forced the world into lockdown, and onto screens and mobile devices. As information accelerants, we turned to Twitter, Instagram and Facebook for guidance and connection, seeing a 61 per cent increase in social media engagement at the beginning of April. Healthcare workers also turned to Twitter in far greater numbers and intensity to share clinical information and insights with each other in the race to save lives and implore the population to stay at home, slowing the escalating infection rate.
Governments, along with the World Health Organisation, recognised the enormous and immediate power of social media to share critical information around physical distancing, hand washing and isolation. Opyl noted that pandemic-related clinical research findings being discussed and shared by medical researchers increased 188 percent on social media over a 12 week period, reinforcing the value of social networking platforms for scientists and technology developers.
In early April, UNESCO claimed a fake news pandemic – coined a 'disinfodemic' – was putting peoples' lives at risk. In the same wave of positive information, came an avalanche of misleading or false health and scientific claims around virus symptoms and cures, as well as conspiracy theories that caused confusion, anger and hysteria.
Filtering fallacy from fact
Now, more than ever, the global community is looking for reassurance, transparency, facts and hope.
So how do we separate fact from fake news, certainty from opinion, and trust from influence? By amplifying the voices of official organisations and adopting a critical thinking framework when consuming and sharing social media content.
Official organisations play a central role in addressing and neutralising misinformation. It is during crises such as COVID-19 that they should be utilising social media as a core communication channel to deliver quality, precise and relevant messages that inspire action and understanding, and dilute misinformation to maintain an informed and supportive online community of experts and informed advocates.
Amplifying trusted sources calls for a strategic approach to social media management that is relevant, timely, accurate and relatable. But knowing how and when to act is not always clear.
Best practices for businesses using social media
Businesses have a right to be apolitical, and in some instances, are better-off remaining silent on social channels. But when it comes to crises that have a global impact, choosing not to acknowledge the situation can appear ignorant or even defiant.
Tone and timbre of the message is crucial, as organisations looking to leverage a crisis for commercial gain risk harsh backlash and deep, lasting reputation damage.
As a crisis response, using social media in a timely and relevant manner is a valuable opportunity to demonstrate leadership and ensure ownership of your message, particularly relating to values and commitment to community.
By including qualified subject matter experts as a part of their digital communications team, organisations can create and add enormous value on social media. During situations such as COVID-19, having medically or scientifically-qualified professionals engage in community management and content creation is key, as they can promptly respond to any questions with appropriate advice or information. Experts can be used to guide content creators on appropriate language and infographics, demystifying scientific or medical concepts and linking to authoritative evidence.
It is also important to consider the various audiences, behaviours, languages, information types and the sharing format of each platform. To deliver the greatest impact, campaigns need to be tailored. Those on Facebook may be less likely to have a presence on TikTok as older people use social media in a very different way to younger people. The content format and behaviour between Twitter and LinkedIn varies considerably.
The demand and expectation for fast and accurate responses during a time of crisis can be intense and unrelenting. The often employed 'set and forget' approach will not satisfy your audience and may put your organisation at considerable risk. Actively managing your online community is essential to keeping them engaged. Constant two-way communication and being 'human' on social media ensures your audience has access to critical, timely information and allows your organisation valuable insight to your audiences' coping and caring behaviours.
Remember; social media is a two-way conversation, not a megaphone to blast content into the abyss.
Michelle Gallaher is the CEO of health data analytics company, Opyl.
Photo by James Eades on Unsplash.