Five best practice tips for Facebook Canvas
Facebook Canvas enables brands to tell their story in innovative and interactive ways. Louis Petrides has five tips for marketers wanting to create engaging, effective ad content on the mobile specific platform.
Since Facebook launched Canvas in February it has exploded as an ad type on the platform and is achieving impressive results on mobile as an immersive social storytelling tool. As it is relatively new and the creative options are fairly flexible, it has so far been a trial and error process for many brands to nail the best creative format. Over the past three months we have been part of this process and have developed the following set of best practices based on our results.
1. Canvas performs better when it has engaging videos users can interact with than ones without
A trend starting to emerge is placing videos at the top of Canvas as an opening title. Rather than just portrait videos, brands are also creatively using landscape videos that use the full screen, prompting users to turn their phone sideways.
2. Canvas results improve when there are multiple, different components
Using a combination of videos, images (cinemagraphs), text boxes and carousels gives the user more opportunity to engage and interact. Using carousel images that join is a great way to showcase a two parts of a story, rather than using a tilt image, which at times can be clunky to engage with.
3. Instead of using still images, use cinegraphs
Flixel is a great tool that allows you to create dynamic images that catch the user's eye and encourages longer dwell time. This approach has delivered 2-5 times more Canvas CTRs than still images. The best cinemagraphs isolate only a portion of the content to create a mystical quality.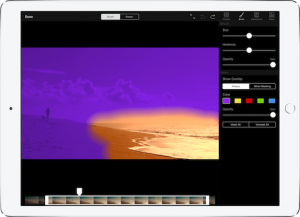 –
Related: Read about some of the other new Facebook offerings and plans for the future from this year's Facebook F8 »
–
4. Video thumbnails, including cinegraphs, are more attractive for users to click than static thumbnail images
The same amount of effort you put into creating your Canvas should also be put into the thumbnail asset, otherwise your Canvas may get lost in the never ending sea of Facebook posts. Facebook automatically adds in the text 'Tap to Open' above the up arrow so just make sure that you don't add in any text in the lower third of the video. Square videos (628px x 628px) are also great as they provide bigger ad space and stand out from regular 1280px x 628px videos.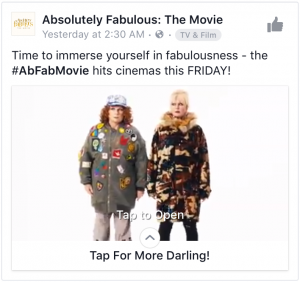 5. Share Canvas preview with clients for approval
Instead of just sending your clients image layout mockups of a Canvas, if they are connected to the Facebook page as an Admin you can share it with them so they can preview it on their device. Another way to share a Canvas ad for approval is to film your screen via QuickTime.
As Facebook changes constantly, it is also a good idea to join a Canvas group on Facebook to see how other companies are using the tool and new content trends for the ad type. Ultimately if you aren't sure if your creative idea will work, you can always run A/B testing, but hopefully these simple tips will set you on the right path to create impactful Canvas ads that engage your audience.
Louis Petrides is a Digital Producer & Social Media Manager at Five by Five Global Sydney
* * * * *
Purchase a subscription to Marketing for the latest expert opinion on trends shaping the industry
* * * * *