Will this supplier match-making service disrupt the pitch doctors?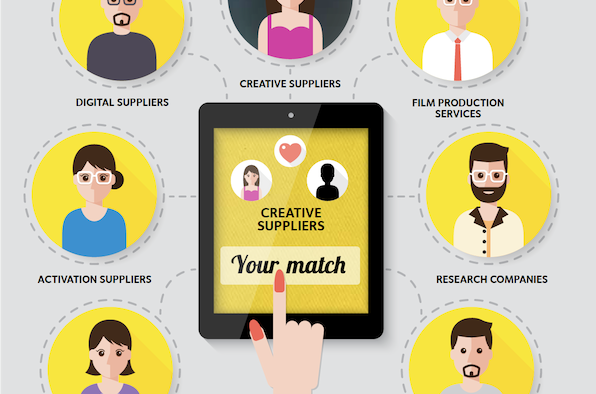 International Creative Services has introduced a new match making service model to connect suppliers with potential clients.
International Creative Services (ICS) is introducing a new service that allows clients and agencies to be matched with industry suppliers across all disciplines in the marketing and advertising industry.
It is a no charge service for those looking to be matched with supplier contacts in research, data management, creative, digital, film production, media, distribution, printing, strategic services, events and more. Suppliers are charged once a match is made.
The service was created in response to industry demand as a result of the difficulty, time and cost for clients.
–
Related: Managing marketing suppliers is a complex issue. Learn the current thinking and best pracice excamples in our 'Outsourcing vs in-house marketing functions' Trend Briefing »
–
ICS founder Anne Miles says, for many businesses, just a little guidance is needed to get started or inject fresh ideas, without employing the services of a pitch doctor or consultancy, which for many is out of reach.
The service aims to help suppliers, too. Many suppliers struggle to remain top of mind to the right clientele, and often take tasks outside their capabilities.
"It's time for a fresh model in supplier procurement for the industry that ensures the best people are being recognised, and not just those who invest in award entries, friends of people in positions of influence or where there is bias due to hidden commissions," says Miles.
"It is important to ICS that the businesses searching for suppliers can do so for free, that there is one place to go to be connected with all industry suppliers under one roof, for clients and agencies of all sizes to have a solution that is right for them, that all suppliers are treated equally without bias in the process and that the best suppliers get found based on merit."
The independent service aims to disrupt previous models by only charging suppliers who are successfully matched to clients a percentage of job fees, there is no membership fee for suppliers or clients.