Case study: How Lexus increased its market share against competitor luxury brands
Campaign: Lexus RC launch
Brand: Lexus
Agency: M&C Saatchi
This article originally appeared in The Love Issue, our June/July 2016 Marketing magazine.
Background

Globally, Lexus is a leading luxury car manufacturer. In Australia, however, over its 25-year existence it has struggled to gain double-digit market share. There have been a number of barriers to the brand's growth, but one in particular has had a lasting impact – Australians' innate association of luxury cars with European heritage. Put simply, for many Australians, if it isn't German, Italian or British, it simply isn't a luxury car.
This is particularly pronounced at the upper end of the category, in the $80,000 to $200,000 price bracket. Up against flagship performance cars and saloons, Lexus' market share dips lower.
While in recent years Lexus had launched some remarkable performance vehicles under its 'F Division' badge, it simply hadn't captured the imagination of the public in the way Mercedes AMG, BMW M and Audi RS vehicles do. Which not only meant it was enjoying less of a high-profit tier, but it was also failing to generate the 'halo effect' so critical in driving sales of more attainable luxury vehicles.
Objectives
For the launch of the Lexus RC, a new luxury coupé, Lexus asked M&C Saatchi to bring a flagship model to market in a new way. Typically, for Lexus, these models burn brightly following their initial release, only for sales and brand impact to tail off soon after.
So, Lexus asked M&C Saatchi to deliver three specific things.
First, that it wouldn't meet but, rather, surpass already aggressive sales targets.
Second, that it would take the opportunity to reset, and begin building an authentic reputation for Lexus performance vehicles – one powerful enough to force reappraisal over time.
And, finally, that M&C Saatchi would use the launch as an opportunity to continue making inroads with critically important 'step-up' luxury buyers – the young, sophisticated, style-conscious Australians looking to make their first luxury car purchase and, most likely, to help shift broader perceptions of the Lexus brand.
It was clear any success wouldn't simply be measured on the sales ledger. M&C Saatchi needed to start a conversation around the Lexus RC with the disruptiveness and credibility necessary to convince important audiences to look at the brand afresh. This would be measured in the press, in social channels and in the depths of brand tracking for months to come.
Strategy
The first strategic decision was structural. Rather than attempt a 'big bang' launch, the campaign would play the long game.
Second, the campaign would have the courage to challenge the norms of the category. Lexus is, by definition, the outsider. For years, that had played into the hands of our competition. With the RC, M&C Saatchi would begin to turn it into a virtue.
The Lexus team knew that, from the press launch onwards, the RC would suffer in direct comparison to its competitors. Not because it
is in any way an inferior car. Rather, because it has been designed and built to deliver something subtly, but critically, different. Where the competition often prioritise the spec sheet over all else, the Lexus team pride themselves on finding the ideal balance in a vehicle.
The creative strategy was therefore straightforward, but felt inherently powerful. Rather than sell the RC, it would celebrate the philosophy that built it.
Critically, this guiding value was also as true of the $71,000 entry model as it was of the $166,000 top-of-the-line RC F.
Execution
The Lexus RC campaign spanned 10 months, and three distinct chapters.
In November 2014 the car was released to market, supported by a PR program focused on the automotive press and high-end performance car enthusiasts. This was followed by an integrated advertising campaign in February 2015, designed to both raise awareness of the car and begin building a halo effect among those about to 'step up' into their first luxury car.
However, the third phase – launching in early August – would prove to be the most decisive. This is the point at which Lexus stepped from conversation into unexpected action, reimagining the RC itself to communicate the brand's central point to its most commercially important and culturally influential audiences.
All chapters worked from a single, distilled creative platform: 'Heart Racing' – our articulation of the Lexus Performance team's overriding vision.
But was this a company conceit, or a difference people would actually feel? Could a Lexus RC truly create heightened emotional responses from an array of drivers? M&C Saatchi decided to put it to the test at Wakefield Raceway, near Goulburn in New South Wales. A number of drivers of varying skill levels were biometrically tracked as they drove the RC under race conditions. Heart rate, blood pressure, oxygen levels, skin conductance, body temperature and glucose levels were all continuously monitored, lap by lap.
To the team's great relief, a journey in a Lexus RC proved to be a series of quite distinct emotional chapters. From the thud of the door, to the first grasp of the wheel, to the first unwind of the engine, driver heart-rates in particular peaked at both expected and unexpected moments. Slight shifts in emphasis throughout the vehicle's design quite literally had hearts racing a little faster.
From November 2014, in press releases, appearances and in conversations with enthusiasts, the Lexus promotional team introduced the language of 'Heart Racing'. In the subsequent February advertising launch – focused on out of home, television and online video – we told a very simple story around the philosophical split between Lexus and its competitors.
Enter the third chapter for the Lexus RC. Until this point, 'Heart Racing' was simply a vehicle positioning statement. Now Lexus wanted to provide startling proof of its philosophy.
During research into driver response, M&C Saatchi discovered an embryonic technology developed by LumiLor, a small start-up in Iowa, which can make regular metallic paint electroluminescent. This gave the creative teams at M&C Saatchi and its innovation hub Tricky Jigsaw the starter for what would prove to be the core project idea – what if they could create a car that demonstrated the driver's emotional response in a radically unexpected way?
With the help of LumiLor and a range of specialists, the team set about creating the world's first car with a heartbeat. First, it stripped back and repainted a production RC F with a unique pattern of electroluminescent paint, invisible to the naked eye under layers of reapplied model-specific silver paint. Then the team created a wireless system that connected the driver's heartbeat to a microcontroller, which then animated it across the car's panels in real time.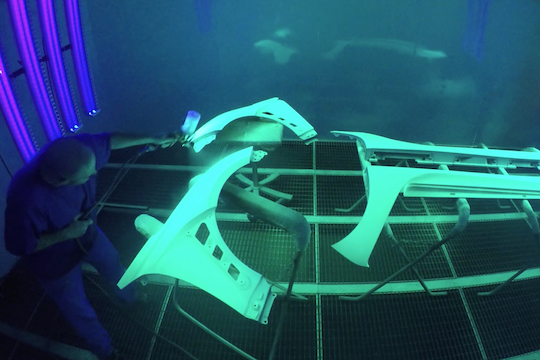 This physical digital product, dubbed the 'Heartbeat Car', was the centrepiece of a PR and partnership push that kicked off in the last week of July 2015. It launched through highly focused outreach to the most influential technology, design and lifestyle journalists in both Australia and the US. As the project built momentum, focused on views and shares of a high-octane case study film of the car being tested on a secret Sydney track, Lexus then accelerated its reach to potential buyers through a targeted creative partnership with News Corp.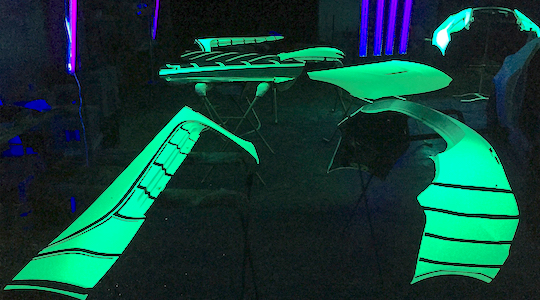 A suite of native advertising and quality display formats balanced credibility with fast impact across high-end digital titles including GQ, Vogue, The Australian and The Wall Street Journal and, aided by News Corp reader data, innovative pre-roll formats were targeted to readers likely to be considering a luxury performance vehicle purchase. After three days in market, this activity was punctuated with perhaps the single most visible format for Australian luxury audiences – a wrap of The Australian newspaper.
And with it, a patiently executed nine-month campaign came to an end.
Results
The Lexus RC launched strongly, with just under 100 vehicles sold nationally in its first two months in market. While that may not sound particularly impressive, it's worth noting that gave Lexus around 8% market share across those two months in the RC's high cost, high competition category.
However, the strength of the RC's launch had very little to do with marketing. For Lexus aficionados, this was a highly anticipated vehicle – and they headed straight to dealers to put it to the test. Rather, the impact of the 'Heart Racing' campaign was that, following this rush of brand loyalists, sales did not tail off.
Instead, they held steady right up until Lexus' partnership with News Corp – soon after which the RC leapt to its highest ever market share. In fact, a year after its launch, the RC had its five strongest months in a row, averaging nearly 11% market share. It has also undoubtedly contributed to broader Lexus sales, with the brand breaking sales records throughout 2015 and into the first quarter of 2016.
Perhaps most importantly, this brand lift was most marked on one of the more personal and, arguably, hardest to shift category metrics Lexus tracks: whether brands express how drivers want to be seen. Simply put, Lexus does for more drivers now than ever before. With continued boldness, authenticity and marketing innovation in 2016, we're hoping this becomes the case for more and more Australian luxury car drivers.
* * * * *
Visit our online shop to purchase a copy of The Love Issue, or a subscription to Marketing
* * * * *