Elderly man destroys weights session, Facebook in latest viral sensation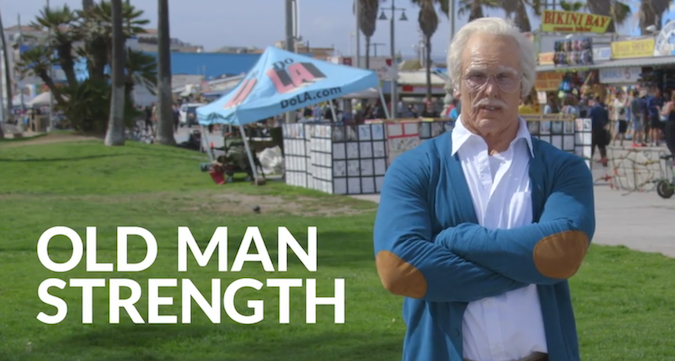 A commercial which sees an athlete go undercover as an elderly man before lifting weights in front of shocked onlookers has achieved 37 million views on Facebook.
CrossFit Games competitor Kenneth Leverich undergoes four hours of Hollywood makeup to be disguised as an elderly man before an impressive workout at LA's famous Muscle Beach outdoor gym in a commercial for Smith & Forge Hard Cider.
Leverich wows the crowd of onlookers and challenges young bodybuilders to increase the weights, outdoing them each time.
–
Related: In our April/May issue we asked three industry experts 'who'll win the Facebook versus Youtube online video war?'
–
The commercial, created by Thrillist, follows a similar theme to the successful Pepsi 'Uncle Drew' commercials, which, beginning in 2012, saw NBA professional basketballer Kyrie Irving go undercover as an elderly man and outperform young streetball players.
It is part of a six part sponsored content series called 'Thrillist and Smith & Forge Present Hard Won', and achieved 27 million Facebook views in 20 hours.
At its conclusion, it delivers the tagline 'made strong, in the fine tradition of making things strong'.
The aim of the commercials are to let youngsters know to "never take their elders for granted, they have too much wisdom to pass down, and thanks to the past decades' improvements in health and wellbeing, many of them can still put an old-fashioned beat-down on you too," according to Thrillist.
Here's the video, see what all the fuss is about

–
Related: Metro Melbourne's 'Dumb ways to die' video ad campaign recently became the most awarded in advertising history, and was awarded best of the decade at the Asia-Pacific Tambuli Awards »
–
Here's the chapter 1 of the Pepsi 'Uncle Drew' commercials
* * * * *
Purchase a subscription to Marketing for the latest insight and expert opinion on online and social ad trends
* * * * *