Five steps for building a best practice ABM campaign
Nick Dennis explains account based marketing and outlines five steps for embarking on an ABM campaign.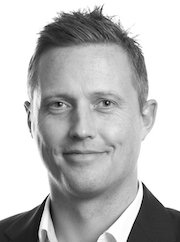 You can't read a B2B blog post lately without coming across the newest acronym on the block: #ABM.
So why the hype? And why now?
Funnily enough it's a term that's been in use for more than a decade, yet many companies are only now coming to hear about and understand the power of Account Based Marketing (ABM).
First coined back in 2003 by the US-based ITSMA organisation (Information Technology Services Marketing Association), ABM is a strategy in which marketers target a defined number of high-value, strategic accounts and tailor their marketing efforts specifically for them.
While sales teams have always taken a strategic approach to their work – identifying key accounts & planning their sales tactics with each, traditionally this has happened in isolation. Crucially an ABM strategy involves both sales and marketing teams working together to ensure each account receives a highly targeted and personalised experience.
Interest in the potential of ABM has grown recently as more companies seek to gain a competitive edge in their sales processes. According to industry research, (Engagio), 71% of all B2B marketers are onboard with ABM and of those deploying ABM campaigns, 72% plan to increase usage during the next 12 months.
While several ABM techniques have been used in the past, improvements in marketing technology – together with access to new sources of data – have radically changed the game. Teams can now provide much more compelling, personalised marketing campaigns to larger numbers of accounts using automated processes. With a flurry of new ABM technology solutions and integrations, you could call 2016 the coming of age of ABM!
ABM and purchasing decisions
Taking an ABM approach to large key accounts makes sense for a variety of reasons. A key one is that large purchasing decisions are rarely made by a single individual of a company but rather by a committee of people. As a result, an effective marketing campaign needs to reach each of these stakeholders and communicate messages relevant to their particular role and requirements.
ABM can also deliver a far better return on investment for marketing dollars spent as highly-targeted campaigns are much more likely to result in a positive purchasing decision. Industry research shows 79% of marketing leads never convert into sales and ABM can help improve this statistic significantly. Interestingly, according to research conducted by ITSMA, 84% of companies that have engaged in ABM campaigns report their ROI is higher than for other types of marketing activity.
The ABM approach has also been recently assisted by the availability of much more firmographic, account-level data. This, coupled with automated tools, means more granular and better targeted communications can be achieved than was previously possible.
A good example is ABM specialist company Demandbase which has put the approach to work internally. The company reports an increase in webpage views by prospects of 109% per session and information downloads by 117%. For their customers, the ABM-related improvement in page views was 102% and downloads grew by an impressive 300%. Such results are likely to achieve an uptick in positive purchasing decisions.
–
Related: Using BPM and decisioning technology to offer best-action customer engagement »
–
The key steps in an ABM campaign
There are a series of steps an organisation should follow when embarking on an ABM campaign. By doing so, the effectiveness of the campaign can be significantly enhanced. These steps are:
1. Profile your accounts
ABM is not designed to be used on every account held by an organisation – it's a matter of determining which are of most strategic value. To do this, you'll need to gain an understanding of the common denominators across your ideal clients and their key attributes.
This requires the creation of accurate and detailed client profiles, however many organisations strike problems when it comes to obtaining account-level or firmographic data to help this process. Oracle Marketing Cloud's ABM partner Demandbase is one such data provider that can append rich firmographic data to your leads and accounts to assist with this process.
2. Build a target list
Work with your sales teams to develop a list of target accounts using the key attributes you identified from step one. Additionally, an account-based Lead Score model can be used to develop this at scale and then be used against newly captured leads. It's important to get both sales and marketing teams involved to ensure accuracy and completeness.
3. Personalise marketing materials
Work to create content that is personalised both for each identified strategic account and for the key individuals involved in the decision-making process. Also, ensure that the materials are consistent across multiple communications channels.
4. Execute and test
Begin the campaign using key touch points such as a website landing pages, emails and webinars. Once this is working, extend efforts to cover other channels relevant to your target individuals. Focus on a small number of accounts initially to ensure the process is working effectively.
5. Measure and fine tune
Check the results of the steps taken and determine whether the messages are reaching the intended targets and they are engaging with your communication. If not, fine tune materials before trying again. If content is reaching your intended targets figure out what content is working, and also look at what's failing to create conversions.
ABM can deliver significant benefits to an organisation keen to improve its relationships with key accounts and drive sales revenues. By making use of the growing range of automated marketing tools, the process can be implemented quickly and effectively, delivering value through more effective marketing campaigns. Research shows 60% of organisations that have used ABM for at least 12 months have seen revenue increases of at least 10%.
Is ABM the right approach for your organisation?
Now we've cut through the hype and focused on the reality of ABM, you need to work out whether it's the right strategy for you. Before embarking on an ABM program, it's worth thinking through three key questions to ensure it's the right approach for your organisation:
Is your marketing team good at generating leads, but not the right type of leads?
Do you target larger organisations and have a multi-month sales cycle?
Are there often 10 or more people involved in the buying decision?
ABM can be a great fit for organisations that have already introduced marketing automation, have successfully built contact-focused lead nurture journeys, and are looking for the next step to build on existing returns. Concentrating on accounts in your marketing and sales strategies makes absolute sense – after all, it's what sales have been doing for years.
ABM may not be the 'silver bullet' when it comes to B2B sales and marketing, but it's difficult to argue with the 96% of B2B Marketers leveraging ABM that report a positive impact!
Nick Dennis is master principal solutions consultant at Oracle Marketing Cloud