Grill'd partners Vice in graphic animated content series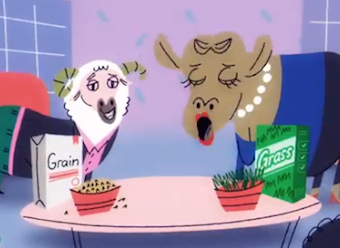 Burger chain Grill'd has launched a cheeky new campaign aimed at educating the public on the benefits of grass-fed cattle and sheep with an animated spot that ends with a (cartoon) cow being slaughtered.
The first instalment of the campaign 'Inside the grass diet craze', was created by Vice and animation studio Rubber House is an animated infomercial in which sheep and cattle spruik how eating grass makes them feel less bloated and tastier.
The content will be supported online via Grill'd owned channels as well as with an online media spend, with the campaign extended in-restaurant with point-of-sale materials.
http://youtu.be/ciblPDnGfuc
Read more about Grill'd's story in the Marketing brand profile here »