How Facebook is cleaning up for marketers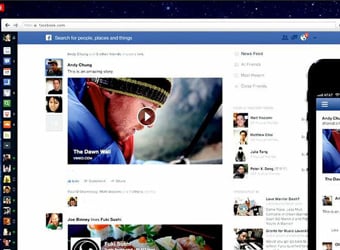 Facebook is streamlining the various types of advertising formats on offer in an effort to simplify the system for advertisers, as well as introducing better measurement and reporting tools.
The social networking site will reduce the options marketers can choose for ad units after Facebook acknowledged that the previous model was confusing to marketers.
Facebook's Timothy Rathschmidt told Marketing magazine the simplification process came off the back of consultation with different advertising clients, with the changes aimed to help marketers achieve their objectives using a much simpler system. He equated the social network's advertising situation to that of a ship having been built while underway.
Development of the platform's ad offerings has taken place through features that were first introduced as user-only that were then monetised, as well as from ad features introduced on a custom basis for particular advertisers, resulting in confusion and redundancies among choices.
"We had 27 ad units and we looked across and found that some of them met the same objectives and met the same goals and we thought it should just be simpler, regardless of what your objective is. Whether it is 'liking' a page, installing an app, bringing in an offer, posting pictures about your brand and your company, we just wanted to make it consistant across all of our different platforms."
In the next six months, Facebook will be reducing the total number of ad units by half and will be aiming to map all ads to business objectives, such as in-store sales, online conversions, or app installs. It will now also automatically add social context and eliminate the step of creating sponsored stories.
"We know social enhances ad resonance; people are influenced by this type of word-of-mouth marketing. Research from Nielsen, comScore, and Datalogix shows that social context can drive awareness and return on ad spend, so we want to make it easier to add it to our ads and will aim to make all of their ad platforms appear asthetically more consistant," Facebook wrote in a blog post explaining the changes.
Advertising accounts for 85% of Facebook's revenue, and it is in the process of reinvigorating revenue growth following a sharp slowdown early last year. In Q1 this year, the company's total revenue was up 38% year on year, with ad revenue up 43% year on year. Facebook shares have fallen approximately 15% so far this year according to a report by Reuters.
Facebook is also scrambling to roll out new types of ad formats suited to small mobile screens as consumers increasingly access Facebook on their mobile devices.The company is widely expected to introduce video ads this year. Of the 1.1 billion monthly users, 751 million are using Facebook on mobile, up 54% from last year.
The announced changes to ad offerings will come into effect in late June and July.