How to execute a cause-led disruptive marketing strategy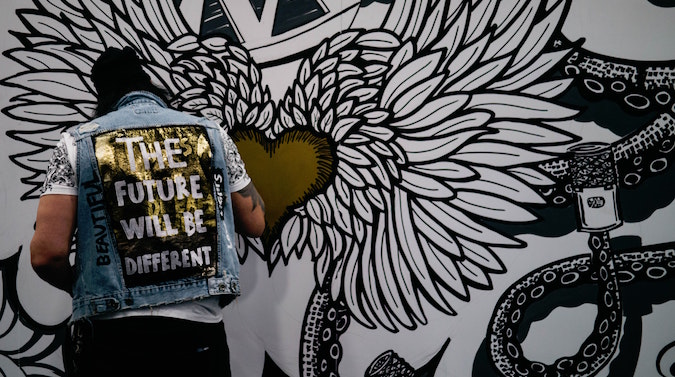 Authentic and thoughtful campaigns allow brands to use their platforms to support worthy causes. The team at Don't Panic Creative Agency highlight how marketers can pair cause-led marketing with disruptive strategies to make truly memorable campaigns. 
Cause-led marketing campaigns are now prevalent in a wide range of different industries, and well executed strategies can prove incredibly successful. These campaigns provide huge opportunities for brands to use their platforms to support relevant causes, and make a name for themselves in the process.
Cause-led campaigns can be particularly compelling when paired with disruptive marketing strategies. These are strategies that command attention, question the status quo and seek to shake things up. When disruptive strategies are juxtaposed with intriguing cause-led ideas, the results are incredibly powerful. The best campaigns boost exposure, help to build trust and strengthen reputations. And of course, the cause in question will also benefit from a massive upsurge in support and awareness.
So, how do cause-led marketing campaigns and disruptive strategies really work? Let's take a look at some common cause-led disruptive strategies and find out what makes these ideas so effective.
What is disruptive marketing?
Disruptive marketing is a type of marketing strategy designed to cut through the noise and deliver a meaningful message. This can be done in a number of ways. Commonly we see disruptive marketing campaigns focus on storytelling, presenting ideas in a unique way via video, print and other mediums. The ways in which ideas are presented are designed to get audiences thinking, and are usually key to the campaign itself.
What is cause marketing?
Cause-led marketing revolves around the promotion of a cause, rather than directly selling a product or service. This form of marketing is often used by large scale global corporations, but can be useful for small businesses too. By diverting attention to a good cause and encouraging audiences to share a message, brands can get their name in the spotlight for all the right reasons.
How to approach disruptive marketing from a cause-led mindset
When planning a disruptive campaign, the clarity of the original idea is crucial. The success of many of the world's best known disruptive campaigns stems from the clear and considered mindset that they were originally approached from.
Take a look at the following steps to learn how to tackle the planning stages:
Choose your cause
The cause should, of course, be the focal point of any cause-led campaign. It's vital that this is decided on before any other ideas are discussed. It's a good idea to choose a cause that is relevant to your brand, and will resonate with your customers.
Encourage involvement from your team
Top cause-led marketing strategies are championed by an entire business, so make sure every member of your team is on board. Encourage staff to take an interest in the idea, and be transparent about what you're planning and how you hope to achieve your goals.
Contribute time, as well as money
Cause-led marketing campaigns that see global companies contribute tens of thousands to charitable organisations are highly commendable. But the success of these campaigns tends to improve dramatically when companies start to donate their time and skills, as well as those all-important funds.
Cause-led disruptive marketing strategies
The beauty of disruptive marketing strategies lies in the scope of opportunities that they present. Disruptive marketing allows brands to really unleash their creativity, and many top companies take full advantage of this.
Often the success of cause-led disruptive campaigns comes down to their originality. If a brand comes up with a clever and interesting idea that's never been seen before, audiences won't be able to resist sharing the message. In doing so, consumers boost the success of the campaign organically, rapidly improving the ROI of the campaign and diverting much needed attention to the cause in question.
Cause-led strategies can be used in luxury hotel marketing, seasonal campaigns, restaurant and food retailer marketing, fashion and beauty advertising and anything in between.
Strategy 1: Question Stereotypes
Many cause-led marketing campaigns seek to challenge social norms and question stereotypes. Typically, these campaigns have a single clear message which is immediately obvious to anyone who sees the campaign in action.
To see how well this idea can work in practice, just take a look at Sport England's long running 'This Girl Can' campaign. The public body found that "75 percent of women say they want to do more sporting activities or exercise, but one of the unifying barriers found to be holding them back is a fear of judgment". Findings like this inspired the hugely successful campaign, which has now been running for over four years.
●  Complete consumer research to shine a light on problematic stereotypes in your industry
●  Use findings to inspire a strategy that challenges this stereotype
●  Encourage audiences to share the campaign and get behind change
Strategy 2: Change Consumer Behaviour
Concerns over the impact of our actions on the planet have been hitting the headlines over the past few years, and today's consumers are increasingly influenced by the environmental impact of their purchases. This presents a huge opportunity for climate-aware companies to draw attention to their environment credentials, whilst also seeking to change consumers' behaviour for the better.
Supermarket giant Iceland created a hard-hitting TV advertisement designed to educate consumers on the impact of palm oil. Despite being promptly banned from TV due to political advertising concerns, the Rang-Tan campaign sparked a widely shared hashtag #NoPalmOilChristmas and proved incredibly successful in getting its message across.
● Focus on an important cause which could be impacted by changes in consumer behaviour
●  Create a hard-hitting film, immersive experience or inspiring print advert which gets your point across
●  Encourage consumers to adjust their mindset and change shopping habits for the better
Strategy 3: Shareable Social Challenge
Social media is immensely important in determining the influence of disruptive marketing campaigns. The more shareable a campaign is, the more successful it's likely to be. Many strategies are designed specifically with social sharing in mind, and they've had some brilliant results.
We bet you can remember the 'Ice Bucket Challenge', which shot to fame in the summer of 2014. The challenge saw participants film themselves having buckets of icy water dropped on their heads, before sharing these clips on their social networks. Designed to promote awareness of amyotrophic lateral sclerosis, the challenge led to 3.7 million videos being uploaded to Instagram, contributing to $98.2 million in donations to the MND Association.
The ice bucket challenge isn't alone here. We've also seen widely shared campaigns, like the no make-up selfie for cancer research, sharing of the Human Rights Campaign logo, and of course the annual Movember campaign in aid of men's health issues.
Of course, attracting the attention of users via social media is easier said than done. Take a look at these tips on how to capture a cynical social media audience during the planning stages and learn how to create a campaign that audiences can't ignore.
●  Design a shareable challenge which is relevant to the cause you're looking to promote
●  Get team members and audience onboard and encourage sharing on social platforms
●  Use a memorable hashtag that links back to your cause and explains the challenge
●  Seek support of social influencers and celebrities to dramatically improve your sharing potential
Cause-led marketing strategies can be immensely powerful. The most successful cause-centered campaigns quickly become trending topics, diverting huge amounts of attention, time and money towards the issues that matter the most. Focus on a cause which is relevant to your industry and resonates with your audience, and you may well find that you've got the basis for an enormously successful cause-led strategy.
Don't Panic Creative Agency is based in London and specialises in producing cause-related disruptive advertising campaigns for global charities and brands. Their multi-channelled campaigns cut through the marketing noise and get at the heart of real-word issues in order to leave a lasting effect on consumers.