How to implement world class social media customer service in your company
Robin Leonard, CEO of AllFamous Digital, shares a comprehensive, 10-step guide to implementing a successful social media customer service program.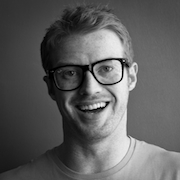 Brands all over the world are being forced to consider how they will quickly transform to offer world class customer service, as both their customer expect it, and their competitors are rampantly investing to gain advantage.
There are some astounding statistics one simply cannot ignore:
It is six to seven times more costly to attract a new customer than it is to retain an existing customer,
when companies engage and respond to customer service requests over social media, those customers end up spending 20% to 40% more money with the company,
a 1% improvement in first call response equals $276,000 in annual operational savings for the average call center,
50% of consumers actually prefer using social media to reach their service provider rather than call the contact center, and
57% expect the same response time at night and on weekends as during normal business hours.
This article discusses in detail the key items you need to consider if your company is about to embark on the journey of providing a robust, contact center quality approach to social media.
1. Why provide social media customer service in the first place?
There are many ways of calculating the ROI of social customer service, so naturally there is confusion over which one is the one. In 2011, Dr Natalie Petouhoff and Kathy Herrmann wrote a whitepaper called 'Calculating the ROI for Social Customer Service', which to this day is quite solid.
Click images to enlarge. 

Here are some key areas where your business can gain value:
Decrease call centre costs
It has been claimed that social media customer service is 41% cheaper on a per call basis, and by deflecting calls to your social channels, you are actually saving money by not answering a phone.
There are several key reasons why this is the case:
Handle repetitive queries quickly by sharing an FAQ web page,
many calls are avoided because the answer to the customer query is available on your social page,
social encourages customer to use self-service,
agent is able to handle multiple cases at a time,
communications with customers, are by nature, concise, and
there is no on-hold time for either the customer or agent.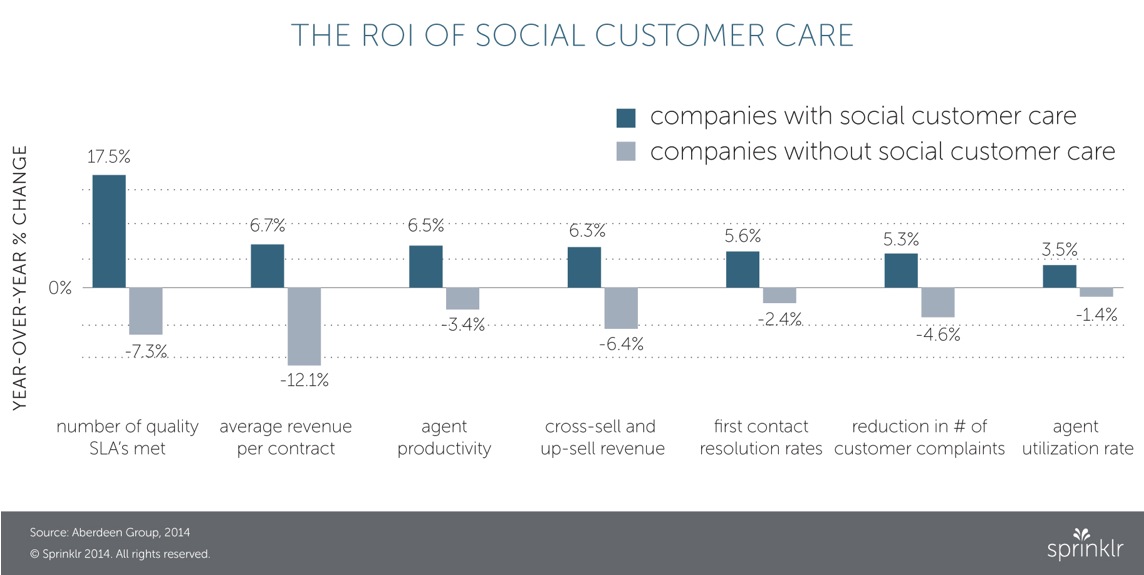 Improve Customer Satisfaction
Every touchpoint is an opportunity to wow a customer, and by being excellent when customers tweet you leaves them feeling that you are present and it is easy to reach out to you if they need something in the future.
Hands up who hasn't heard one of their friends talking about how a brand tweeted them randomly because of a tweet they sent? My example is Microsoft; they tweeted me when I complained about Powerpoint crashing and offered to help! I had previously not complained because I didn't know how to and I dreaded how difficult it would be.
Video: Gary Vaynerchuk – What is the ROI of your mother?

Mitigate crisis impact
A social media crisis can cost you millions, and handled well, can actually give you loyalty from your customers. Look at how Tony Fernandes handled Air Asia's first ever crisis smoothly and don't consider the crash to impact its long term goals, whereas Malaysia Airlines had a $97.2m loss in the quarter directly after the disappearance of MH370.
Business Continuity Planning (BCP), by definition, "Identifies an organization's exposure to internal and external threats and synthesizes hard and soft assets to provide effective prevention and recovery for the organization, while maintaining competitive advantage and value system integrity".
The problem with BCP nowadays is that it forgot to add social media to the mix, and professionals are playing catch up now.
In 2013 McKinsey did a study on social media crises and found a correlation between negative sentiment and revenues.
Because your competitors will do it
Whether you like it or not, having a reliable social customer service operation is going to become as normal as having a receptionist. The challenge is that it isn't as easy to do, so if you start after your competitors, they will be further along the learning curve than you.
In a Simply Measured study released in 2015, across 100 top brands there is a marked increase in both the number of times a brand is mentioned, and in the number of responses created by the brand. This indicates a clear upward trend that businesses are engaging more in social media customer service.
Companies need to consider not what the ROI of social media is, but instead what is the opportunity cost of not doing it.
2. The ideal social media response time is within five minutes
A recent study found that 53% of customers who ask a brand a question on Twitter expect a response within one hour regardless of when they tweeted.
Think about it from a customer's perspective, particularly a millennial's. After tweeting you, their attention will go elsewhere quickly, perhaps having a scroll in their Twitter feed, or switching to Facebook for a minute, before returning back to their day in the physical world.
If you don't respond quickly, you will be fighting for attention from their physical world, and other phone notifications that start to back up.
The faster you can work with the customer to resolve their issue, the shorter the time until any negative sentiment is resolved and replaced with positive sentiment.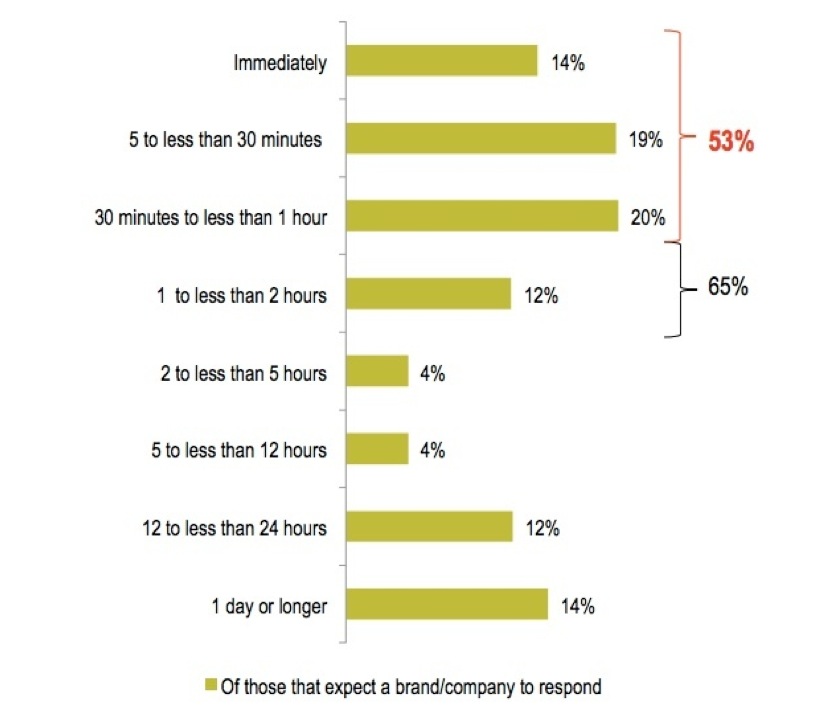 3. Somebody open the social media floodgates!
People often say, "Providing social media customer service is just opening the floodgates to trollers and complainers". This is true, but it also gives them an avenue to vent and receive resolution, as opposed to just venting publicly with no resolve.
They are going to complain about you on social media whether you respond to it or not. Many probably won't call you with the feedback because they can't be bothered waiting on hold. If you don't listen to your customers complaints and respond quickly, you are never going to resolve them.
Being able to tweet you doesn't mean you are encouraging complaints, it shows that you are open to a one-to-one conversation with a customer. Typically if the complaint is serious you steer it into a private message quickly and hope that he thanks you publicly for doing so.
The impact of negative sentiment to your business can be devastating, so the sooner you address it head on, the sooner the impact will be resolved.
Spread the word – we are on social!
It is best practice to announce that you are using these channels for customer service, but of course ensuring you are ready and have the team in place to handle the load.
KLM Royal Dutch Airlines, a long time leader in airline social media, updates its Twitter background image every five minutes with its expected response time on social. This gives customers a clear expectation that they will get a response, and how long it will take.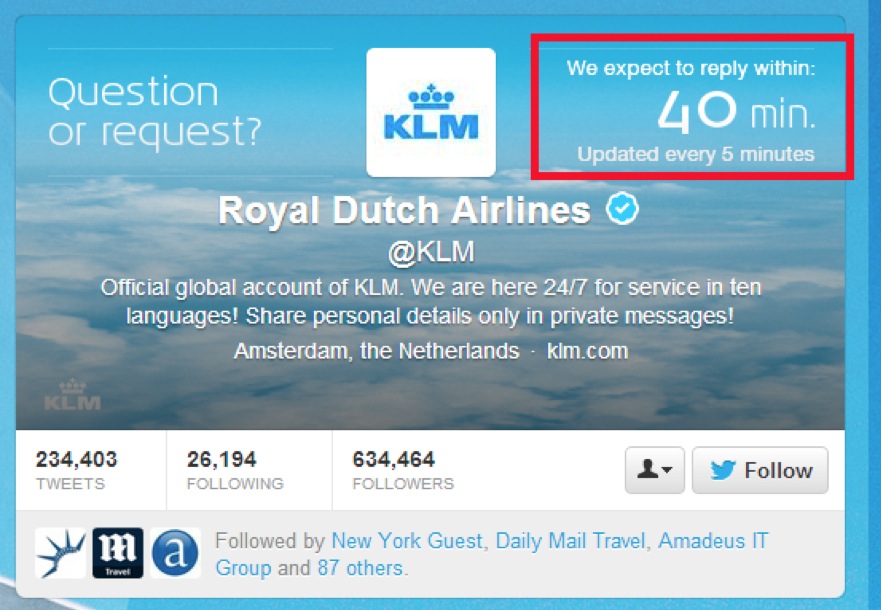 5. What is a 'Social Media Playbook'?
Start thinking of social media like a contact center. If you are a large company, you will need a 24-seven shift seven days per week. This requires at least 12 full time employees to cover a three-shift roster. You won't be able to do quality control in real time so you need to train and trust your employees to do the right thing.
Having a social media playbook gives your social media team a clear framework to operate within.
A good Social Media Playbook would include these things. Yes, it's a lot:
Company background,
objectives,
glossary,
current pain points (reviewed monthly),
quick links,
contact details,
roles and responsibilities/org chart,
objectives, metrics and KPIs for the next month, quarter and year,
channel strategy,
listening and monitoring process,
case management and assignment,
social customer service shift schedule,
response management/FAQs,
workflow and escalations,
voice, tone and persona,
crisis management process,
reporting schedule,
quality assurance,
training and certification, and
social media policy.
6. Social customer service is just like a typical call center, except more awesome
Companies should treat social media with the same priority they treat inbound voice calls, it's as simple as that. Once an inbound tweet or Facebook message is received an agent should work quickly to respond to the customer, help them resolve their query, and if necessary escalate internally to the correct department.
Anecdotally I find speaking to many companies that have already invested in a social media team, or outsourcing the function to an agency, but are having difficulty keeping track of customer service enquiries and follow ups.
The job description of community manager in your typical agency or digital team has long been misunderstood as a marketing function and for the purpose of entertaining and having 'cool conversations', when in actual fact, its use case first and foremost is actually ensuring any inbound questions or complaints are answered faster than lightening. The skillset needs to cross your entire organization including customer support, public relations, social, marketing and product development.
Companies need to ensure the community manager has received similar training to a call center agent, and that they have access to the tools to resolve at least 80% of enquiries without having to escalate internally. This is where having a playbook becomes a priority.
While this sounds challenging, the job is actually very cool. Staff get paid to work in Facebook and Twitter, and whatever other social networks your brand cares about. This is a much cooler job than answering phones in my opinion.
Because of the demand for 24-seven support, it is important you schedule your people just like you would do in a contact center. Here is an example of a rotating roster:
Based on experience, a telco social customer service agent can handle approximately 50 to 80 inbound messages per day, but this metric is highly dependent on the industry. The less complex the inbound queries are, the more an agent can do.
In many cases we see existing customer operations teams in large businesses taking responsibility of social media customer service. This is beneficial for several reasons including:
Already mature in SLAs and managing 24-seven operations,
more flexible in a crisis as they have more scale, and
the experts are on the frontline, not behind a ticket.
7. Don't limit yourself to inbound messages, listen proactively for people complaining
A simple analogy: It's like overhearing your friends gossiping negatively about you behind your back, addressing them immediately and politely by saying: "Hey what's up? I'm sorry, are you unhappy with me? Let me resolve it right now and stop inconveniencing you. :-)"
You would certainly get to the heart of the matter very quickly, and probably learn a lot in the process to avoid making that same group of friends unhappy again.
More commonly brands are transcending from using native social media platforms to advanced social media management tools that allow them to manage multiple company pages and channels within the same place. The latest enterprise software, like Salesforce Social Studio, allows you to listen in to conversations and engage directly with customers.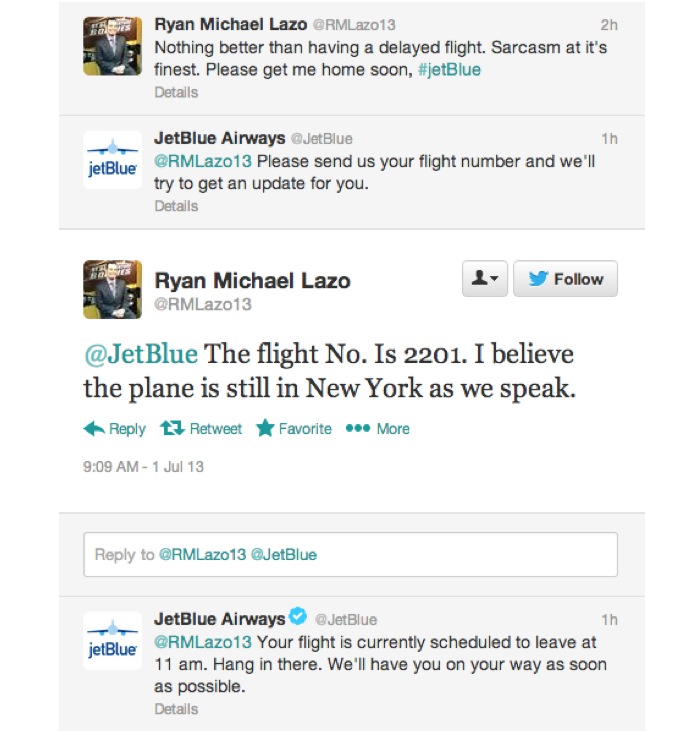 There are many use cases for this but complaints are a priority. Other brands may use this same method for social selling, where there is an opportunity to upsell an existing customer, or acquire a new customer that is indicating buying intent.
In 2015, my company AllFamous Digital launched Share of Voice Awards, a new award body that is specifically listening for social media mentions of brands in same industries, and comparing brands against each other. Similar to how 'market share' works, we consider 'share of voice' to be a critical metric that allows you to understand how many people are talking about you versus your competitors, and whether they have had a positive experience with you.
8. What should I do in a social media crisis?
When a crisis hits, do you want to be holding meetings with multiple stakeholders trying to agree what to do and how to coordinate the effort? As the practice of business has evolved over the last 30 years, technology has evolved faster, and our expensive business continuity plans (BCP) from the 90s haven't evolved with us.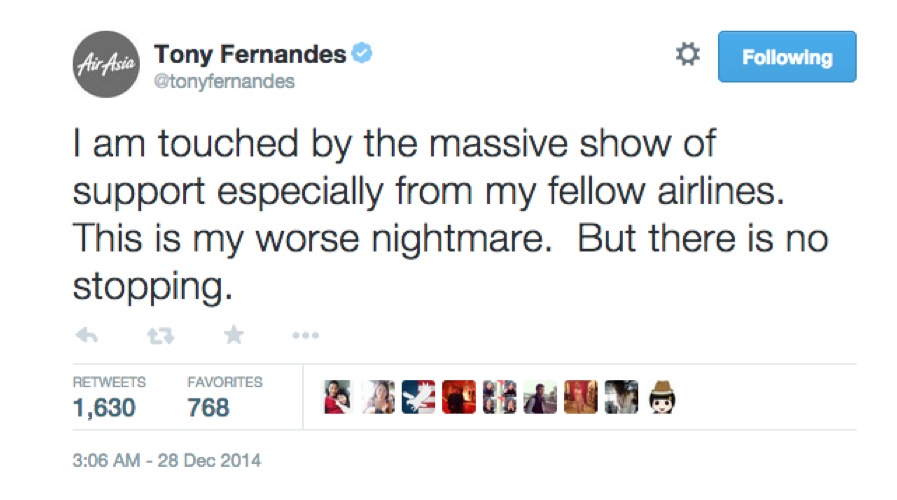 In a study conducted in 2011 by Alterian, when comparing three big social media crises of Nestle, United Airlines and Dominos Pizza, it was found that not addressing or 'censoring' a social media crisis, as Nestle chose to do, it resulted in a slower return to average sentiment levels, which according to the study by McKinsey, has a direct correlation to revenue.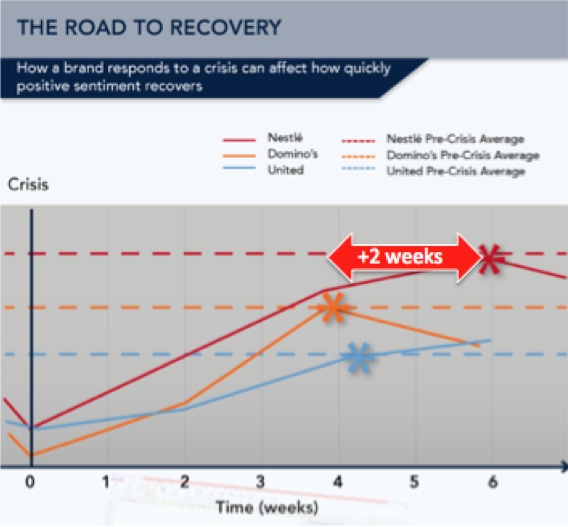 Think like a small town
The key with social media crisis management is to be prepared as if you were a small town with no full time fire brigade. Ensure you have trained and certified volunteer firefighters ready with safe access to a command center with all the tools they need, and existing processes to follow that cover all scenarios. To test your readiness, run a social media crisis drill, just like you would do in a fire situation.
Below is an example of how the volume of mentions of Meralco, the largest energy company in the Philippines, spiked dramatically during the devastating Typhoon Yolanda. Based on volumetric forecasting we can see that in order to respond to mentions within 15 minutes, Meralco would have had to have 28 staff working at the same time during the peak.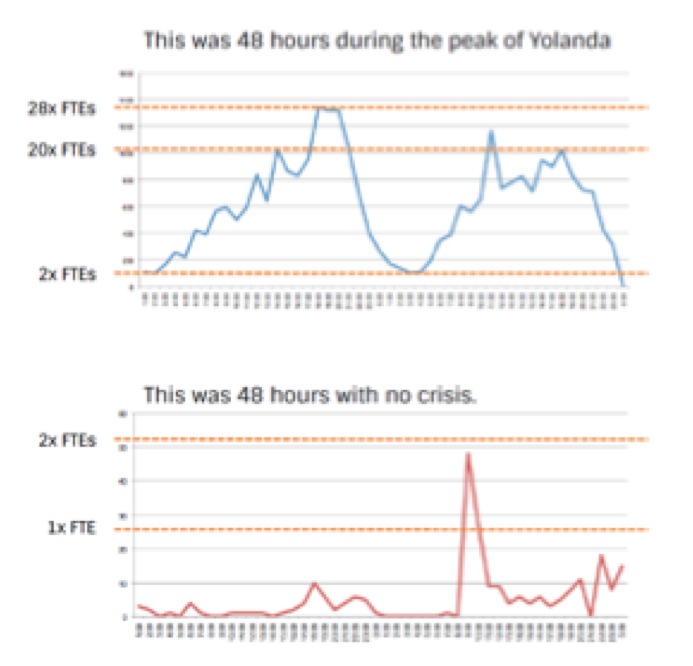 9. How do I keep track of all the customer service enquiries?
The simple answer is to treat them in the same way you would treat your voice enquiries. Best practice is to track all customer enquiries in your CRM so that you can reference them easily in future.
There is a huge importance in building customer profiles as early as possible in your business.
"Every channel and technology that touches a consumer learns about that consumer. If the information can be shared inside an organisation across departments then it could be used to improve acquisition, conversion and retention," says Martin Wallace, marketing manager of Digital Doughnut.
I don't have a CRM
Get one, right now. There are free tools out there for small businesses like Zoho CRM, but if you're a serious business you should invest in an enterprise grade cloud CRM like Salesforce Service Cloud or similar that allows your business enough flexibility to scale, without adding heavy IT infrastructure, or development costs to your business.
I have CRM but it's not integrated with social media
You need to take the next step and find a way to integrate it with social media. If there are no integrations available out of the box, explore alternative platforms that offer this feature that can integrate with your legacy CRM, or replace it. It is possible to run two systems alongside one another and rely on people to keep the two in sync, but it is not strategic or scaleable, and brands are liable to human error.
In 2015, Mike Milburn, Service Cloud SVP and GM, delivered his keynote showing how the socially integrated technology suite helps companies improve overall customer satisfaction by 40%.
10. What metrics should I report on?
Your marketing team or agency are probably already keeping tabs on metrics like social media sentiment, brand engagement ratios and follower counts. To provide contact center quality customer service over social media, companies need to start tracking new metrics like inquiry volumes, response times and team productivity.
Here are some key social media customer service metrics you should consider:
Percentage of response time within two minutes
How long on average does it take you to respond to a customer when they tweet you? A voice call center has a similar SLA is typically defined as the percentage of calls that are answered within 30 seconds.
Average response time
Across the lifecycle of an inquiry, how long does it take to reply on average to all messages from a customer? For example, the first tweet may have been answered in two minutes, but what if a response to a follow up tweet takes two hours? This metric takes into consideration all response times within a case or ticket.
Average handling time
A widely misunderstood metric in the world of customer services, because it isn't as easy to track as it is in voice customer service. The average handling time in social is different because the interaction starts and stops as the agent often needs to wait for a response from the customer before they can take the next step in resolving a case.
The queue waiting time is also important to note, because an agent may take a long time to pick up a new ticket due to a backlog, but the handling time should only start once he has assigned a ticket to himself, as it should be representative of the time the agent has spent actually working on a ticket.
The average handling time allows you to see which staff are faster than others, and also helps you forecast volume of tweets an agent can handle within their eight hour shift.
The average handling time in social can be defined as, "Total ticket lifetime less time in queue and less time spent waiting for a customer reply".
Average resolution time
This is the average time of all tickets between the ticket creation time and the ticket close time. This will vary greatly depending on how many tickets can be closed by the first responding agent, versus tickets that get escalated internally. A good rule of thumb is to ensure 80% of tickets are closed by the agent, however this can vary by industry.
Average interactions per enquiry
This is the average number of social messages sent and received during the life of a ticket. This indicates how effective the agent is at providing the correct response first time.
Tickets created per day
This is the count of new tickets created in any one day. It indicates volume and allows managers to forecast staffing levels required on peak days and during holiday seasons.
Agent tickets closed per day
This metric is a volume indicator to tell how effective each agent is, and also how many tickets.
Percentage of escalated tickets
This indicates how many tickets are closed by the agent versus the number of tickets escalated to internal teams. If this percentage is low or dropping, consider better upskilling of agents, or providing them with access to more information to resolve the customer inquiry upon first touch.
What does my organisational structure need to look like?
It is no mystery that building a scaleable and world social customer service operation requires consideration when it comes to skills and structure. The key question that most brands are challenged with is this: who owns social customer service? Is it marketing, or customer operations, or both?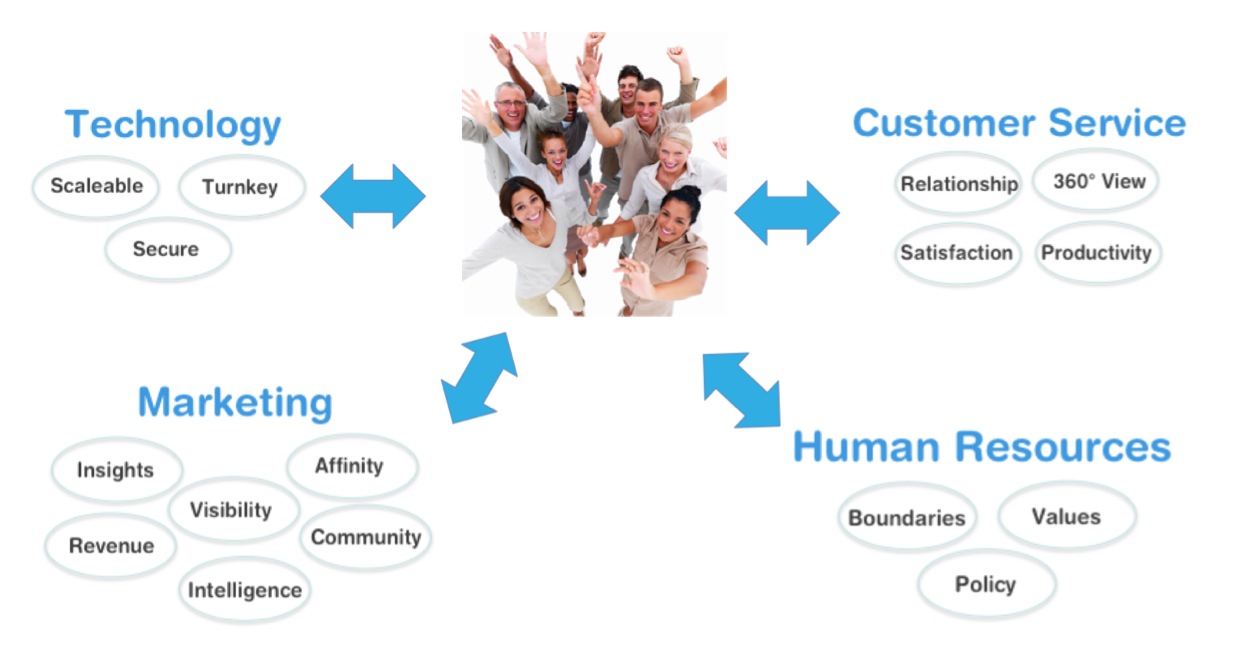 The answer is that it is both, and these groups need to play nicely if they want their operation to be world class. A new role is forming called the chief customer officer that is able to play in both camps.
There are several models for structuring your business, highlighted really well in this slideshare by Jeremiah Owyang on scaling your social media program.
Most companies organise into hub and spoke
Conclusion
As you can see, there are a lot of different items to consider in building a social media operation for a large business, and this article only scratches the surface. If you are newly embarking on this adventure my suggestion is to get a professional involved that has some experience in setting up social media command centers and writing playbooks. There is a lot to figure out and it helps if you don't need to reinvent the wheel.
Robin Leonard is the CEO of AllFamous Digital.