Influencer crack-down: It's time to disclose #ads
As influencer marketing only gains in popularity, it has become as important as ever to make sure they follow a certain set of guidelines. Influencers who market products on social media need to be transparent about sponsored posts and ads. Those who don't comply are at risk of facing a penalty. 
Marketing Mag has reached out to industry experts to look into the issues surrounding influencer advertising transparency and recent breaches of the code of ethics.
Last year the Australian Influencer Marketing Council (AIMCO) published its code of practice for Australian influencers, encouraging more ethical conduct in the industry. In February the Australian Association of National Advertisers (AANA) released a code of ethics that treats influencers as any other traditional advertiser, encouraging them to "disclose commercial relationships in a clear, upfront manner that can be easily understood".
In other words, new ad standards ask influencers to disclose partnerships with #ad #sponsored or other clear markers or potentially risk breaching the code. 
Since these industry updates things have taken an interesting turn with some influencers failing to follow the rules. 
Influencers breaching the code
According to Ads Standards official report, there were two significant cases of breaking the code. The first one involves influencer and former Bachelor winner Anna Heinrich who posed for a photo wearing a Runaway the Label dress but allegedly failed to acknowledge that the post was sponsored. In the report, Heinrich was accused of "lack of regard to Australian law" as her post lacked transparency and failed to include the proper wording for sponsorship. 
The advertiser, Runaway the Label, at the time did not provide any comments regarding the issue, which in and of itself is enough to raise eyebrows. The post has since been amended by Heinrich to clearly state that it is a paid promotion.
View this post on Instagram
Another report from Ads Standards covers a potentially problematic post by Rozalia, known by her Instagram handle as @rozalia_russian. The post in question features a Tom Ford product and no mention of an ad or sponsored content, just simply a tag of the designer. Rozalia's report stated the influencer featured "clearly paid/sponsored ads over a period of time without acknowledgement to audience that it is sponsored".
The issue is currently outstanding with reports that the advertiser in this instance, Tom Ford Beauty, claims that the post was not sponsored. If so, the regulator might have spoken too soon, highlighting the complexity of regulating the influencer marketing space.
View this post on Instagram
While this demonstrates  the importance of influencers labeling their content up to standards, breaches are also a timely reminder to brands utilising influencer marketing. While ultimately disclosing partnerships does fall to the influencer, a breach can impact the reputation of both the influencer and the brand. With this in mind marketers should be aware of regulations and ensure due diligence when it comes to branded influencer campaigns. 
A global approach to influencer marketing codes
Josanne Ryan, CEO of Audited Media Association of Australia (AMAA) explained that advertising must be clearly identified and that social media needs to follow the same rules as traditional channels. She explained that this is in line with a global approach to influencer marketing codes.
"Background on this is that the AANA Code of Ethics is in line with Australian Consumer Law (ACL) so rulings by Ad Standards are designed to uphold that based on any consumer complaints. It is also in line with the global approach, i.e. ASA in the UK which is further along in assessing influencer paid content and has a lot of content on their site," she explained.
"It is worth noting that the CMA UK – Consumer and Markets Authority – which is the equivalent to our ACCC has pressured Facebook on the issue."
The AIMCO code includes advised hashtags for paid promotions and aims to clarify the rules for influencers, particularly around more "nuanced" influencer engagements like gifting. Ryan went further to point to specific rules that need to be adhered to. Here are two most important clauses of the AiMCO Code of Practice (which underpins the AANA Code): 
2.1 Why is disclosure important? 
Advertising must be in line with Australian Consumer Law (ACL). 
There are two fundamental rules relating to advertising: 
You must not engage in conduct that is likely to mislead or deceive. 
You must not make false or misleading claims or statements.
2.3 When is advertising disclosure required?
Advertising disclosure is required when there is a contracted engagement: 
Any transaction with financial payment, as well as 
Gifts and/or 

Free products. 
This also applies to any Affiliate Marketing engagements. 
Ryan encourages brands and marketers to read and be aware of the AIMCO Code of Practice. Influencers also need to fully comprehend their obligations around disclosing paid posts, even if it may seem uncool.   
"Whilst some may have the sense that this appears to be 'selling out',  it can only work in their favour as it ensures they retain credibility with their audience. Consumers don't want to be misled and there is a growing awareness regarding the issue."
"We encourage marketers and influencers to join AIMCO, to get involved in our working groups and assist us in delivering the sort of education and guidance that the fast growing influencer marketing channel needs," Ryan adds. 
Lack of transparency is the issue
Marketing Mag asked an industry expert, Dr Abas Mirzaei, senior lecturer at Macquarie University to comment on this topic. He believes that influencers need to address the issue of sponsored content upfront and choose authenticity over engagement. 
"Influencer marketing has become a big business for large brands. It's been estimated that influencer marketing grew to almost $10 billion in 2020, and it's anticipated to reach nearly $14 billion this year.  However, with the growing interest in media fasting, and using ad blockers, adding the #ad or #sponsored will drop the engagement, and may dilute the organic, authentic, and genuine post perceptions," says Dr Mirzaei.
"I believe it is mostly the lack of transparency and being disingenuous about the nature of the post and the profit-seeking motivations. At the end of the day, the target audience understands that the influencer needs to monetise their posts, So, not being transparent about it is the issue. If it comes to a trade off between lower but authentic engagement vs greater but engagement that is not transparent, influencers should choose authenticity."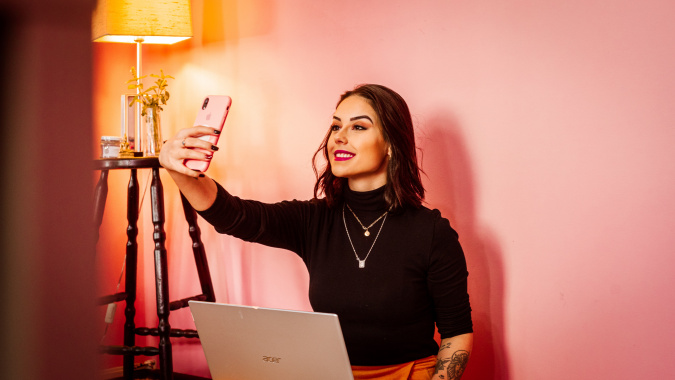 Dr Mirzaei goes on to explain that influencers could feel pressure from brands who view their partnership in terms of  ROI. Followers should be led to understand that even though a post is sponsored, the influencer still believes in its qualities and is honestly recommending the product or service they are being paid for. 
"Influencers showing desperate signs that they will post anything for money, will appeal less to followers, whereas those influencers having their own criteria including relevance to follower experience, fit of the post to the persona, similarity to previous posts, etc. For example, a beauty influencer posting out of nowhere about the Ford car brand will most likely end up in backlash, and will fail on authenticity."

#Authenticity
Authenticity needs to be top of mind for advertisers and influencers alike. Brands who wish to advertise their products or services with an influencer need to make it clear that they value transparency. 
It is time for influencers to adhere to industry codes and clearly disclose commercial partnerships to consumers. As the industry rapidly adapts and matures, brands and influencers need to be mutually responsible for not only knowing the rules but following them. The solution can be as simple as a hashtag. 
Photo by Joshua Rondeau on Unsplash.