Instant messaging: how brands can succeed in the new social frontier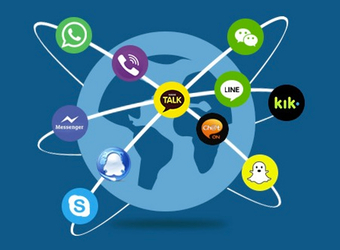 Dan Young and Ryan Marnell discuss their seven rules for brands planning to move into the rapidly evolving world of instant messaging.
The 'cool' factor of Facebook is fading among Australian teens and young adults and a new class of social networking apps is breaking through. These shifts in consumption and behaviour are causing marketers to sit and up and take notice.
Instant messaging (IM) apps represent a new frontier in the social landscape. The four biggest IM apps are forecast to rival the four largest social networks in terms of monthly active users within the very near future. These trends are causing marketers to sit up and take notice.
Driving the adoption of these apps – such as Snapchat, WeChat, Facebook Messenger, Line and WhatsApp – are teens and young adults who are attracted to a more personal and intimate user experience.
This shift makes IM critical to marketers who were once able to rely on the big four social networks – and in particular, Facebook – to reach these strategically significant demographics. It also presents marketers with an appealing source of organic (ie. authentic) social engagement for their brands.
But this is a different flavour of social. The dynamics and nuances that define the IM space means that brands have to build IM specific strategy and content.
Here are our seven rules for brands that are planning to move into the rapidly evolving world of instant messaging:
1. Make the message suit the medium
There are more than 50 instant messaging apps. Each one has its own functional elements that need to be accounted for. The idea, experience or content should align with the platform.
Snapchat, for example, is a way to share images ('snaps') that expire after a period of time set by the sender. The World Wide Fund for Nature (WWF) aligned its content with this feature for its #lastselfie campaign to highlight imminent extinction for different species.
2. It's not a one-to-many platform, so don't treat it like one
In instant messaging, you are only talking to one person. Brands should keep this in mind when developing strategies for IM platforms and deliver more personalised and private content that makes audiences feel like they are being spoken to directly by the brand.
3. Don't wear out your welcome
Instant messaging is private by nature. If we compare networks like Facebook and Twitter to public spaces, where communication is public and visible, then IM takes place behind closed doors. If you can establish relationships with followers on IM platforms, then they are inviting you into their personal space. Exploiting that welcome will result in lost relationships and negative brand image. Every interaction needs to be relevant and valuable to your audience.
McDonald's has used Line to share coupons and promotional offers with customers. This is one example of a brand that is building out its presence by providing users with tangible value via the IM channel.
4. Cross promotion is key
Sharing is not a core aspect with most IM apps, which makes growing followings on these platforms more challenging. In order to grow the reach of these private platforms, cross promotion via existing social and traditional marketing channels is required.
One of the biggest Snapchat campaigns to date was the Audi/The Onion partnership that grew Audi's Snapchat following by 5500 in just four hours. Audi used Twitter to build awareness and direct audiences to its Snapchat account.
5. It's not about having an ambient presence
With Facebook and Twitter, posting volume is key to being seen. The nature of IM makes it easy to be seen, so it becomes less about reach and more about reaching and engaging an audience on a level that content on other platforms can't. The focus of these platforms should not be primarily about building a following, but rather further building and strengthening relationships with existing fans. Positive word of mouth will help grow your presence.
A Starbucks campaign with WeChat in China drove customers in-store for a breakfast promotion. The 'morning call' app triggered an alarm. Users were entitled to a half price breakfast if they made it to the store within an hour.
6. You don't need all of them
The range of IM apps out there is staggering. While the user base of traditional networks like Facebook and Twitter are spread across a range of demographics, newer apps tend to be more popular among more specific markets. A large proportion of the IM user community is below the age of 25. Consider the target audience as well as how well your brand will suit a platform.
7. It's all-new and nothing is proven. Don't be afraid to try
The only way for a brand to succeed in IM is to test and learn. It's all about finding new and exciting ways to communicate with your audience and finding the most appropriate platform to do so.
With limited analytics, IM is both difficult to plan, and difficult to measure but presents an opportunity for brands to use these platforms to communicate with fans in a way that hasn't been done before.
Absolut Vodka used WhatsApp to create a persona, called Sven, who was the 'door man' for a launch party in Argentina. Fans were encouraged to contact Sven via WhatsApp and try to convince him to give them tickets to the launch. The campaign lasted only a few days, but fans were engaging with the brand's persona on a level not seen before.
Instant messaging apps provide new opportunities for brands to interact and build relationships with fans. They present brands that move early with an opportunity for organic social engagement with highly engaged end users, as was the case in the early days of Facebook.
Daniel Young is the general manager of Brightpoint Digital, an independent agency that creates branded content and drives business results via digital and social media. Ryan Marnell is a digital and social media researcher and practitioner for Brightpoint.