Interview with Pinterest's global head of marketing Jim Habig
Pinterest is a unique social media platform with a completely different user experience than its competitors. Marketing mag sits down with global head of business marketing Jim Habig to find out just how brands can and should be using Pinterest for promotion – and then turn those ads into direct revenue. 
Marketing mag: Pinterest is unique for a social media platform; how do you think that this Unique Selling Point (USP) has benefited the platform?
Jim Habig: Simply put, with Pinterest, you can inspire the decisions of consumers. Unlike other platforms where ads distract users from reading the news or connecting with friends, commercial content can enhance the Pinterest user's experience. People come to Pinterest looking for products and services to plan their futures and build their lives.
On Pinterest, brands are additive to the Pinner's experience. People come to Pinterest to discover products and services for their wardrobe, for their new home or for their next holiday, and advertisers want to be discovered. There is incredible harmony between them. Pinterest is one of the rare platforms where it is truly possible for brands to engage with new customers who are intentional, open and making buying decisions.
We're in a unique position because Pinterest is personal media, not social media. It's a resource for people as they deliberately set out to plan their lives. Pinterest also serves as a place for people to escape news, politics and the negativity that can be found in so many places online.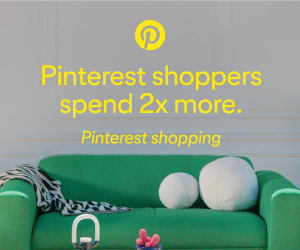 With the introduction of shopping on the site, what is the long-term plan for Pinterest? Do you see it becoming a marketplace and one-stop-shop for Pinners?
Our vision for shopping with Pinterest is: 'every time you see a product you like, you should be able to buy it or something like it'.
Pinterest has always been a shopping destination – and over the last year, we've introduced features to make it even easier to shop the ideas that you discover on the platform. We've found that 89 percent of Pinners use the platform on their path to purchase, and we're continuing to deliver features that enable their 'idea to purchase' pipeline.
With our shopping ads products, retailers can surface a suite of ideas to help customers bring a fully realised idea to life. Pinterest isn't about just finding that new look, it's about revamping that whole wardrobe. Features like collections help Pinners visualise a whole mood, and drive larger basket sizes. Enabling our Pinners to find what they actually love by browsing products in a way that feels useful, happy and personalised drives conversions. In a sense these are the hallmarks of the in-store experience, brought online. We do this through AI-powered recommendations, dynamic catalogues and shoppable Product Pins, visual search to zoom into any object and find where to buy it, and measurement and reporting insights for retailers to determine what's making them successful.
There's a particular opportunity for marketers around the holidays as Pinterest is becoming the new holiday catalogue. Brands know Pinterest is where people go for inspiration and where they naturally shop; this makes it a one-stop shop for holiday planning.
How can marketers use Pinterest? 
With every platform chasing ecommerce dollars, people are bombarded with buy buttons and 'add to carts' nearly everywhere. But Pinterest is different – it's a platform with shopping right at its heart, not a social platform with commercial features bolted on. This means Pinners are more receptive to merchants, and we've created new tools and resources to help merchants fashion a more inspiring storefront and showcase their products.
As a platform where people go to plan their futures, Pinterest provides a valuable window into forthcoming consumer behaviour. We recommend marketers consider Pinterest as a taste graph, and key into burgeoning insights to shape their creative and targeting strategies.
To recognise what's working and optimise their campaigns, we recommend marketers avail themselves of our first and third party measurement tools to gauge success throughout the funnel and account for the full return on their investment.
How should brands be using these new additions? 
We recently introduced a feed optimisation playbook to help merchants hone their product feeds to see more conversions. Tools like advanced filtering enable merchants to more easily promote through product groups, and campaign budgets help drive efficient campaign results with less effort. 
Do you think there is a gap for brands at the moment not utilising Pinterest?
Definitely. On Pinterest, 97 percent of top searches are unbranded, which means that Pinners are typing in a specific brand name when they are searching for ideas. This creates a huge opportunity for businesses of all sizes to be equally discovered. 
Pinterest is creating an inspired ecosystem for shopping that bridges the gap between in-store and online. As people continue coming to Pinterest to shop, we're advancing our shopping features to create a place to shop online, not just to buy. [It's a] place for shoppers to find the things they actually love, and a place to make shopping truly fun again.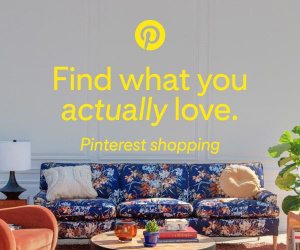 What should marketers be on the lookout for when it comes to utilising Pinterest?
Pinterest users are big-time planners. They typically start searching twice as early as people on other platforms, because Pinterest helps people get inspired. It then helps them find the products to make their ideas a reality. Pinterest continues to be a place where businesses can reach consumers who are in a future-oriented mindset. By reaching Pinterest users early when they're looking for inspiration, businesses are able to reach consumers when they're more open to possibilities.
What is the number one thing you consider marketers are missing when it comes to using Pinterest for their clients?
Too often marketers use Pinterest for the very beginning of a customer journey or the very end, and neglect Pinterest's unique ability to connect the full funnel. Pinterest provides a unique opportunity for marketers to guide the shopping journey – from the earliest glimmers of an idea through to an eventual purchase. Pinterest users are uniquely suited to this path, because they come to the platform open minded but undecided, and often leave with a purchase decision. In fact, 83 percent of weekly Pinners make a purchase based on content they see from brands on Pinterest.
To take advantage of this behaviour in a key seasonal moment, brands should use Pinterest insights to inform their campaigns, to anticipate the needs of Pinners and to generate content according to the seasonal searches that are happening on the platform.
I also want to highlight that we recently introduced our Verified Merchant Program in Australia, which builds trust with Pinterest shoppers by presenting a marketplace of high-quality merchants and products that inspire Pinterest users. In exchange for quality products, accurate metadata, inspirational content and reasonable shipping and return policies, merchants receive various benefits such as enhanced distribution within shopping surfaces, a badge that builds Pinner trust, and a Shop tab on their profile that makes it easy for Pinterest users to discover their products.
Looking into a crystal ball, what's the five-year plan for Pinterest? Will we see it becoming an even more immersive shopping platform?
Pinterest has been on an 11-year journey and it feels like we're just getting started. We've gone from a visual discovery engine to a true inspiration platform that emboldens Pinners, creators and advertisers to create content that is unique to them and truly brings them joy. We also foster a positive, safe and inclusive online community, where everyone is encouraged to be their true authentic selves and inspire one another to take action on great content and ideas.
This past year, we've released incredible new products, initiatives and partnerships – from Idea Pins, to launching our Creator Code, to a global partnership with Shopify and expanding shopping to even more countries like Australia. Over the next five years, we will continue to grow as a key destination for Pinners looking for inspiration and product ideas, creators looking to grow their brands and build a business, and advertisers looking to genuinely engage with their audience.
We're changing the way we inspire the world – from helping Pinners collect and discover the things they love from all over the internet, to bringing the most inspiring people – and all their passions, knowledge and talent – directly onto Pinterest.