M.A.C. Cosmetics becomes first company to partner with Pinterest on Idea ad campaign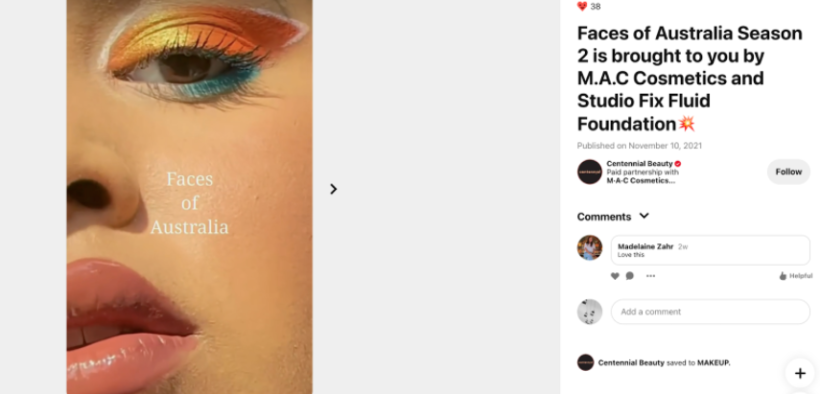 M.A.C. Cosmetics has launched the very first Idea ad with paid partnership campaign on Pinterest in Australia. The campaign showcases the collaboration of M.A.C Cosmetics Studio Fluid Foundation and Gen Z beauty platform Centennial Beauty for Faces of Australia.
The video/photo series celebrates diverse beauty and reaches new consumers looking to turn inspiration into action.
Originally written and produced by writer and champion of inclusivity Ruchi Page. Creatives were asked to collaborate on a make-up look describing their experience regarding Australian beauty standards and the industry. The M.A.C Cosmetics Idea Pin campaign showcases the creators involved in the Faces of Australia series as one compilation video.
Many people turn to Pinterest for beauty inspiration. Whether it's for beauty products or make-up tutorials, and with M.A.C Cosmetics having already established a strong beauty presence on the platform. Knowing this, they saw an opportunity to become the first ANZ brand to launch a creator-brand campaign on Pinterest.
The recently launched Idea ads with paid partnership by Pinterest allows companies to promote a creator-produced Idea Pin. This allows businesses to collaborate with creators to produce immersive, interactive branded content. The content consists of images and videos to tell a story and inspire the creator's audience to action.
M.A.C Cosmetics ANZ consumer marketing manager, Jessica Travers, said the campaign will allow the company to reach new audiences, and engage with them to help them seek beauty inspiration.
"Inclusivity and diversity are core values of the M.A.C Cosmetics brand. It was important for us to visualise this commitment on Pinterest by supporting the platforming of and amplifying the faces and voices of diverse creators in our market," says Travers.
"We're excited to launch Australia's very first Idea Pin with paid partnership campaign on Pinterest. We look forward to many more opportunities to showcase inclusive and diverse content and partnerships on the platform".