Brazil and Argentina beat host Russia in World Cup's most discussed on Twitter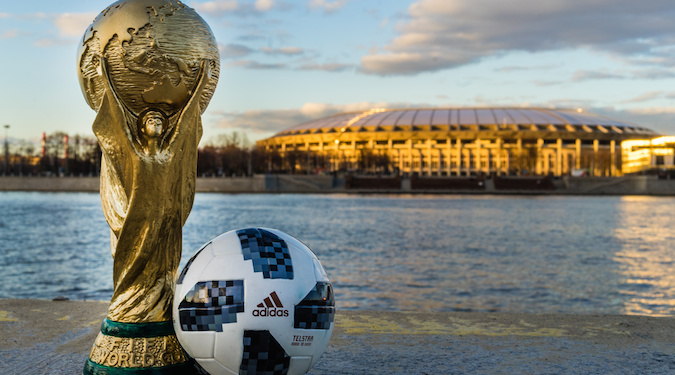 Twitter has released its metrics for the group stages of the World Cup, measuring discussion levels of teams, moments and players.
In a week full of major OOH acquisitions, Cannes chat, Facebook apology crusades and consumer behaviour reports – Marketing has decided to address the topic that people really want to hear about. The World Cup.
In a blogpost from Twitter's data editor Elaine Filadelfo, the social media platform has compiled metrics and visualisations to illustrate how the chatter has unfolded among Twitter users over this World Cup Season.
Brazil against Costa Rica on 22 June was the World's most talked about match of the group stages this year.
Tite's celebration says it all

Brazil notches its first win of the 2018 #WorldCup pic.twitter.com/Glq0n2cLRe

— Sports Illustrated (@SInow) June 22, 2018
And despite being the host team, Russia does not appear in the top 10 most discussed matches on Twitter thus far:
Brazil versus Costa Rica

Germany versus South Korea

Spain versus Portugal

Switzerland versus Brazil

Croatia versus Argentina

Argentina versus Nigeria

Mexico versus Germany

Japan versus Columbia

Brazil versus Serbia, and

Iceland versus Argentina.
Surprisingly, Germany's shocking early knock-out of the tournament was not the most talked about World Cup 'moment' on Twitter. Instead, Brazilian right-mid Philippe Coutinho's opening goal in the final minute against Costa Rica narrowly pulled ahead.
Brazil vs Costa Rica 1-0 Philippe Coutinho Goal #WORLDCUP
90th Minute saviour

Watch The #Worldcup on #iFlixZw – https://t.co/LTKW07rzsP   @iFlixzw pic.twitter.com/9FUA6fDpwK

— Brythreesixty #SauceOutNow!!! (@Brythreesixty) June 22, 2018
Most talked about moments of the group stages in Tweets per minute (TPM):
Brazil's Coutinho opens scoring in 90th minute against Costa Rica – 210,549

Korea eliminates Germany with 2-0 win – 209,517

Neymar Jr. kicks Brazil's second goal against Costa Rica – 191,108

Cristiano Ronaldo levels score against Spain with a hat-trick – 178,603, and

Kim Young-Gwon opens scoring against Germany – 168,429.
Insofar as individual players, 26 year old Brazilian and Paris Saint-Germain forward Neymar Jr has been the World Cup's hottest player on Twitter.
Neymar Rainbow Flick pic.twitter.com/wyJXYzExHb

— InterYaSkriniar (@InterYaSkriniar) June 22, 2018
Here are the top six most talked about World Cup players for the moment, in order of discussion and compared to their volume of followers:
Neymar Jr – 40.4 million followers

Lionel Messi – N/A

Cristiano Ronaldo – 74.1 million followers

Philipe Coutinho – 1.6 million followers

Diego Costa – 518 thousand followers, and

Toni Kroos – 7.1 million followers.
Image copyright: fifg / 123RF Stock Photo