Ninemsn's shareable content tips: find the freaks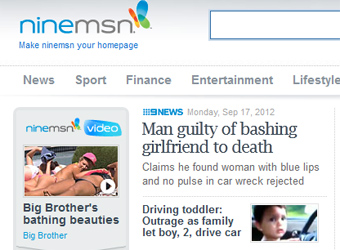 Smoking toddlers, cannibalistic killers, dogs behaving like humans and the World of Warcraft rank among the most shareable content on ninemsn, a study conducted by Mi9 found.
Deviance, defined as stories that depict novel deviant behaviour, consistently features in the publisher's most shared lists, editor in chief of ninemsn, Hal Crawford, revealed. "Freaks in general share very well," Crawford writes on Mi9's blog. "There's no point denying it."
However, the study also found that awe plays a strong counterpoint to deviance, with content depicting stories of inspiration that lift the spirits or speak to the aspirations of readers proving highly shareable. Stories of surprising scientific discoveries or heart-warming tales, such as the boy who made $11,000 selling lemonade for his father's cancer operation, can awe people into sharing, Crawford says.
Around 15% of ninemsn's traffic originates direct from Facebook, a percentage that is expected to grow as social networks mature and proliferate. To be highly shareable the content also needs to contain new information and evoke the emotions of the reader, in addition to playing on the two key levers of deviance and awe.
Aside from the content, the structure of a story is crucial to enticing sharing, with the 'reverse narrative' technique proving particularly successful. A reverse story generates surprise by playing on expectations before delivering the opposite to what is expected, such as the obese woman who wants to become fatter, the snake that gave a frog a ride in the Queensland floods and the bride arrested at her wedding, ninemsn found.
Animals doing unexpected or human-like things and cult interests, such as video game the World of Warcraft, also emerged as highly shareable. And it appears dog lovers are more sharing than cat lovers, with dogs proving the most shareable animal. "Go out and find a dog that worries about his finances, longs for something he will never have, or drives a car," Crawford writes. "Then you will have sharing success."