Samsung hits back at Apple with 'It doesn't take a genius' ad
Samsung has hit back at rival Apple taking aim at the iPhone 5 in an ad that carries the message 'It doesn't take a genius'.
As well as taking a jab at Apple's 'genius bar' retail help desk, and potentially founder Steve Jobs, the ad suggests that the decision between the two devices isn't rocket science.
The ad which ran in US newspapers over the weekend pits the specifications of the recently released iPhone against the Galaxy S III. The list compares a number of common features, pointing out areas where the Galaxy matches or surpasses the iPhone, like its larger and higher resolution screen, greater battery life and extra RAM. Samsung has listed a host of additional features making the list of specs for its phone look much longer than Apple's.
It also points out the lack of near-field communications (NFC) technology in the iPhone, which can be used for mobile payments as well as a wave for more information tool on products. In addition, the ad pokes fun at the new 'Lightning' plug introduced in this iteration of the iPhone, which has drawn criticism for forcing past iPhone owners to upgrade their docking equipment.
Samsung recently lost a court battle to Apple over patents, and was ordered to pay $1 billion in infringement costs.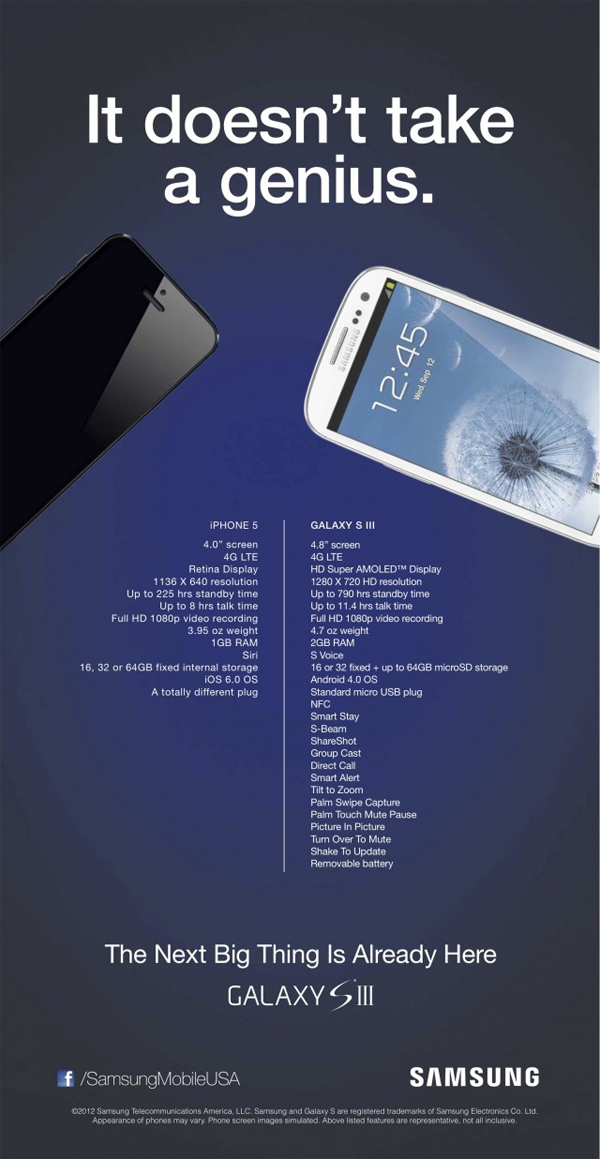 Nokia has joined Samsung in attacking their competitor on this very point, with a tweet from Nokia's official Twitter account on Friday night (US time) using almost exactly the same sentence. It seems great (but not genius) minds, as they say, think alike: