The science of stock – how Shutterstock Custom's senior VP gets inside your head
There's content, and then there's this. Grant Munro tells Marketing how Shutterstock Custom is cutting the corporate crap and turning content marketing into a pure science.
This article originally appeared in The Truth Issue, our October/November 2018 print edition of Marketing magazine.
You've heard it before, there's no need to repeat it. Content's place in the marketing aristocracy has been all but proven over and over. It's one of those funny things, a little bit of a science and a little bit of art – to most, that is. Grant Munro, senior vice president of Shutterstock Custom (formerly known as Flashstock), tells Marketing about his methodical approach to breaking down content into its core elements and how his custom content business got picked up by one of the biggest stock photography companies in the world.
Marketing: How did Shutterstock Custom come to be?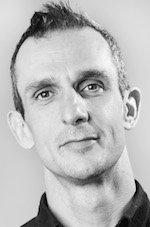 Grant Munro: One of the constants was content. When you were doing a TV commercial and a few print pieces, everything was pretty straightforward and everything was optimised against creating that content. Team structure, agency structure, was all pretty established and pretty static. So when these new channels came up it really threw everyone for a loop. Nothing changed from a budget perspective and that tension was really apparent. I started Flashstock on that insight.
I remember being in a meeting with a bunch of BlackBerry folk.
BlackBerry was one of our bigger clients. It was pivoting from the enterprise device – like bankers would use – to the consumer device, which it obviously didn't do very well. But it was spending so much money on promotion, and part of that was trying to reposition it as a lifestyle device. It was doing a tonne of high production shoots in different locations around the world. One of the locations it was planning for was in Iceland to capture skiing scenarios – millions of dollars on the production side. I went on vacation to Chile to go skiing around the same time; it was August. Chile's like the place to ski in August. It's one of the only places in the world that's top-notch [during that period]. So you had all these professional skiers and ski teams, and everybody was capturing content, so I thought if I could connect BlackBerry directly with this group of people, they could basically just share all the content they're already creating.
That really started the engine for Flashstock; it was a platform to help automate a lot of the workflow, the data and the analytics around creating content – coupled with a global network of creators.
How did you find the pivot to a content landscape suddenly flooded with social media platforms?
It's funny, clients really struggle with change. Usually clients control this very, very small part of the pie, so when things start to change, there are all these human dynamics that come into play.
One of my earliest memories of coming from non-marketing into marketing was how brands were trying to figure out Twitter from a compliance perspective. They were literally sending spreadsheets around to the legal team, to the PR team, the marketing team, the brand team – all for 140 characters. Just logically from a resource perspective it really made no sense – but that still exists today.
Even if you think about how executives used to pick a TV commercial: the agency would come in and show three slots, then on their gut [the executives] would pick the one that best resonated with them. That process doesn't translate into digital because you've got hundreds of pieces of content, so it's a completely different format. But it's a good thing because it creates a huge opportunity for new companies. Whenever there's a change, there's tension, and that's just open space for companies like Flashstock to start and thrive.
We launched in 2014 with a couple of employees and a few clients, bootstrapped. 2016 was our banner year. We grew from 15 people to 80 people. It started to become a little more mainstream to have different ways to create content. Brands were a little more open to going outside of the agency domain. In 2017 I met with the Shutterstock team. All our stuff was custom, all Shutterstock's stuff was pre-shot stock, so it became this interesting opportunity and Shutterstock said, 'Hey, do you want to come join us?' and we decided to do so.
Was it a natural transition from Flashstock to Shutterstock Custom?
It was pretty straightforward. [The transition] was a little hard for our clients because the people who are heavy users of stock are usually the practitioners, whereas the people who understand the value proposition of cheaper, faster, better content are usually a little more senior in the organisation – so it wasn't a direct synergy towards the stakeholders. It was a bit of a challenge.
Why is consistency so important in branded content?
First of all, if you're seeing inconsistent messaging, from a recall perspective it becomes really challenging. If you're a consumer it's just hard to follow and because of that friction you're going to have less impact. Whereas, if you have a consistent look and feel and a consistent message, that makes sense in terms of the value that you bring to the market; it's easier for consumers to understand and comprehend.
Regardless of whether it's Instagram, a website, print collateral – it just makes it easier to have an impact and create that incremental value from a marketer's perspective.
The challenge is: when you're going from a few pieces of content on a few channels to many on many channels, there are just more stakeholders involved. In that case, consistency becomes hard to enable across your organisation. If you're working with 15 creators and multiple agencies, you really have to invest quite a lot of time.
Are there elements of branding that you find are interchangeable and augmentable and elements of content that are not – that have to remain consistent no matter what?
It's up to the brand. I see it as quite different. Depending on the background of the stakeholder, the type of brand, it can really go either way. We've had relationships with clients in the FMCG space where they are so regimented on every single pixel and if it deviates from that, forget it.
Change of leadership, same brand, same budget, completely reversed, complete and utter flexibility. I think people are realising that performance is ultimately the driver. Whenever you add more constraints it drives up the complexity and the cost.
What's most beneficial from an ROI perspective, is if you're able to drive your objectives from an awareness and conversion perspective and loosen your guidelines, it benefits everyone.
What does the Shutterstock Custom workflow look like from a brand submitting its brief to receiving its content?
Taking a step back, the core principle is moving from a managed structure to a network structure. With a manage structure, you own all the resources and then you optimise that work flow – the value chain – to get the exact output that you want. That's great but it doesn't scale, because if you want to increase capacity you have to add more fixed physical resources. On the network model, you're really optimising the point of value or the interaction which is content creation – to do that consistently you need software.
The way we work is: we adjust a brand's look and feel. The concept of a 'look and feel' can be somewhat abstract, which makes enabling that challenging. We created a process called a 'visual identity calibration' where we take all of that stuff as an input and distil it down into measurable and tangible creative variables – technical variables like lighting, composition, colour, contrast and then subject matter and environments.
So you could take any asset and basically look at the checklist that we've configured it against and determine whether it's on or off brand. It's a really good way to distil the cerebral notion of what a brand is.
If I'm a marketer who says, 'Oh, it has to feel premium', what does that mean? Everyone has a different interpretation of that, so when you cast a really wide net you have to eliminate all of that subjectivity.
Then we structure the briefs. If we're doing an auto shoot, an in-restaurant shoot or a lifestyle shoot with certain people we need certain information, but we don't need everything. So we try to capture the minimal amount of stuff to make it easier for the marketers, but also easier for the creatives.
How should marketers be best implementing audience insight data in social media and content strategies?
When you think about a brief, we see it in three different layers: the strategic layer, the campaign layer and the production layer. The agencies' sweet spot is the campaign and production brief, so they're able to translate the insight on the audience or the customer into something like a creative theme or a creative story and ultimately how to tell that story through photography or video. As big brands shed their agency relationships they [seem to] lose that capability.
You see it a lot with financial services companies; they say, 'We want to be aspirational'. What does that mean from a campaign perspective? They get this insight that people have an entrepreneurial spirit, they want to aspire to do things; so how do we, as a financial institution, help them? How do you take that down to the next level to create a campaign? And then what are the actual creative stories?
There's a wealth of publicly available data out there about real customers talking – what they like, what they don't like, which topics are interesting etc. So we've developed a process that allows us to basically segment that audience, then look at the topics that are unique to the audience that that financial institution is targeting by comparing those topics to the broader audience.
So if you're in that audience and you're really interested in craft beer, and you, as an audience group, are talking about that a hundred times more than the general audience of the same segment, we know that that topic makes you unique. If we can figure out how to link that topic to your objective as a brand, there's potentially something there where we can wrap our messaging in the different types of media that we spit back to you around that theme, which generally has a bigger impact.
And that is very interesting because that's kind of what a creative agency does, right? But because you're able to do this through the dataset. You can come up with 10 ideas in an hour based on the dataset; you have a low cost, quick turnaround production arm, spin out a bunch of different creatives, A/B test it against a smaller audience and find out which piece actually resonates.
It starts at the audience insight, which traditionally sits in the media arm, links in creative and measurement so you start seeing all of these cross-functional teams being formed. It's all because you've just enabled this different way of thinking about creative and this different way of production.
How do you study the efficacy of a client's competitors' content?
There's a tonne of cost pressure on brands to reduce how much it costs to create content. As a result of that, they consolidate vendors or they bring agency in-house and do all these things to cut costs. When you do that, you lose your connection into a diverse set of creatives and it starts to narrow your ability to think, and you start to focus on the category itself and only your brand itself.
[Looking at examples of water brands on Instagram] – they're all very Instagrammy. If you look at a photo individually, they're all very aesthetically appealing and the brand is clear. But when you start to group them all together, they all look the same, so the consumer is going to have a hard time differentiating.
When we're creating content, we look at what's happening in the category, then we make sure that the visual identity – calibrating the variables – allows us to stand out and differentiate visually from here.
What is the most interesting trend you've seen develop in the content space since you started?
Most of the changes I've seen have been on the brand side. It's funny, when you're a start-up, the strategy becomes so clear because it's so ROI driven. When you become a big company I think that starts to get lost a little bit and you have all these sacred things that you can't mess around with. Say a monthly print catalogue – there's clearly no ROI and it's super expensive, but you just can't mess around with it and no one knows why.
I'm seeing that changing pretty quickly, where brands are just getting more comfortable doing things they've never done before, more comfortable with releasing control, more comfortable with working with newer partners. I don't know if that's a function of a turnover of marketers with the younger generation or because all this pressure to reduce costs means they don't have another choice, but the tone of conversation for a new or unknown vendor (like us and some of our competitors) is totally different than what it was a year ago.
* * * * *
To purchase a copy of The Dream Issue or a subscription to Marketing, visit the online store »
* * * * *
Further Reading:
Images: Supplied by Shutterstock. All trademark depicted are the property of their respective owners. No affiliation with or endorsement of Shutterstock is hereby implied.