Twitter gets more targeted with interest targeting
Twitter has introduced new targeting capabilities for promoted tweets and accounts that allow advertisers to target users by areas of interest.
The announcement, made on the company's advertising blog yesterday, follows the introduction of targeting by location in July. Prior to this, advertisers could only send blanket messages to followers regardless of their location or interests.
Twitter has broken interests down into 350 categories ranging from education to animation and investing to soccer. Interest areas are broken down at a high category level, with more specific areas listed under the major groupings. Advertisers can choose more than one interest area to target. For example, to promote a new animated film about dogs, animation (under movies and television), cartoons (under hobbies and interests), and dogs (under pets).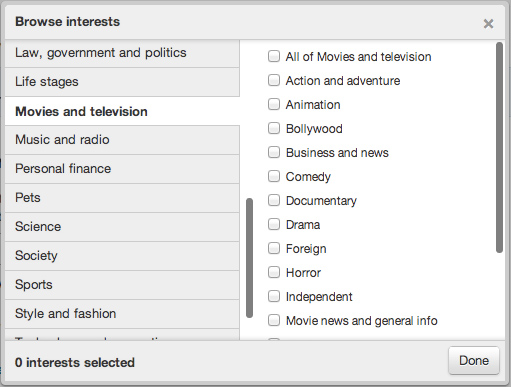 Advertisers can also create 'custom segments' by finding a target user and then targeting users similar to that person.
Director of product management for the social network, Kevin Weil, wrote in the announcement, "By targeting people's topical interests, you will be able to connect with a greater number of users and deliver tailored messages to people who are more likely to engage with your tweets.
"When people discover offers and messages about the things they care about on Twitter, it's good for both marketers and users."
In tests with a group of beta advertisers, Twitter found that interest targeting significantly increased audience reach and engagement rates across the board. The minimum bid for promoted tweets, which are sold by auction, has been lowered to one cent.