Amazon news: new gadgets, Big Mouth Billy Bass, Google nastiness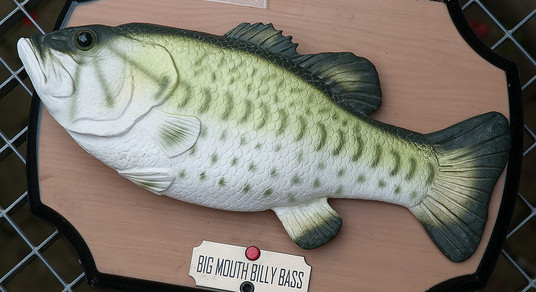 Amazon has released a range of new Echo Products, and Echo Show users can no longer watch YouTube videos on the smart screen/speaker.
The online retail giant has been dabbling deeper and deeper in tech for quite some time. Its new and improved Amazon Echo smart speakers have a range of interchangeable fabric, metal and wood covers. Amazon also says the voice recognition has been improved too.
While it's beginning to look a lot more like Google Home, the price tag is likely to delight customers, at US$99 compared to Google Home's US$129, and Apple's HomePod at US$300.
The Echo Plus will be able to act as a smart home hub, eliminating the need to plug further IoT devices into a wall when adding them, as well as accompanying apps.
Echo Spot, a new small Echo features a circular touchscreen that displays information, work as a monitor for a home security system, and enables video calls.
Echo Connect sees Amazon try to position Echo devices as all-round communications devices. The Connect lets you chime in to your existing landline, ask Alexa to call people in contact lists.
Big Mouth Billy Bass. Alexa Gadgets API will now enable Billy Bass (pictured), enabling the wall-mounted fish to lip-sync to a user's music. For the moment, music seems to be the only overlap between Alexa and Billy. "Big Mouth Billy Bass is not Alexa-powered or an AVS Device," an Amazon spokesperson told The Next Web.
"It is an Alexa Gadget, a new category for us, that connects to Echo devices via Bluetooth and responds to Alexa actions. The Bass will lip sync and move to the beat."
Google rivalry
Amazon Echo Show – an Echo speaker product with a screen – users found they could no longer watch YouTube content yesterday.
"Google has chosen to no longer make YouTube available on Echo Show, without explanation and without notification to customers," Amazon told The Verge. "There is no technical reason for that decision, which is disappointing and hurts both of our customers."
In reply, Google stated: "we've been in negotiations with Amazon for a long time, working towards an agreement that provides great experiences for customers on both platforms. Amazon's implementation of YouTube on the Echo Show violates our terms of service, creating a broken user experience. We hope to be able to reach an agreement and resolve these issues soon."
BMW partnership
BMW has announced is adopting Alexa as the voice assistant in BMW cars and selected Minis starting in 2018. Drivers will be able to drive and talk with Alexa, who will also deliver graphics, such as weather, into the head unit display of the car.