Case study: using AI-led chat bots to engage with customers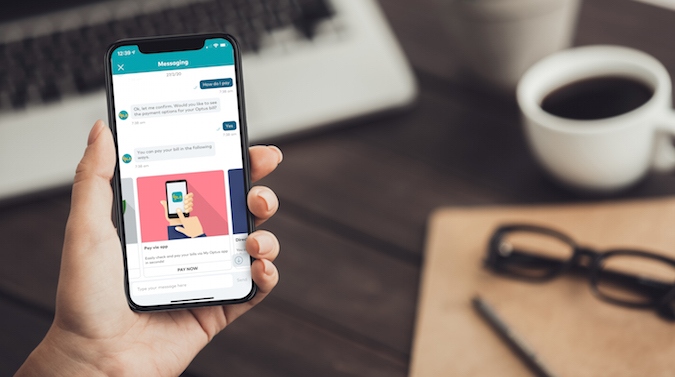 This case study uncovers how Optus used new technologies and AI to engage with customers and offer a personalised experience. 
Background and objective
Each year Optus' service agents engage in more than 20 million customer conversations, helping them to manage broadband, mobile and entertainment queries.
While the company has always strived to reduce wait times for callers, sometimes call enquiries spike resulting in customers waiting on the line longer than would be desired.
According to Optus's vice president for its Digital Consumer division, Vaughan Paul, the desire to resolve inquiries faster has meant more recently the company has worked to shift many customers to digital channels to use tools such as self service and digital messaging. Critical to the success of this strategy has been the My Optus customer app, which currently holds a 4.6-star rating in the Apple App Store.
"We haven't just yet finished migrating all customers but we've had a lot of success. We're around 50/50 messaging/voice, which is a lot higher than many other US Telcos at 20-30 percent messaging/chat," Vaughan says.
"The success of servicing customers through digital channels led the company to investigate other ways in which it could use new technologies to improve their experience."
"We knew we wanted to offer our customers even faster service and more engaging experiences. So we came up with an ambitious plan to offer customers their own personalised, transactional Optus Assistant, powered by AI."
Strategy
Vaughan says Optus took a considered approach to its plans for AI. This meant examining and testing multiple options rather than simply rushing a solution to market.
"We saw other companies' bots often getting a bad rap," Vaughn says. "For this reason, we knew it was critical understand what purpose our Assistant would be serving."
The goal was to create an AI-powered bot that would allow customers to have a personalised experience that was matched to their current product mix and service history, and that would also enable them to resolve queries and complete transactions without the need for human intervention.
Accordingly, three principals were developed to help guide the Optus Assistant's development. The first of these was to ensure that the Assistant delivered a consistent experience, regardless of whether the customer was interacting using voice, text messaging, or via a 'digital human' online.
The second principle was that the Assistant should be able to deliver service that was personalised to the needs of the specific customer using it, rather than simply providing generic answers. This would mean that the Assistant could provide customers with exact information about their relationship with Optus, such as their contract end-date, as well as being able to make changes to their account.
And while the goal is to achieve end-to-end servicing using the Assistant, Optus also adopted the principle that in those instances where human intervention was required, an Optus agent would be able to easily step in to complete the resolution of inquiries.
Execution
The desire to provide a personalised and relevant experience led Optus to create the Optus Assistant as one of the first API transactional assistants to be released in the market. This means the Assistant can interact directly with an account, rather than just providing information, and make changes to services such as direct debit and payment dates.
"Optus Assistant's purpose is to offer service that is fast and personalised, with the ability to transact and resolve queries end-to-end," Vaughan says.
The AI-powered Optus Assistant was launched via a messaging service available on the My Optus App, as well as on the company's website. Further development work has since enabled the Optus Assistant to scale to assist more than 100,000 customers each week, and Vaughan says the company will continue adding new functionality to the Optus Assistant to provide better service and enable it to resolve a wider range of inquiries.
Optus is also looking to use the AI bot technology to better service customers when and where they want by improving its integration into voice channels, while also boosting their experience with greater use of personalised elements and more empathetic responses. This includes integrating the Optus Assistant into smart speakers such as the Google Home, where it is able to answer questions relating to topics such as billing and usage.
"Our customers should be free to make up their minds how they want to be supported, and it is our job to ensure that we are meeting them where they want to be met, with the most pleasant and effective service solution we can deliver," Vaughan says.
"So we're experimenting with digital humans, and adding more empathy AI and personal elements to our digital experiences."
Results
Today the Optus Assistant welcomes, triages and services. Optus has found that customers have a better experience with the combination of the Assistant and human agents, rather than human agents alone.
"This is demonstrated by our Net Promoter Score being 10 points higher on average for the combination," Vaughan says.
The Optus Assistant has also proven especially valuable during the current COVID-19 pandemic, by providing customers with immediate answers to common queries.
"We are able to service the most vulnerable customers first by routing them directly to the small amount of people agents we've had available through this challenging time."
"With many of our people in our contact centres impacted by the lockdown measures, the importance of digital channels and Optus Assistant in ensuring Australians are connected through this time has never been clearer".