Corporate Reputation Index: JB Hi-Fi back on top in 2016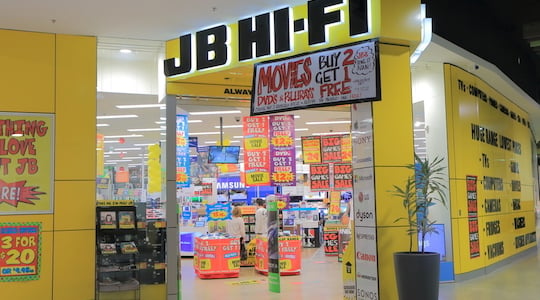 An annual report shows that JB Hi-Fi has the strongest corporate reputation in Australia, and ranks the top 60 based on overall reputation.
The '2016 Corporate Reputation Index' shows that JB Hi-Fi ranked highest among 60 companies measured, for overall corporate corporations, climbing two places since 2015.
The home entertainment retailer, which ranked first in 2014 and third in 2015, has ousted Toyota and Samsung, last year's first and second highest ranked corporations, respectively.
Research for the Index is part of an annual global study conducted each year by research consultants AMR, in conjunction with the Research Institute.
In addition to measuring overall reputation, the Index also measures how Australians feel about each company based on seven individual drivers of reputation: products and services, innovation, workplace, citizenship, governance, leadership and financial performance.
AMR managing director Oliver Freeman said the research showed that Australian consumers not only rated JB Hi-FI on highly based on its products and services, but also feel it is a good corporate citizen that treats its staff well.
"This research shows that respect for an organisation is developed well beyond the perception of getting a good deal in a retail environment. Being a responsibly-run company that is open and transparent, and treats its employees well is also vitally important to Australians when it comes to overall reputation," he says.
–
Related: Jaci Burns on gag clauses and your company's reputation on social media. Read more »
–
Other notable improvements and falls include:
Qantas jumped five places from ninth in 2015 to fourth this year,

Hyundai Australia rose 13 places to rank 15th,

Woolworths had the biggest fall, from 17th in 2015 to 40th in 2016,

Australia Post slipped from 6th to 19th, and 

7-Eleven fell 20 places to rank 56th.
Here's the top 20 rated companies for 2016:
JB Hi-Fi,

Toyota,

Samsung,

Qantas,

Mazda,

Air NZ,

ALDI,

Devondale Murray Goulburn,

Apple,

Hewlett-Packard,

Virgin Australia,

Nestle Australia,

BlueScope Steel,

Flight Centre,

Hyundai Australia,

The Good Guys,

ING Direct,

Wesfarmers,

Australia Post, and

Harvey Norman
* * * * *
Join Marketing Pro for case studies of some of Australia's most successful brand campaigns.
* * * * *