How an Australian app revolutionised Japanese finance without being creepy
People have every right to be protective of personal data, especially when it comes to finance. Marketing speaks with Zach Taub, chief of marketing at Moneytree, about managing privacy, personal financial data and how it can be used in non-creepy ways.
This article originally appeared in The Money Issue, our April/May print edition of Marketing magazine. Also, keep an eye out for our June/July issue hitting newsstands very soon!
Moneytree was originally founded in Tokyo by Melbourne's Paul Chapman and the US's Ross Sharrott and Mark Makdad. The personal finance management app enables users to get a complete view of their finances, which can typically be segregated across multiple providers. It has since added other capabilities to its service, launching in Australia and offering added value and power to consumers through a range of data sharing options.
Marketing catches up with Zach Taub, Moneytree chief of marketing to discuss the company's origins, how sharing financial data can be beneficial and the similarities and differences between Japanese and Australian markets.
Marketing: How did your brand and attitudes towards consumer data originate?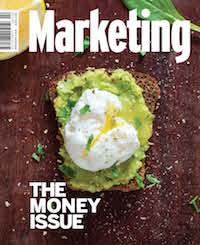 Zach Taub: A couple of years after we launched we realised it was very hard to monetise just an app. We wanted to build a business around it. After [we won] App of the Year a couple of times in arow, many companies came and approached us and said, 'Do you guys want to build an app for us?' or 'Can you give us your data?'. The leaders at the time decided that it would be very interesting to do a data-driven model, but didn't want to be creepy. There were a lot of concerns for us around privacy and the rights of users. After a lot of discussions with people who are using the app as well as with potential partners, we realised there are times when user data can be or should be shared with third parties – just not in the advertising milieu. We decided to say, 'let your data work for you, work on your behalf'. So we built out – using the same technology we use to power our app – a whole platform that now serves 35 corporate partners in Japan and allows users to use Moneytree as a financial identity service provider. So we have the app, which has a couple of million installs, and then we have people who are actually going into a broader value-added ecosystem as partners and signing in with Moneytree.
What's an example of a user being able to share their data for their own benefit?
The really straightforward example [is] we actually power a data feed for Mizuho Bank's app. Mizuho is the third largest bank in Japan. It's one of the Japanese megabanks. Inside its own consumer app, you can sign into Moneytree and see the holistic picture of your finances from other banks, credit cards, digital money, etc. We're already providing a very strong value proposition for consumers because, in their main bank app, they're able to see other data from other apps or other services. That's becoming a bit more common these days.
There are a couple of companies in Australia that are doing something similar. The next example: once you've spent all this time collecting and managing your data through Moneytree, you can import that data into one of our third-party service providers. An obvious partner from the very beginning would be a tax preparation company. All that data from multiple accounts could be a huge hassle when you have multiple bank accounts, credit cards and expenses to move all that stuff over manually to tax prep software.
One of the biggest accounting firms here in Japan ingests all of that data. Sign in via Moneytree and it ingests all your data and it saves you time on your tax preparation. That's the data portability side of it. That's the business we have up and running here in Japan and the business we are seeking to establish here in Australia.
What is it about today's economy in Japan that made this so popular and such an award-winner?
When you're working in the start-up world you always want to solve a problem. You always start with a problem solution statement. Digital banking uptake was very low at the time the app was launched. It was low because the experience was bad. The idea was basically to bolt on a more user-friendly interface for the banks. We were not looking to disintermediate or take customers away from banks; we were looking to improve the relationship that consumers had with their banks. That was the problem we sought to solve, and initially banks here – because of the wave of fintech that had been sweeping in the west – were very afraid of disintermediation and didn't really want to cooperate with us.
After we started to win awards and get recognition in the industry, banks started hearing from their users that they preferred to use the Moneytree app over the bank's native mobile banking experience. That ended up becoming the foundation for partnerships with the banks and investment from the banks. In a round of investments we were actually the first company in Japan to receive simultaneous investment from all three of the Japanese megabanks. That was a huge validation of our efforts. It signalled that they believed in our vision, which at that point was really all about building that platform. We hadn't even built the platform at the time we took the investment, but that was where we were going.
When it comes to sharing user data with third parties without being creepy, your main example is sharing financial data across various finance apps. Are there any other examples?
On the 'creepy' side of things, our concern was the fact that if you're using Google or Facebook, it's not Google or Facebook that is the product, it's you that is the product. Your data is the product, and people are marketing to you via those platforms and all the data that they collect. That is built in to all the user agreements. But if you start to think about financial data, which is the most personal data you can have, and the most sensitive, we don't want to be looking at that data in aggregate. That data belongs to the consumer, and we think that we can build a marketing model that would upend the power relationship. It's the consumer that has the power because they're the data owner and they can choose to share that data with service providers if they so wish. Obviously they don't have to, there's no requirement. We don't require them to share anything with anybody. They're welcome if they like to, they're welcome to not if they don't.
Is that as simple as ticking a box in the app?
We use an industry-standard service, which basically says when you're connecting to a service: 'This service wants to use these pieces of data to provide you with this product. Do you accept?' It's the same thing you'd use when you sign in with Facebook or Google. Instead of having a blanket 'opt-in' or ticking 'agree' at the end of a 20-page contract – without even necessarily having read it – we make that experience extremely transparent. We allow consumers to maintain their privacy. 'I didn't know I had to share that with those guys and I don't want to share that so I'm not going to sign into that service', then they're done.
At any time they can reach in and shut off that connection to the service. Within the app and within our web interfaces, users can log into their Moneytree account and turn off any third-party connections any time they want. Those third parties are obliged to take your data out of their database pretty much immediately.
Why was Australia chosen as the country for expansion?
The super obvious answer is that we have an Australian founder. There was a point in the business where the three founders were actually working together as scholars at Swinburne University. We have some market knowledge and some affinity for the market. Obviously, we are interested in Australia for that reason. From a practical point of view, the time difference is minimal, Australia is an English-speaking market. We built our app to work in English and Japanese from day one.
Are you encountering many significant similarities or difference between the two markets?
Our vision for data portability is not really a vision about technology; it's a worldview. It's much more in line with the idea that people are owners of their data. There are a lot of ways in which Australia and Japan are different – population demographics, technological penetration, regulators, regulatory environments etc. But where they're very similar is that you have markets that are dominated by a small number of large financial institutions. That means people often have multiple bank accounts because they have a bank with a national brand and they have their local brand. 
Same goes for credit cards. Oftentimes both in Japan and Australia, people are earmarking credit cards for specific use cases. 'This one gets me points when I do this, this one gets me miles or this one gives me a discount.'
People have multiple credit cards for different channels. Japan and Australia are very similar in that regard. While Japan is probably the leader in the world in loyalty programs, Australia's not far behind. Consumer loyalty programs are huge in Australia as well. There were enough similarities in the financial landscapes that we could test the idea of defragmenting your financial life by putting it all back together in the one place where you can see it.
Were there early challenges or unforeseen difficulties?
If there's anything that makes us a little bit circumspect, it's probably the old aphorism that timing is everything. Japan, strangely enough, is a leader in open banking thinking and implementation in Asia. If you know anything about Japan, you know it has not really been a leader in most things for a very long time. We were involved with the regulators as they were developing an open banking framework. We had a huge hand in developing what's become Japan's open banking and regulatory model.
We chose to go to Australia basically at same time that Australia is in its infancy of its open banking regime as well. So, one of the things we've seen that's a small challenge is timing related: there's a lot of wait and see going on. A lot of the financial institutions are waiting to see what the Government's going to mandate before they decide how they're going to comply. We do have a lot of relationships between larger and smaller financial institutions. I think everyone is holding fire until they have a better idea of how the regulation is going to pan out before they start working with new partners.
What's exciting you in money and fintech?
Moneytree is really excited about insurance and insuretech. That's a space that's very much ready for innovation. It's an old industry. It's very, very slow to move and the application of technology could really revolutionise how insurance is done.
How do you think the way people use money will change and develop as technology develops?
It's extremely interesting. We have some visibility across Asia and we're seeing how different economies are in different positions when it comes to going cashless. I think cashless is the next big wave of innovation. There's already a lot of cashless products out there in the market. Contactless payments, mobile cashless, mobile contactless. You've got Android Pay or Apple Pay. The fluidity with which money can move is going to change people's behaviour.
At Moneytree we believe even though your money has been virtualised – you don't get an envelope full of cash every month – we want you to understand what you've got. As micropayments get easier, peer-to-peer, automated debit and deposit, it's going to be a lot harder for consumers to understand their positions. It'll be interesting to see how that all shapes out. We say: defragment your personal finance. The funny thing is defragment is a term that works with a certain generation. It means one thing for one generation and different things for others. As a young child I was defragmenting hard drives. That has a very strong image to me, of something that's in pieces that needs to be cleaned up. But the truth is it's harder and harder to track your personal financial position. It's actually harder for businesses as well.
* * * * *
To purchase a subscription to Marketing magazine, visit the online shop »
* * * * *
 Image copyright: tuk69tuk / 123RF Stock Photo