How Made in Katana changed the voting of Triple J's Hottest 100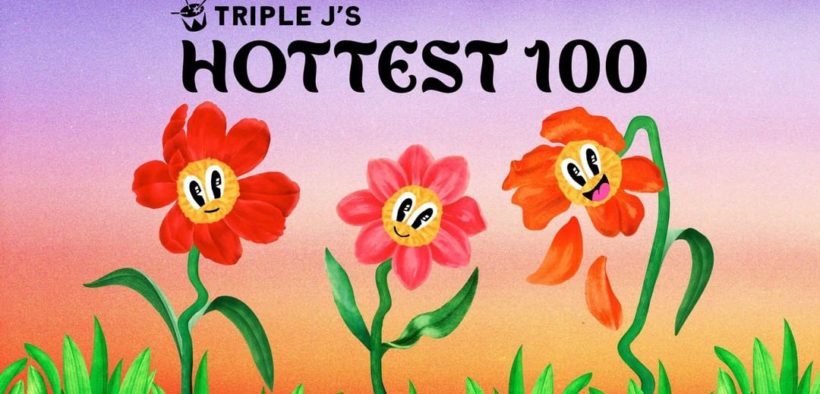 Made in Katana has worked with Triple J since 2015. Since the partnership, Made in Katana has changed the way the voting works on the iconic Hottest 100 countdown. Marketing sat down with co-founder Adam Callen to find out how this change happened.
What type of work does MIK complete on projects like Triple J's Hottest 100?
Made in Katana (MIK) has developed voting systems for several years across a number of projects including the ARIA Music Awards. In 2015, we started chatting with the ABC about adapting our voting system for the Hottest 100 as they needed a system that was highly scalable to keep up with the increasing number of Australians voting each year.

As with all our partners, we became an extension of the ABC team and helped them out wherever possible. We now work on the entire voting system from top to bottom, across desktop and mobile. The ABC digital team are some of the best digital minds in the industry. We love collaborating with them on the Hottest 100.

How did shifting to a cloud-based platform change the way the countdown works?

The biggest shift was the scalability Google Cloud enables. Rather than worrying about potential risks associated with campaigns of this scale, such as website crashes due to increasing visitor numbers, we're now able to support the ABC to reach a larger audience and create great user experiences.
As Triple J appears to have a larger reach than ever before, was this what commanded the shift to Google Cloud?
Google Cloud allowed our platform to grow with the Triple J audience in a way that wasn't possible before. Before Google Cloud, we were running on a different cloud hosting service, but as a mid-sized agency, our developers wanted to be focused on developing and ensuring exceptional user experiences rather than getting bogged down with traditional system administration work. The shift to Google Cloud helped us to hone in on this and spend our time more efficiently.
Are you able to talk about how the cloud experience has changed over the last several years? How safe is it from being hacked/leaks?
When we initially looked into cloud it was much less common. These days you almost need to explain why you aren't leveraging a cloud provider.

Security is ever-evolving and something that we take very seriously. I feel at ease knowing that MIK is underpinned by Google Cloud which places security at the centre of its product development. Google Cloud's baked-in approach to security and the availability of support teams gives us a sense of confidence that we simply didn't have before.

How did this digital transformation benefit your agency and how could similar transformations benefit digital marketers as a whole?
One of the bigger issues in digital marketing is focus. Focus for consumers. Focus for clients. In a rapidly changing world post-pandemic our audience is eternally distracted. Be it working from home or from the office we can no longer expect a stable environment, we need to constantly move with our audience without being afraid to experiment. We need technologies which support us in creating focus and quickly respond to an ever changing environment.
Digital transformations such as cloud hosting allows us to scale with growing audiences and respond quickly to feedback without worrying about the more technical aspects of a campaign.

Our biggest client is Spotify, and since deploying Google Cloud, we can easily scale their marketing campaigns across international partnerships including Tourist Ireland, Channel 4 in the UK, Dell, Bumble, and Adidas in the USA. This has allowed us to focus on the clients needs rather than the technology.

Reflecting on where the industry was 10 years ago, this wouldn't have been possible unless you worked for a big, global agency where you had a massive support IT infrastructure. 
How can digital marketers leverage cloud providers to bolster or improve their work?

I believe working with a cloud provider is a non-negotiable for digital marketing agencies looking to level up their capability – it still surprises me when I encounter agencies on a legacy system!

As campaigns are no longer contained as a single microsite, or a social campaign, but are delivered across a wide range of platforms and experiences, my advice to digital marketers looking to keep up with Web 3.0 is to leverage cloud.

Working with Google Cloud means MIK can take full advantage of its scalability and performance while having access to new tools and systems as they come to market. This enables us to easily deliver engaging, global campaigns, without worrying about our tech.

What sort of new initiatives has this collaboration brought to the market? Any other projects you can speak to?
Being able to concentrate on the experience rather than worrying about the technical limitations of scale has opened up endless possibilities for us and initial collaboration with Google Cloud for The Hottest 100 gave us the confidence to tackle larger projects at scale. 
Some of our favourite campaigns have been for Korean Pop bands; BTS and Itzy. The scale and fervour of their fan base is unmatched and being able to produce a global digital campaign for them would not have been possible without Google Cloud – the instant amount of traffic we get from this fanbase is beyond anything we have ever seen!

YoY what difference has deploying cloud technology made to resourcing/total hours spent on a project like the Hottest 100?
The biggest difference since deploying Google Cloud has been the reduction of stress and worry within the team. 
In 2020, the number of votes for the Hottest 100 topped three million for the first time. Because Google Cloud scales automatically, we went from panic over voting spikes to confidence in our technology. It's almost a set-and-forget approach. 
Our wider team, from designers to marketers, now feel safer launching campaigns to drive engagement with global fanbases, because we know the system can handle any load. This has had a positive knock-on effect for team creativity.
We now don't need to worry about DevOps, system downtime, or platform crashes. This means the late nights and crazy deadlines are gone. We can enter the weekend with confidence, knowing we don't have to look at dashboards until Monday.

We've significantly reduced the amount of time spent with the core of the technology and can now focus all our energy on how to make the best voting experience possible. Which is the way it should be.