A sustainability transformation journey: Interview with Amy Smith (T2)
From becoming an accredited B Corp to opening a 'green' Bondi store, global tea retailer T2 is committed to redefining business success and doing good for people and the planet.
Marketing recently caught up with T2 global brand director Amy Smith about why profit and purpose do not have to be mutually exclusive and how brands can begin a sustainability transformation journey right now.
From humble beginnings, T2 was founded in inner-city Melbourne in 1996 by Maryanne Shearer and Jan O'Connor, out of what Smith calls an "obsessive kind of appreciation for the humble tea leaf." 
"Maryanne's dream was to celebrate all the different places it's grown, all the different rituals, all the different cultures that are behind it, all the different flavors, and then even look at how to mash it up and how to bring these things to a new generation to reinvent."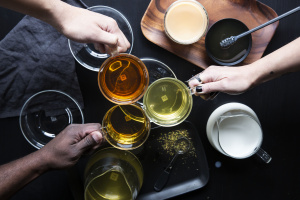 Now, more than two decades later, T2 has stores all over Australia and the world. T2 was acquired by Unilever in 2013 and has stayed true to its graphic marketing and storytelling approach. Smith describes the T2 persona as "theatrical" and "creative" in its style, like being the "best-dressed person at a party."
More importantly, T2 has dramatically shifted operations to prioritise ethical, sustainable and responsible business practices. From a marketing perspective it was important for the brand to keep its flair in the process and now Smith says has "a really strong evidence based story to tell" when it comes to sustainability.
This year T2 released a report sharing its sustainability journey and some recent milestones reached, from being an accredited B Corp to confirming that as of July 2020, 100% of teawares are ethically sourced, according to strict SMETA or BSCI auditing standards. The company is also working to reduce carbon emissions and has ambitious goals for the future, including ensuring that 100% of all tea will be sustainably sourced by the end 2020 and making a dramatic reduction on its use of bags and packaging moving forward.
Smith says that the company has revolutionised how it does business since 2017. For Smith, the process started with simple questions of how the brand could do things better: 
"We're celebrating the taste and the flavours and the origins of these teas, but what if we could impact the communities where they grow? What if we could sustainably source all of our black teas? What if we could think about how we could, in the process, eradicate modern slavery? What if we could look at the packaging and go, 'how do we approach that when you've got to keep it fresh?' No one wants a box of bad tea."
Smith says this sustainability transformation journey began with the United Nations Sustainable Development Goals, in particular:
1. No poverty

5. Gender Equity 

12. Responsible Consumption and Production

13. Climate Action, and

15. Life on Land
"You know, one of the things that we really, really wanted to address was offsetting the operation entirely. And then looking at life on land, and considering: what could we do? So from all of those goals, we kind of settled on five of them."
Smith is no stranger to businesses overhauling the status quo. She talks about living in London in the '90s and seeing the way Dame Anita Roddick, The Body Shop founder and activist, used business as a force for good: "At that stage, everybody was going, 'well, profit and purpose are mutually exclusive'. And she proved that's not the case long before we had generations of Gen Z and Gen Ys and Millennials who really care so much more about this."
Smith says that T2 finds inspiration in other brands leading the way, like The Body Shop, Patagonia and Kathmandu. Now well into its journey, T2 has become one of Australia's largest B Corp Certified retailers.
So why did T2 decide to go down the B Corp road?
"B Corp was independent. It was really end-to-end. You can't just do it in a bit of the business, you've got to show the whole lot, including diversity and inclusion from a people point of view and it's independently assessed. It gave us a roadmap."
While Smith is excited about the milestones that the brand is reaching, she says that the process has taken dedication and included making difficult decisions. For T2, a big challenge has been working towards ethical sourcing without compromising its key point of difference: taste. 
"You're sending people fine bone China – no one is going to thank you if it breaks. So you've got to find solutions that are practical as well as sustainable. And that's not always easy, whether it's the flavour and the flavour profile or whether it's actually looking at how you can pack something in something that doesn't involve bubble wrap."
Smith acknowledges the brand still has room for improvement. "From helping people understand how to dispose of rubbish correctly, how to dispose of it in a way that we keep contamination out of recycling streams and we're reducing landfill. We've still got a ways to go in terms of looking at some of the teawares and looking at sustainable materials and looking at that circular economy."
A key factor in the journey is transparency and communication, especially when it comes to complex supply chains: "Everything had to be audited and we have also audited the supply chains of all of the suppliers. So you've kind of got to walk them through it, which is all about extremely open communication."
One unexpected delight is how motivating the process has been for employees and the fundamental shifts in team culture, says Smith. "It's really connected the people in the organisation behind a purpose. We didn't just go out and say, 'Oh, we just bought carbon credits'. Not that that's a bad thing – but what are you going to do with it? And what's the impact of it?"
And for consumers?
"We're just about to launch our new gifting range, which is so beautiful, but even the gift boxes themselves, everything is recyclable. So it's permissible indulgence with that kind of twist: good for me, good for the planet."