Kmart Tyre & Auto follows 'Everyday Low Prices' model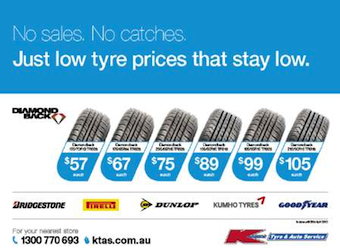 Kmart Tyre and Auto Service has launched its lastest marketing strategy, bringing the auto repairer's tyre range in line with counterpart department store Kmart, shifting from time-honoured sales promotions to a model of 'Everyday Low Prices'.
It comes one year on from the company's rebranding, which saw a refresh of the Kmart Tyre and Auto Service logo, website and retail outlets.
The move, which it claims is a first for the automotive repair industry, is aligned with the 'Everyday Low Prices' strategy of its counterpart department store, Kmart. The tagline 'No sales. No catches. Just low prices that stay low', will be communicated to all media from this week onwards.
On the reasoning behind the move, general manager of marketing for Kmart Tyre and Auto Service, Tony Skallias says, "For years, perhaps even decades, the tyre industry has engaged in high-low pricing tactics, using short-term promotions to drive sales, only to revert back to high prices at end of the event." Skallias says the reality is customers don't always need tyres during promotions and often have to make a purchase at the high point of the pricing cycle.
Kmart Tyre and Auto Service's digital strategy will also finally see the brand embrace social media, namely Twitter and Facebook to further communicate its messages.