Michael Porter says 'shared value' is a major strategic opportunity, but it's not CSR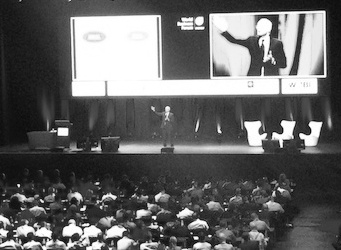 Professor Michael Porter told delegates at the World Business Forum in Sydney this morning that his seminal paper on 'shared value' is often wrongly perceived as being about corporate social responsibility (CSR), but that this reading couldn't be further from the truth. In fact, shared value is one of the biggest strategic opportunities for businesses, regardless of industry.
"I wrote a couple of years ago an article called 'Creating Shared Value.' The basic idea was how can we rethink, as businesses, our role in society. You start out, when you hear that phrase, [thinking] that this is something about corporate responsibility… that's what it sounds like. But it turns out that's not what it's about. It's about strategy, about profitability, and it's about growth."
Porter says his realisation in this area came about five or six years ago, almost by accident, while he had been very engaged in social issues. "What I found was when I was thinking about international competitiveness… a lot of it had to do with social and societal issues like health and the environment and poverty issues and so forth.
RELATED: The worst error in business strategy according to Professor Michael Porter »
"At some place along this body of work, I started to see, actually, that some of the biggest opportunities for business were actually in the social sphere.
"We've been so trapped in the mindset that business does business and others do social, that we haven't seen the ability to put those two things together.
"And I've come to believe that this may not be the biggest strategy opportunity we have in every industry but it's getting pretty high on the list for almost every one that I work in as I work in different parts of the world."