Mr Yum's Kim Teo
Before COVID, Mr Yum was a nice-to-have order and pay mobile menu. Now, with social distancing and hospitality restrictions, it's a cornerstone of hospitality venues. Marketing mag speaks to co-founder and CEO Kim Teo about how the needs of the product have changed, and what we can expect in the future.
What was the direction of Mr Yum prior to the outbreak?
Mr Yum was founded in late 2018 and was created with the simple idea of bringing menus to life with photos of every dish. 
Mr Yum's digital visual menu quickly evolved into a web-based menu where customers order and pay via their phone by scanning a QR code. 
When COVID hit in 2020, we were a 100 percent in-venue table-ordering solution, so when we went into lockdown and venues' revenue was cut to zero overnight, so was ours. 
Our tiny team banded together to build delivery and pick-up features for the platform in just nine days. We worked around the clock to help hospitality businesses quickly adapt and keep their kitchens operating and staff employed.
There has been a lot of growth in less than two years. In the past 12 months, the team has grown from 12 to more than 100 full-time employees across four countries, and Mr Yum now has more than 13 million users worldwide. 
Can you explain more about how the all-on-one CRM (customer relationship management) platform works? 
Faced with the challenges of rapid expansion, we knew it was time for our tech stack to evolve beyond a collection of disconnected business systems that we'd previously used. This scale at pace was what led us to start working with HubSpot. 
HubSpot's CRM platform was critical to unifying our business data, which enhanced agility and better equipped the business to scale. The all-on-one CRM platform gives us a much-needed single source of truth and insight into customer journeys. This is so important when you're navigating a period of rapid growth and international expansion. 
Using HubSpot breaks down potential internal silos to offer a single, unified view of Mr Yum's growing customer base. It powers all of the business's sales, marketing, support and project management activities, making key business information transparent and easily accessible to multiple departments.
What are the six tools consolidated via HubSpot?
To support booming growth, we consolidated six tools in our tech stack via the HubSpot platform, helping to significantly reduce workflow processes and drive efficiencies while we scaled our workforce by more than 800 percent in less than a year. The six tools included ActiveCampaign, Calendly, Pipedrive, Unbounce, Teamwork and, in some cases, Typeform.
How did this reduce workflow?
Finding the right technology partner was at the heart of our expansion. We knew we needed a change and our move to HubSpot has gone hand in hand with the growth and maturity of the business. Embracing HubSpot allowed our business to consolidate a tech stack of disparate systems into a single unified platform. 
With the old systems, the business had little visibility into customer journeys, end-to-end conversion rates or end-to-end costs. Now, account managers can run their entire day from a single platform and stay across every aspect of the business.
When you're doubling the size of your team, as we've done, then every second person in the business is new. You have to have the right systems in place to help people to do their job from day one.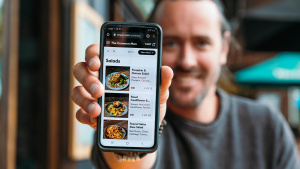 How important is it for businesses and brands to be tech-savvy as we enter the next stage of the pandemic ?
Though hospitality as an industry has been traditionally slow to embrace technology, changes brought on by the pandemic are being quickly embraced.
Just as the financial crisis of 2007/08 caused a retail revolution with the adoption and acceleration of eCommerce, Mr Yum is helping the hospitality industry adapt to today's new normal, to now become 'bricks and mobile'.
Businesses won't go back to old ways of working.
The pandemic has encouraged increasing mainstream adoption of streamlining technologies and realising their full potential will be key to success in future.
Whether increasing productivity, reducing errors or using data to personalise the customer experience, return on investment from technology can be substantial and can be the difference between success and failure.
Looking to the future, what's next for Mr Yum? 
Our mission is to create the best growth toolkit for hospitality and entertainment in the world. This toolkit is more than just QR code ordering, but encompasses a suite of features, including payments, loyalty, marketing, customer insights and more integrations than any other order and payments solution in the world.
Mr Yum builds products for the future, for hospitality's needs not only today but for what will be needed to help restaurants recover from the past 18 months and enhance the trajectory of that recovery.
Mr Yum will continue to roll out our all-in-one loyalty, reward and discount program that enables customised marketing for all venues, no matter how small. 
In-depth work on the consumer experience is already underway, focused on providing a personalised customer journey including smart reordering and bespoke recommendations and upsells based on AI-based profile matching. 
How can brands and businesses capitalise on what the future looks like?
Some things you can't control – such as COVID – but being adaptable and nimble, and being prepared to seize opportunities that present themselves is going to put a business in good stead in the years ahead.