Marketing Mag looks at: Shutterstock's three latest updates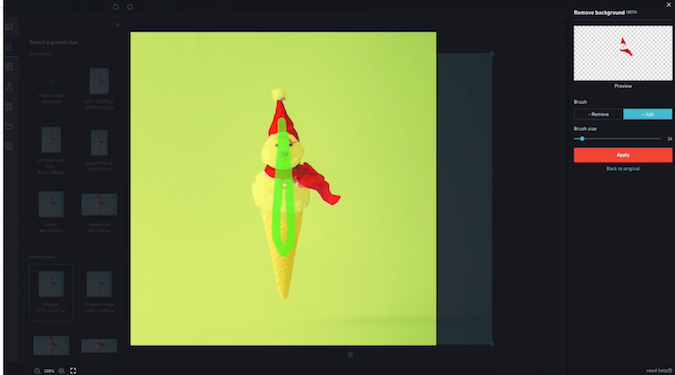 Shutterstock has made several new additions to different parts of its platform – introducing reverse video search, smart background removal and more.
Over the past few weeks Shutterstock has made several significant changes to the platform – here's Marketing's break down of the new features.
1. Reverse video search
We've seen reverse image searching capabilities across many platforms before – the most obvious example being Google's. A user simply uploads an image to find similar pictures or to locate the source of the image.
Shutterstock's new reverse video search operates on a similar principle, intended to help videographers, video editors, social media marketers and the like. Instead of finding similar images to input image, Shutterstock's new tool returns videos from its library with similar elements, subjects, location and look and feel.
According to Shutterstock, it used a machine learning algorithm to catalogue elements within its growing library of video, allowing a neural network analysis of input images to iterate through and select relevant videos.
What that means is: instead of trawling through video libraries generated through ambiguous keyword searches, users can now upload an inspirational image to let Shutterstock's algorithm identify visual elements and return better curated video results.
2. Automated in-browser background removal
Shutterstock's browser-based image editor, aptly named 'Shutterstock Editor', is now able to distinguish between foreground and background, allowing users to simply remove the background from an image prior to even downloading it.
Shutterstock Editor offers other simple image augmenting capabilities too – exposure control, layer support, text and element addition – and includes preset crop ratios depending on the intended distribution.
The addition of automated background removal is certainly a step up for the web app, though it will have a long ways to go before marketers and content creators can consider it seriously against the likes of Adobe Photoshop. For the moment, it is a convenient tool that allows creatives to source images with the optimal conditions baked in.
3. Smart brief
Since Shutterstock Custom launched in 2017 – after being acquired for a reported $65 million and rebranded from 'Flashstock' – the Shutterstock service has received the interest of several high-profile clients including McDonald's, P&G and Unilever.
If you're unfamiliar, Shutterstock Custom is a bespoke asset generation service that leverages creators from around the world, promising to deliver premium assets to marketers quickly.
Related: Marketing's catch up with Flashtock (now Shutterstock Custom) founder Grant Munro »
Smart Brief is designed to streamline the Shutterstock Custom briefing procedure, based on analysis performed on briefs and client interviews from past campaigns. According to Shutterstock, the new Brief only asks relevant questions as the user moves through the process to capture accurate inputs and eliminate conflicting information. Clients will also have the ability to accept changes and suggested improvements from other team members, as well as adjust control, production value and service level per project throughout the year.
"The traditional creative brief process is laborious, time-consuming and leaves a lot open to interpretation," says Sylvain Grande, SVP of product and UX at Shutterstock. "But a good brief that captures the brand voice serves as the foundation of any campaign and is absolutely essential to its success."
"Using innovative technology, we set out to automate and simplify the experience. The result: Smart Brief streamlines our clients' workflow and in turn, allows them to receive content faster without compromising results or having to be on set."
Further Reading:
Image credit: Shutterstock