The rise of the pro-player as Australia hosts its richest computer gaming event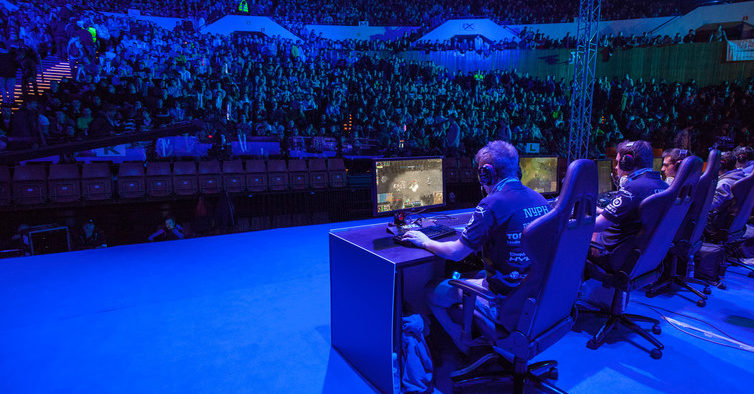 The world's most talented teams at the computer game Counter-Strike: Global Offensive will battle it out this weekend in Sydney, vying for a share of a record A$260,000 in prize money.

Written by Zixiu Guo, UNSW and Michael Cahalane, UNSW.
It's the first time the Intel Extreme Masters (IEM) event has been played here and marks a milestone in Australia's journey into the world of eSports.
Australia has remained a relatively minor region for eSports compared with Europe, North America, Korea and China.
But eSports, a form of team competition experienced through online games, is growing rapidly.
According to the NewZoo 2017 Global eSports report, the eSports economy will grow to US$696 million this year, with year-on-year growth of 41.3%, reaching US$1,488 million by 2020.
The global eSports audience is expected to reach 385.5 million people this year.
As for the players, they are the newest genre of celebrity athlete who embark on a career path only dreamed of by thousands of aspiring gamers – the professional eSports athlete.
Life as a pro
The world's most famous professional eSports players in the major regions such as Korea can earn up to seven-figure salaries.
This is on top of streaming revenues and a major share of prize pool from global events, such as IEM, some of which are upwards of US$3 million.
The salaries earned by eSport teams come mainly from sponsors who invest significant amounts of money into eSports team brands, in a similar manner to traditional sporting teams.
The largest prize pool in eSports history was offered at the Dota 2 2016 International Championship Tournament, with a total of US$20 million.
The winning team, Wings Gaming from China, won a record-breaking US$9,139,002, with each player in the team taking home more than US$1.8 million.
Australian pro players
While Australia has a strong gamer base, the current market for eSports is still in its early days.
But several companies and organisations are taking a keen interest in eSports due to the potential growth of the gaming industry, worth close to A$3 billion last year.
As an emerging industry, eSports in Australia gives sponsors a chance to target the millennial audience that makes up the majority of eSports fans. These people can be hard to reach through traditional forms of marketing.
A combination of investment from game developers (such as Riot and Blizzard), tournament organisers (such as ESL Gaming Network), and sponsors (such as Red Bull, LG and Logitech Gaming) contribute to the ways in which players earn money.
In general, eSports organisations in Australia still can't financially support themselves, so most of the earnings for players comes from tournament prizes.
But having joined a professional team, top eSports players in Australia can earn up to A$25,000 a year.
The prize pool for eSports events hosted in Australia can range from A$10,000 for one-off tournaments to A$45,000 for league-based competition.
To date, the largest prize for an eSports event in Australia, held at the Crown Casino in Melbourne in 2015, was A$55,555.
So the IEM event held in Sydney this weekend, with A$260,000 prize money to be awarded, is a major step up for the Australian eSports industry.
Pursuit of eSports
So why do these young Australian gamers commit such a large portion of their lives to eSports?
Along with our honours student, Amelia Carbonie, we interviewed 19 Australian Oceanic Pro League (OPL) or Oceanic Challenger Series (OCS) players to understand what motivated players to become professional gamers.
Many of them are part-time or full-time undergraduate students, who have built up their gaming skills over several years (often during high school).
These players were approached by professional gaming clubs to compete on national and international levels due to their high ranking within online games.
Most of the players interviewed still play from home. But some top team players train for up to ten hours a day from their specialised training facility, or gaming houses.
Despite unstable sources of earnings, and a lack of long-term job security (with competitive lifespans typically ranging between 3 and 5 years), these players rise above the challenges and treat their sport like any other athlete.
They engage in constant training, review and reflection meetings. They even exercise together for mental and physical well-being.
They treasure this once-in-a-lifetime opportunity, and have made sacrifices in the form of their education or a less hectic social life (in the traditional sense).
As one player noted:
"I can always go back to university, but I can't always go back to [eSports]."
Players openly expressed a number of perceived benefits from being a professional gamer such as high levels of comradeship, improved communication skills, resilience, enjoyment, emotional self-regulation, self-actualisation, personal growth and happiness.
The skills they picked up from playing are seen as lifelong skills, as one player said:
"I understand how to achieve confidence in myself for something, so if I were to start a job somewhere, I know I won't be too good at the start, but I feel like through the skills that I've learnt through eSports that I can use those skills that I've learnt to get confidence through what I'm doing."
A number of players also believed they have developed considerable personal growth through their experience in eSports, becoming much more focused and independent.
To become an elite eSports star, a gamer must be able to dedicate a significant portion of their daily life to learning the skills required to become a top-tier competitive player.
The rise of eSports in Australia
As an industry, eSports in Australia has yet to become truly mainstream.
But widespread acceptance of eSports will come through a variety of methods such as legitimisation from corporate and non-endemic partners, to active social media and marketing campaigns from eSports stakeholders.
After this weekend's IEM in Sydney we look forward to seeing more Australian elite eSports athletes play at international stages, cheered by millions of fans.
As one interviewee told us:
"Making my fans happy makes me even happier."
Zixiu Guo, Senior Lecturer in Information Systems and Technology Management, UNSW and Michael Cahalane, Lecturer in Information Systems and Technology Management, UNSW
This article was originally published on The Conversation. Read the original article.
Featured image: Big crowds at an Intel Extreme Masters event held in Poland in 2013. Shutterstock/adamziaja.com