The way of the start-up
Has Australian business been caught on the back foot on innovation? Michelle Dunner explores its current fascination with start-ups and how potential disruptors can become teachers or allies.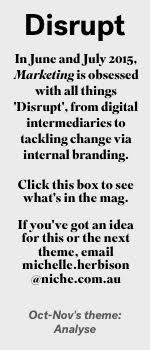 The way we pay, the way we play, even the way we stay – innovative players have not only been able to penetrate the market in recent
times, they've dominated it. New players capture the market's
imagination with a heavy dose of chutzpah on the side, unfazed by regulatory hurdles or geographic blocks. It's hardly surprising then, that some established companies, internationally and in Australia, have been caught flat- footed and the implications are being felt across the corporate spectrum.
Mature, multinational, high value companies have seemed to fail overnight. The reality is that their decline took rather longer but, scratching a little deeper, what has caused these brands to move from icon status to the business scrapheap? What did they miss? One word: innovation.
It does appear, however, that the message has started to sink in. Corporates are collaborating with consultants, venture capitalists and creative agencies to get out of the starting blocks and onto a more innovative footing.
KPMG head of innovation Martin Sheppard says there's an imperative for big corporates to innovate and evolve their business model. "Otherwise they're vulnerable – just look at the level of disruption in the market at the moment," he says. "We've seen plenty of big ticket examples – Blockbuster was killed by Netflix, Borders was killed by Amazon. Uber is the world's biggest taxi company without owning a car. Airbnb fills the biggest number of room nights with no hotels.
"The risk of not innovating outweighs the risks associated with innovating. Let's look at what it takes to innovate now – it has definitely changed over the last 10 to 15 years. You used to need millions of dollars to bring a new product or service to market and some markets proved to be very small. Now technology means you can do it on the smell of an oily rag, to an audience of billions."
International surveys such as GE's Global Innovation Barometer show Australia is lifting its game, but Sheppard says some of the leaderboard tables are still embarrassing reading.
"Out of the world's top 100 countries, Australia is right up there in the top 10 for ideating, but our ability to commercialise those ideas has us down in the mid 90s," Sheppard says. "There are several factors around that – the US has a longer history of supporting innovation, and other governments such as Israel have underpinned the notion of encouraging entrepreneurship.
"Every business, but particularly entrepreneurs and start-ups, needs money and that's normally been achieved through access to capital pools. There's no doubt a problem is that investors generally are looking for returns in the short-term, which often can't be achieved."
The GE Global Innovation Barometer reports that collaboration is a reality in most markets, in that revenue and profit generated by collaborative innovation activities is growing.
The global average on collaboration is 64 percent – Australia comes in just below that at 63 percent, a point behind the US, but three points ahead of China. Algeria, Turkey, Indonesia and the UAE are the world's most collaborative markets.
"Australia has a challenge to offer the right level of funding to entrepreneurs to be able to implement our ideas. Our investors need a greater appetite to look at the longer- term at play and that needs to combine with a level of government support.
"For established businesses I think we need to reflect that when we're investing in innovation, it's not all about the return. It's about ideas and potential disruption to the business model for future gain.
"Being innovative is one thing, but you have to show that you are and that's where marketers will come to the fore. They will need to play a big role in how they promote the innovation being driven in their businesses and in positioning them to be more entrepreneurial."
Decentralised innovation: be careful what you wish for
Rather than traditional methodologies of research and development then market testing carried out by a central marketing or innovation function, there's a trend now towards decentralised innovation, says Sophie Hose, Melbourne general manager of start-up incubator BlueChilli.
Giving teams or departments on the edges of the corporate structure more autonomy to innovate has its benefits. In practice results vary. They can embrace the mentality and focus of start-up organisations, experimenting with methodologies and projects free of the shackles of corporate structure.
"Companies are taking lots of small bets," she says. "It may be, say, a couple of department heads or a smaller product team doing a series of rapid prototypes, testing some customer hypotheses in a market for six months, perhaps even under a different brand, and seeing what happens.
"Disruptors have shown corporates there can be low barriers to entry, to have a lean start-up, with a minimum viable product approach to testing. It allows you to test in a real market, with real customers and more cost-effectively than a big program.
"The whole idea that you need to spend millions of dollars, launch the perfect product, build the Titanic and then find that it fails, feels like a very old approach now."
The stumbling block, of course, is that it's one thing for managers to talk the talk and be sold on the benefits of thinking and acting like start-ups, but walking the walk is a very different matter.
Without the freedom to actually act like a start-up and all that entails in practice, corporate units such as these are doomed to be repositories of unused whiteboards and sticky notes, the funky décor nothing more than a photo op on a PR tour.
Hose says a big challenge for corporates is how they accept failure. "They need to understand the value of fast fail projects. It can be hard for big businesses to accept that eight out of 10 prototypes failed is good news. What that means is they can move on to higher value things. They want a result, whether good or bad, so they know where to put their efforts," says Hose.
"Organisational structures are geared to make people succeed rather than identify what doesn't work. As a result, they find it hard to figure out the opportunities to disrupt and challenge their competitors."
Organisations with a good revenue base and a group of customers they're dependent on are unlikely to put that on the line.
"There's no doubt big corporates have a lot to lose," Hose adds. "They don't want to cannibalise that revenue – that's a very scary prospect.
"They need to learn how to navigate innovation without putting everything at risk. While start-ups have lower cost of technology and can get easy access to customers, corporates can also use that."
Hose believes some companies still have their heads in the sand. "When it comes to the need to innovate, to head off disruption, there are still some unbelievers. More often we're seeing the issue raised in board meetings and in C-suites. Despite that, there does appear to be a groundswell of large corporate brands taking risk on innovation, at least anecdotally," she says. "I had a day of meetings recently where every one featured a discussion of possibilities – I can't see how that could have happened even a couple of years ago.
"But it feels to me that there's still a challenge in execution – getting corporates to understand that not everything is going to always work… Testing to fail needs to become part of the new normal."
Incremental Australia
Another reason small bets are a favoured option in the Australian market is a function of its size. No sector illustrates this better than FMCG. Product development expert Mark Hobart of TNS Australia says consumer goods businesses can learn from the agility and creativity of start-up businesses, but that the sector has some unique issues.
"A new product launch in FMCG can require a big manufacturing line and significant capital investment," he says. "It's very important to get the product right because its success depends on repeat purchase. In that context, the notion of being agile and quick to market is secondary to planning and working through the traditional stages to ensure the product is right and on track."
A certain amount of flexibility is growing in importance, as retailers pressure manufacturers for new products. "It's not up to the companies as much as it used to be to determine their own plan. Retailers are dictating what they want.
"Some companies have recognised the shift and can pivot, depending on the situation. They do recognise they need to be flexible in the innovation process, but can be big and slow and fixed in their ways. As a result, around 80 percent of all new launches in FMCG are an extension of a line or a renovation rather than something new. The lion's share of revenue doesn't come through breakthroughs like an iPad," says Hobart. "It comes from new colours on the iPhone."
Some FMCG companies are establishing start-up-like units, but they still have to produce a result. "When the environment is not in a growth phase, they're the first ones targeted for the chopping block," says Hobart. "There's always a move to stabilise, to go back to core, and then to look at it again when there's more margin in the business.
"This of course, is probably the worst thing that can happen because coming out of the downward cycles is the perfect time to launch a new product. If you haven't had the innovation process in place, by the time you've geared up you're probably already too late."
The small homegrown market is also a concern in FMCG. "When I ask clients what is keeping them up at night, only a few clients talk about innovation," Hobart says.
"It's too small a market to justify the spend. The reality is that innovation and product development is quite expensive and, as such, in the larger FMCG companies it tends to be centralised somewhere and imported into Australia. All the local teams do here is to work out how to market the product to appeal to Australian consumers," says Hobart. "That's where I see a lot of the innovation: in the role of marketers. It's brand-led innovation."
Outsourced R&D: incubate your own
Sheppard says he likes to focus on the attributes of start-ups that offer benefits for big corporates. "They're frugal, agile, disruptive," he says. "They've all about ecosystems and connections. It's a different culture from large corporates and the challenge there is to mimic those positives.
"There needs to be an awareness that a really innovative organisation works differently from that traditional pyramid structure – executives at the top setting direction and strategy and those down below implementing. A progressive model flips that on its head to take advantage of a broad base of talent and richness of ideas," says Sheppard.
"It's important for a company's culture to allow that to flourish; the tough job at the pointy end then becomes how to allocate capital – which ideas to invest in. Culture can be very hard to change; one way corporates do that is to look outside their organisation, expose their people to different environments and also bring new thinkers into their companies."
Sheppard believes there is a growing trend of companies creating start-up units within their existing structures.
"Telstra set up accelerator incubator muru-D, the Commonwealth Bank set up the Innovation Lab. Westpac has the Hive, AMP has Amplify. Within their walls, these big businesses are creating things that look and feel like start-ups and incubators.
"Cynics may argue that the likelihood of something valuable coming out of incubators such as these might be low, but I think that misses the point. It certainly helps companies drive a new culture, an entrepreneurial, freewheeling spirit," says Sheppard.
"Innovation may help insulate companies against disruption, but they are far from being the same thing. If you're a long-standing business with a model that hasn't changed for a period of time and you don't have much competition, you need to start thinking about actively trying to disrupt yourself, rather than wait for someone else to do it to you."
A recent, and less structural, example of reaping some start-up 'juice' is the pilot programs that comprised the Mondelez Mobile Futures initiative. As much as the initiative is about pairing its iconic brands with start-ups that bring new marketing technologies, it is equally about exposing the corporation's staff to the start-up atmosphere in an effort to distance its culture from the legacy of Kraft's traditional corporate hangover.
Third-party incubators, accelerators and funds
If managing your own start-up incubator or accelerator program sounds awfully costly, there are other options.
As well as corporate incubators and accelerators open to, presumably non-competitive, partners, higher education institutions and government bodies are establishing programs – the University of Melbourne's Melbourne Accelerator Program (MAP) being a recent example. Of the independent incubators and accelerators, BlueChilli (which is one of many operating locally) has, of course, worked extensively with start-ups. But it's now seeing a lot more interest from large corporates.
"There's been a genuine shift of mood; almost week on week we're fielding more enquiries from corporates on how they should deal with disruption and innovation," Hose says.
"I'd definitely say the penny has dropped for a lot of CEOs and their marketing departments. It's not a matter of if there will be disruption to their businesses, but when. Companies and brands not looking for opportunities either to defend or advance themselves are going to get disrupted."
Hose says one of the key changes is that customer expectation has changed. "A lot of what is driving the effort within big corporates is trying to address the pain threshold for their customers.
"In the past, customers may have been perfectly happy to wait for a product, or to jump through hoops to get access to a product – not any more. If corporates can't respond to those expectations, then there's a good chance they'll find themselves battling a disruptor who comes along and attacks their customer base.
"An option being widely canvassed is for large corporates to partner with start-ups. It's not quite a case of 'if you can't beat them, join them', but collaboration is showing great promise and delivering benefits for both partners."
KPMG's own initiatives in the start-up sector are threefold. One is an accelerator program to propel later- stage start-ups in Australia into the global arena. Another is a Western Australian accelerator program for early-stage tech start-ups that could benefit the mining industry.
The third and most interesting initiative to the corporate world is a five-year partnership with Artesian Capital.
Formerly part of ANZ Bank and later spun out as a bond trading fund manager, Artesian has expanded over the last five years into venture capital, bringing its investment banking background and portfolio investment approach to a project exclusively comprising businesses in the start-up sector.
After itself investing in a portfolio of start-ups to prove the model, Artesian then raised its first third-party fund about three years ago. Now, Artesian is working on raising a pool of a $100 million to invest.
Tim Heasley, COO and partner at Artesian, says its experience in investing in start-ups itself to prove the model was very educational. "We liked the space because we saw that there were great opportunities… [but] we realised we would have to invest in a large number of these in order to get the sort of returns that we believed were possible."
Heasley says, based on US data, the chances of doing well are low if you're investing in only a handful of businesses. "You need 15 investments just to have a 95 percent chance of getting anything back, and that's zero return.
"Fifty percent of the start-ups will fail, and across the portfolio you'll get 90 percent of your cash returns from seven to 10 percent of the start-ups. Those are the bare facts."
Start-ups being start-ups, it's impossible to forecast return. Most will fail. So, being from the investment banking corner, Artesian's model takes a portfolio approach, effectively relying on the exclusion of the vast majority of start-ups that apply. Of those that do get through, the numbers game all but guarantees that the return of the minority of hits will outweigh the loss of the majority of misses.
Filtering the sheer number of start-ups relies on partner organisations, including groups such as the incubators and accelerators mentioned previously, digital agencies, angel groups and research houses that have a dependable flow of deals, good filtering mechanisms and the ability to mentor and supervise the businesses through their life cycle.
The return for Artesian and KPMG comes right through the process through, for example, insights for its advisory practices and culture change offerings.
For enterprises wondering what funds like this have to do with them, the answer lies in why Artesian is aiming for 50 percent of its investors to be corporates. Hint: it's not for the financial return.
While Heasley isn't drawn on specifics at this point, corporate investors in the fund are looking for the distributed R&D outcomes. A minimum investment of $10 million gives a corporation a glimpse at what new technologies or business models may have an impact on them, either positively or negatively, and have first dibs on acquisition, buying their talent, their technology or potentially even their silence.
Big brands open arms
Big organisations are creating collaborative innovation hubs, events, incubators and/or accelerators. It's a developing space, but here are a few examples.
muru-D – Telstra
Innovation Lab – Commonwealth Bank
The Hive – Westpac
Amplify – AMP
MAP – University of Melbourne
Innov8 – Optus, and
Incubate – University of Sydney (and now Monash University, too)