Thodey's legacy: How Telstra transformed for a brilliantly connected future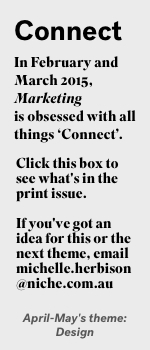 As David Thodey prepares to hand over the reins, customers are now firmly and proudly on Telstra's centre stage. Lisa Schofield looks back at this iconic Australian brand's quest to redefine its purpose as a launch pad for the future of a connected Australia.
There are some brands that feel as true blue Aussie as the Sydney Opera House, Vegemite and stubby holders. They're the kind of organisations people stick with through bad times, trust in periods of change, and when there's success, celebrate, knowing they played a role.
Telstra fits this bill easily, having played a central role in everyday Australian life since 1975 when the Postmaster General's Office split its postal and telecommunications functions into separate brands, creating Telecom Australia and Australia Post, complete with sister logos by designer Pieter Huveneers.
Before the split, the Postmaster General was in dire straits, running at a loss and with a damaged public reputation. Creating Telecom and Post was the recommendation of an inquiry into sluggish government bodies.
In the 35 years that followed, Telecom turned into Telstra and became a private enterprise, and Australians became further invested in the brand. It was more than just feeling as though they owned the brand; many Australians now did.
If there's a recurring theme in this story it's that change is constant, and in 2010 it was a recognition that more change was required that set in motion one of the largest corporate transformations Australia has seen. The rebrand that's been underway since is a logical and confident work in progress, where the job is never 'done' and opportunities to improve and enhance are always sought.
Changing strategic direction isn't easy for an organisation with the scale and legacy of Telstra, and to do so requires belief, commitment and courage. Indeed, it's the very nature of Telstra and its place in Australia that makes the journey we're seeing that much more remarkable – it's not a task you want to get wrong.
In 2009, David Thodey succeeded Sol Trujillo as chief executive and immediately got to work, setting in motion a plan to rediscover the company's purpose and rework the brand from the inside out. It is an example of fearlessly implementing organisational change. Telstra's results since the new look was publicly unveiled in September 2011 have shown that it's not necessary, and often counterproductive, to wait until the house is fully in order before making promises. Indeed, for Telstra, the very action of making an upfront promise was a key driver for management and staff to fulfil it.
Telstra's journey over the last five years began with a vision, was carried out by pragmatically placing one strategic foot in front of the other, and even now is an ongoing mission. 
The beginning of corporate life
Prior to 2011, the only major brand work previously undertaken by Telstra was when it changed the Telecom name and brand in the early nineties.
In 1993 the name was officially changed and the blue and orange branding emerged. The brand name remained 'Telecom' domestically until 1995, when it switched to Telstra. 
Telstra was corporate, serious and befitted an organisation that was looking to establish itself as a serious contender in a newly competitive market.
Fast forward to 2010, and there was again a clear opportunity for change, and a much needed one. According to Mark Collis, who was brought on board for the transformation as director of innovation and creativity, there was a sense that Telstra was spending a lot on advertising, different projects and products; however, "it wasn't cohesive and it wasn't building towards a unified brand," he tells Marketing.
Brave new world
For a brand like Telstra, with such scale and relevance to the Australian public, there must have been a degree of trepidation towards approaching change after such a long time – or even recognising the need for it.
Thodey did just that, and started to gather leading thinkers and innovators together from inside and outside Telstra to set about disrupting the status quo and redefine an organisational purpose.
"The key pivot that happened in 2011 was we came together as a group across the organisation and put the customer in the middle," remembers Nick Adams, director of CRM, loyalty and digital marketing. "We put together lists of all the customer pain points and where they were hurting. Then we systematically picked the worst ones and started to chip away at them by trying to move the points of distraction or whittle them away."
With a strong team of Inese Kingsmill, Mark Buckman, Adams and later Andy Bateman, the marketing function was repurposed to fit around the customer journey.
With only the vaguest of briefs, adman Mark Collis had been brought into the team a year earlier. "They said 'we need some disruption, we need some creativity, what can we do?'" Collis says.
As one of the most widely recognised brands in Australia, existing public familiarity needed to be leveraged, not discarded, so the plan for transforming the organisation wasn't drawn on a completely blank piece of paper.
"It was clear that the business needed to be aligned behind a single vision, a single thought and a single positioning," says Collis. "The strategic work wasn't really rocket science. It was sitting there right in front of us."
He explains: "No one has really stood back and gone, 'You know what? We're about connecting people'."
This light bulb moment translated easily into a refreshed corporate purpose: 'Every day we help millions of customers connect to the people and things that matter most to them'.
This was tightened further in 2013 to accommodate the rapidly changing digital landscape. 'A brilliantly connected future for everyone' became and remains Telstra's brand message and ethos.
But first, there was an understanding that it wasn't going to be a case of slapping a Band-Aid on Telstra in the form of a rebrand and new advertising campaign. "I think the narrative we had was, 'Let's make sure the business understands what it wants to do, where it's going and what it's aligned for'," says Collis.
This transformation needed to be integrated and ingrained in business units and permeated through the organisation and culture, with Telstra's operations and processes now viewed through a customer lens.
"It was a collaborative initiative," says Adams. "We put together advocacy boards and asked, 'What can we shine a torch on so our customers can feel and experience that change?' Our brand at that time was one where our customers didn't consider us, but they still bought from us, so we were a 'grudge' or 'hostage' purchase.
"We wanted to transform into something people wanted to buy from happily. This was a gate opener. It gave us permission to be a lot stronger and bolder as a brand."
This insight is one of the key success factors for Telstra's 2011 organisational transformation. It wasn't a Band-Aid, but a deliberate, long-term strategy with organisation-wide internal engagement and a customer-centric foundation.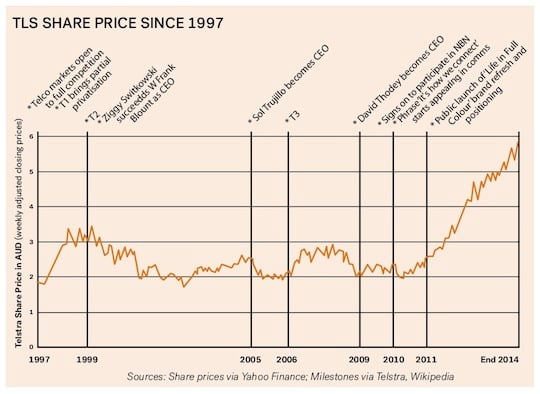 Building the foundation 
In September 2011 Telstra launched a bold print and media brand campaign. Created by brand agency, Interbrand, the campaign, 'Life In Full Colour', introduced a new colour spectrum, voice and energy that reflected the spirit of 'connection' and the diversity of Telstra's different customers, products and service offerings.
The challenge was to maintain familiarity while also encouraging customers to re-evaluate what Telstra was about. Indeed, the shape of the logo is the same as the orange and blue one born in the nineties, but it felt completely new.
The campaign crafted the new vision and organisational shift into something tangible that captured the essence of 'connection' for customer – not to mention staff.
But, as Thodey told shareholders in 2013, "There is more to a brand than an image: a brand represents a company's values, products, success, innovation and reputation."
In a move identified as one of the biggest change programs ever undertaken by Telstra, employees were asked to treat Telstra customers the way they'd like to be treated themselves. A sweeping portfolio of customer-centric initiatives was rolled out, which concentrated on minimising the customer 'pain points'. 
"We came together as an organisation around the customer with a very focused group of individuals from call centres, IT, marketing, change management and stores," says Adams. "The results were there to see, there was no acceptance of failure – these initiatives were going to happen."
The changes were compelling and had instant impact. Customer experience initiatives were launched to provide reliable and convenient access.
Telstra 24×7 was launched, delivering enhanced customer contact, no longer restricted to phoning a call centre. Today, Telstra 24×7 provides support by phone and online with a guaranteed response rate of less than an hour. Call centre staff also now provide their name and contact details to customers and can follow up calls with an email. 
CrowdSupport, an innovative online community, was launched, enabling Telstra customers to help others with customer-led troubleshooting. With almost 200,000 posts already generated on the forum, CrowdSupport is a vehicle for customers to not only connect with Telstra, but benefit from the expertise and experience of other customers, which takes a load off the company's resources at the same time as fostering a community.
'Telstra Stay Connected' was introduced in September 2013 to replace or repair mobile devices if lost or damaged, and Telstra Platinum is a technical support service providing customer access to technical experts, with a personalised calling card left by technicians enabling customers to follow up directly.
Through the 'Everyone Connected' digital inclusion programs, digital literacy training is provided to 143,000 older Australians. Telstra's 'Access for Everyone' program also provided $145 million in benefits, including home phone rental concessions to more than one million households, including those on low incomes in 2014.
The 'Thanks a Million' customer calling program and the 'Thanks' loyalty program have also both had an overwhelmingly positive response, the company reports.
In 2014, Telstra started design work on 'Telstra Wi-Fi', a new $100 million, five-year project, which will offer access to two million Wi-Fi hotspots across the nation, creating what will be Australia's largest national public Wi-Fi access network.
The proof of the pudding is in the eating
Results from 2011 onwards suggest customer-centric initiatives are contributing to impressive results for the company.
For the 2014 financial year, Telstra's total income increased to $26.3 billion – up 6.1% on the previous year with net profit after tax of $4.3 billion, up 14.6%. EBITDA (earnings before interest, taxes, depreciation and amortisation) grew by 9.5% to $11.1 billion during this period.
Telstra's share price continues to trade at an 11-year high. Earnings per share increased by 14.3% to 34.4 cents, with the share price currently sitting around $5.68 in comparison with the pre-2011 share price of $3.07.
Telstra's domestic retail mobile customers increased by one million users to a total of 16 million retail mobile services in Australia. Over the last three years, almost four million new retail mobile services have been added to Telstra's network with $1.1 billion invested in the mobile network during the 2014 financial year.
Digitally, Telstra customers have never been more connected. Each month there are more than six million unique visits to the Telstra.com website, over 200,000 online chat sessions are engaged in and 1.7 million customers use the Telstra 24×7 app to manage their accounts and services online. 46% of service transactions are now performed online, an increase of 6% since the 2013 financial year.
Measuring customer advocacy is a key marker for this customer-centric organisation. "We're very focused that customer engagement is at the heart of everything we do," says Adams. "Every Telstra employee has customer advocacy on their performance scorecard.
"Over the last 12 months David Thodey has been very firm on making sure we hit our NPS (net promoter score) targets. His expectations are very clear that customer advocacy is the number one priority in this organisation."
Telstra's NPS results for the 2014 financial year recorded a three-point increase, indicating that encouraging progress in customer advocacy has been made.
Telstra's successful transformation has also been recognised by the wider market. In 2014 Telstra took the coveted top position in the Australian Financial Review and Hay Group's annual ranking, 'Australia's Most Respected Companies 2014'. The report sums up Telstra's ideology: "It is the boldness to take big bets, knowing you have a lot to lose, but equally understanding that you have even more to gain if you get it right," the report states. "It is about having the courage to challenge the status quo and move outside your comfort zone. The most respected companies don't just fantasise about the future, they commit themselves to it."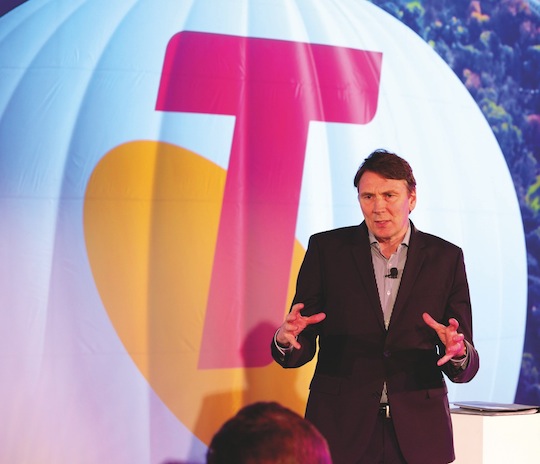 New frontiers
Home fires burning brightly have provided Telstra with the scope and platform to identify business development opportunities and diversify into new growth businesses. Combined with strong profit results and the understanding that, in this changing environment, complacency creates stagnancy, Telstra has its eye on emerging markets and innovative revenue generators.
The launch of Telstra Health in October 2014 marked a bid to become a major player in Australia's e-health industry, with a vision of developing a connected and integrated healthcare system for Australians. Telstra has secured acquisitions, made strategic investments and entered into licensing arrangements as it continues on this path.
Telstra is establishing a strong foothold in the wider digital media industry and is Australia's largest internet protocol television service provider, thanks to the T-Box service and a close partnership with Foxtel.
Growth in this media capability has been achieved by acquiring Silicon Valley-based company Ooyala, a video streaming and analytics start-up.
The company is also pushing hard into Asia with a range of services and platforms including managed network services, international data, voice and satellite solutions. A 63.2% stake in Autohome Inc, the country's leading online destination for car buyers, has boosted Telstra's presence in China.
Global Application and Platforms group (GAP) is focused on building new growth businesses and taking advantage of the growth in the software-driven business applications and integrated services. A start-up incubator Muru-D has been established to foster Australian technology innovation, as has the launch of venture capital arm, Telstra Ventures.
The customer is king
The customer remains the hero of Telstra's organisational purpose. "We are committed to building Telstra into a business that the customer has at the centre of every decision, every action, every opportunity, every day," said David Thodey in Telstra's 2014 Financial Results presentation.
"When I first started at Telstra, it was very much a sales-only culture," says Adams.
"Now the amount of effort and percentage of time, budget and resource that goes into the customer advocacy story is phenomenal. You can feel it in the organisation from David Thodey to someone out in the field. You just can't miss it. The rebrand created permission to have a new conversation with our customers about service and advocacy," he says. "And it regenerated the organisation and brought it to life. For the first time our employees have been galvanised around a major initiative."
What is clear with Telstra's rebrand and customer-centric focus is that the company and its 32,000-strong team are as much a winner in this transformation as the customers.