Using BPM and decisioning technology to offer best-action customer engagement
Marketing publisher Paul Lidgerwood spoke with EY's Bill Dow and Pegasystems' Rob Walker in Las Vegas recently about the latest in business process management and decisioning technology, and the opportunities for marketers to offer predictive, next-best-action engagement with customers in real time. 
"If you're in the BPM (business process management) space, you have to be up to speed on Pega, that's for sure," says Bill Dow, principal of IT advisory services at EY. This is his 14th Pegaworld conference, after being introduced to the technology while working at a large insurance firm prior to his time at EY.
The technology and the power it offers marketers, is all about relevance for Dow. For those with a customer facing system who are dealing with customers wanting to interact with the brand in some way: "In the old days, they'd call in and the company would try to figure out what they're looking for, which might not be exactly what they're saying at the time."
Decisioning technology gives the ability to provide more relevance to the company, to eliminate the multiple levels of decisions, motions and data.
"The BPM technology isn't just doing a one-on-one data analysis, it's basically taking this book of data, applying these models to it, and then applying this sophisticated decisioning engine into it, so the customer service person can say 'how can I help you with this today?'"
"Or, the customer says 'I'd like to buy this product', and the cross-selling opportunity is fed into the decisioning that says 'this customer might be interested in this product' based on the data we have," he says.
Decisioning, next-best actioning and one-to-one, real-time interaction with customers make up the core of Pega's offering.
One-to-one thinking
"We want to get one-to-one thinking and technology into programmatic buying and real time thinking," says Pegasystems' vice president of decisioning and analytics, Rob Walker (pictured).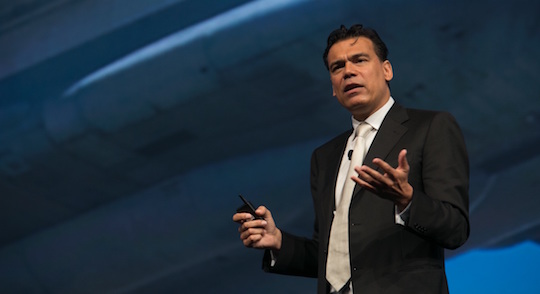 And it goes far beyond the targeting and segmentation. "From the campaign world, where you have segmentation, but everyone in that segment is treated the same, and you're fighting with other campaign managers, over who gets the September schedule," for example.
"That's a completely different world from one-to-one, which is always on, doing the best thing for all these customers, all the time."
Paid media is one area where Pega aims to stand out from the crowd. Walker likes to think of it like a story. Data gained from one consumer's actions within a website is used to form a next-best action, "we may set you up with a little on-boarding, make sure you're comfortable with the product we're going to upsell you at a certain time, that story needs to be continued if you happen to be on a third party website," he says.
–
Related: Here's three examples of the technology in use »
–
"We want to make sure that is now in reach of the marketer to connect with our customers. Different from digital marketing, from prospects or leads, this is for your actual customers, and their journeys on digital properties. That's what we want to control better."
Relevant, real-time customisation
For Alan Trefler, Pega's founder and CEO (pictured at top), one aim is to stretch the relevance beyond the resolution of a customer issue or completion of a purchase.
Data commonly used for retargeting consumers online, including by some large brands who pay hundreds of millions of dollars for online advertising, is often two or three days old. Trefler uses the example of a recent online purchase of a Tivo – the popular US TV recorder – "for the next six days, I would see Tivo advertisements… I've just purchased it!" he says. "But why is that? It's because they don't have a decision hub that can work truly across the paid media channels."
The ability to avoid retargeting consumers based on this detailed information would mean not annoying customers with unnecessary ad content, and also would save advertisers large sums in wasted retargeting ad budget.
Next-best actioning and decisioning, is based on the platform's huge amounts of data and analytics and the subsequent ability to 'learn'.
The data is being fed in models, "math experts follow the models, but there are technologies out there that have the ability to do what's called adaptive decisioning. They come with pre-built learning engines inside," says Dow.
"They're taking that information, and they're applying their algorithms to take that, and intelligently adjust as time goes on, so that over time, and over large amounts of data, better decisions can be made," he explains.
"This is very adaptive stuff," he says of the industry at large, which has "really moved to the next level."
Education, creativity and future work teams
So what are companies doing to educate the market about such powerful tools – not just Pegasystems – and the way the marketplace is shifting as a whole? According to Dow, there's really no particular example. It's, simply, "adapt or die."
"We often discount the level of dysfunction or the impact of legacy systems on a customer service experience," he says.
"Any company that's not figuring out how to handle their analytics, and make the most of their data, anyone who doesn't know how to act on that, is not going to thrive down the road. They have to be able to bring a better customer experience to the table. The education is something that people are just going to get."
In other words, it's a force that cannot afford to be ignored.
As for the future, creativity and design thinking are going to come to the fore when selecting the future's work teams. Where in the past, those in positions like Dow's may have looked for candidates with computer science degrees, these skills are now a requisite, and if possible, need to be blended with other creative skills.
"I love hiring philosophy majors, music majors, English majors," declares Dow.
"They're thinking differently, it's not your standard high tech view, it's a blend. It brings a disruptive thought process to the table."
BPM, Dow says, is process management, which enables those building and working with it to look beyond the mechanics, the ones and zeros, and the steps within the code; "it allows you to start thinking creatively and say 'wait a minute, this is the process we're doing? This is a bad process!'"
As far as when we can start to expect to see Pegasystems being adopted in Australia, some big names are already on board, including CBA, ANZ and Optus, as well as some government agencies. "Australia is our big push in Asia," says Walker.
_
Paul Lidgerwood attended Pegaworld 2016 as a guest of Pegasystems.