Ways to improve customer journey with 3D and AR
From fashion to pharmaceuticals, Augmented Reality (AR) is changing the way people shop, becoming a key element of the customer journey that few ecommerce companies can afford to ignore, writes Dalia Lasaite.
AR has been around for years. However, the past year has seen a step change in the way it is used. Thanks to the emergence of multiple technologies, AR has become web-native and seriously powerful, entering the world of customer experience in a big way. 
How can AR and VR improve your customer journey?
The customer journey transitions from product awareness to consideration, purchasing and customer retention. It's a powerful tool to model how to promote, display and sell products in a way that suits digital sales.
So where does AR fit into this picture? The answer is, pretty much everywhere. From advertising brands to providing ways to engage with online catalogs, and from the point of sale to customer service – AR has applications at every stage of the journey.
Here are some of the ways a business can discover the value of AR when revolutionising its customer journey.
1. Awareness stage: create a buzz around your brand
When a customer is in the awareness stage, they are information-poor but full of desire to find a solution to their problems. They may have heard about your brand, but they won't be convinced about making a purchase. This is where visual selling becomes all-important. By delivering an interactive buyer experience, your brand can stand out from the crowd – AR is the best way to achieve this.
There are some visual tricks that only AR can pull off. It can allow customers to browse 3D models of products, rotating them, exploring their functions and even using virtual fitting rooms to try on jewelry or apparel. 
Gucci offers a great case study. The Italian fashion label has embraced AR, offering Snapchat lenses to virtually try their designer footwear. Utilising a tool like Snapchat lenses makes an immediate impression and targets social media audiences that are receptive to specific products. If all goes well, it creates a hook that draws customers into the next stage of the customer journey: consideration.
2. Consideration stage: let customers virtually view the product in their space
At the consideration stage, everything revolves around your digital appearance. This is the point at which buyers are considering their options and comparing retailers. It's a time when strategic use of AR can make all the difference.
Firstly, AR lets companies give their customers control over their purchasing journey. As they consider their purchases, customers want to experiment, whether that's with furniture arrangements or outfits.
For instance, Ikea Place has been a huge success, allowing customers to place furnishings and style their interiors without going anywhere near one of the Swedish giant's stores. The result is an experience that's enjoyable and creative, not just a question of picking products and heading to the checkout. 
Secondly, well-designed AR systems reduce uncertainty, allowing customers to explore designs and specifications, while seeing products from every angle. UK-based furniture and interior design brand Buster + Punch used AR to solve some of the problems caused by COVID-19 lockdowns. Knowing that the brand's global audience values interaction and needs reassurance about making premium purchases, Buster + Punch created an immersive store using 3D modeling.
Customers could assess products precisely and ensure the perfect fit, and in the process they also spent more time on the brand's pages, boosting the chance of conversions. At a time of uncertainty, AR gave the company new ways to reassure and convince its customers, wherever they happened to be.

Finally, AR can simply be a sensory tool to seduce shoppers and impress them with technical wizardry. When competitors lag behind or fail to provide in-depth visualisations, a creatively presented AR store can draw customers in, priming them to make a purchase.
3. Purchase stage: amplify the power of the product
The purchasing stage of the customer journey is where individuals decide whether to part with their money. They need reassurance about the quality of products and the accuracy of their choices.
AR can deliver this, offering maximum information in a way that's enjoyable, relaxing, and creative. Take Rollie Nation. The Aussie footwear label has embraced 3D modeling, offering interactive models of selected product categories via its online store.
Within months of its introduction, the brand's 'Selected Sneakers' line had become Rollie Nation's third most popular category. And the brand's founder Vince Lebon puts that down to how AR changed the relationship between customers and the shoemaker's online catalog.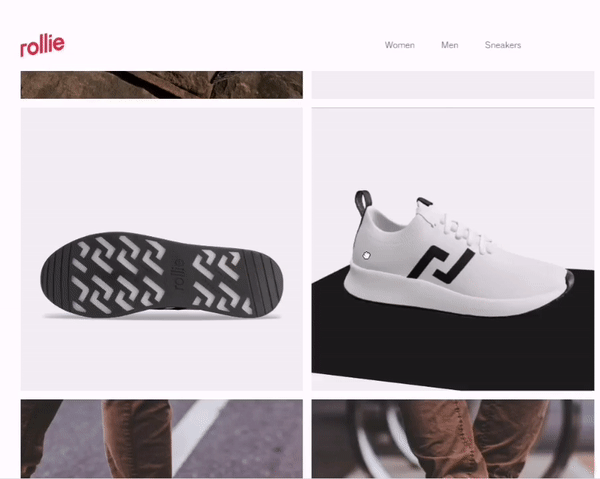 AR amplifies the power of a product, making customers more likely to feel strongly enough to make a purchase. From fashion retail to furnishings, that kind of engagement really matters.
Those points can transform the purchase stage when marketing something like shoes, but AR can also help with wholesale retail. In these situations, sales teams can be armed with 3D portfolios, showcasing what a brand has to offer. Buyers can browse virtually, and seamlessly place orders without needing to visit showrooms or factories.
So whether you're selling cutting-edge footwear or CNC machining stations for the light industry, AR can play a role in promoting conversions. 
4. Retention stage: AR helps keep customers engaged
After purchase, customers want to feel supported, and they won't be likely to make repeat purchases if this isn't the case.
They might need help with assembling and using products, require advice about making a return or exchange, or just want to keep up with new products. In any case, AR really comes into its own as a way to connect customers and support teams. 
For example, Mercedes Benz has been experimenting with Holo Lens technology, allowing technicians to make car repairs from thousands of miles away. 
Social media also offers ways to retain customers and encourage repeat purchases. From Taco Bell's weird use of Snapchat filters to turn customer faces into tacos to Kellogg's use of AR to deliver educational materials with their breakfast cereals, there are many ways to capture attention in-between purchases. 
Use AR to optimise your customer journey 
Customer expectations continue to rise, while technology continues to develop and competition never seems to relent.
In that environment, can digital sellers really afford to leave AR out of their customer journey? As we've seen, AR has a role to play from generating awareness to encouraging purchases and retaining customers. 
In fact, it's rapidly becoming an essential aspect of online marketing across every sector. And with widely available 3D modeling services, almost every company can make use of AR. It's just a question of research, planning, and creativity.
Dalia Lasaite is the CEO and co-founder of CGTrader.