Why Western universities are attracting more Chinese alumni than ever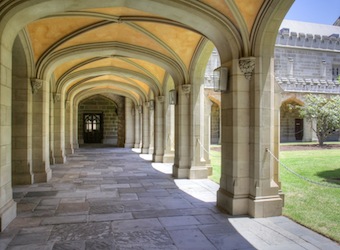 There have been floods of articles lately claiming that universities are seeing a drop in the number of international students they are attracting. But is this really the case?
It may be that we are in fact tarring all international students with the same brush. While there certainly has been a significant drop in various countries sharing their students there are also nations that continue to increase the number of their studious seeking to experience life elsewhere. China is consistently leading the pack.
Recently, UKCISA (UK Council For International Student Affairs) reported that from 2010 to 2012 the greatest number of international students enrolling in UK universities hailed from China.
The number of Chinese students enrolling rose by 11,390 over a period where most institutions were experiencing a noted decrease in international students' applications. Hong Kong held the second highest increase trailing behind at an increase of only 895 more students choosing to seek pastures new in the UK. Where others in the top ten decreased significantly. Comparatively Pakistani students enrolling in UK universities dropped by a whopping 13.5%.
The trend of Chinese students moving abroad doesn't only pertain to the United Kingdom; similarly the USA and Canada have also seen a drastic increase in Chinese students. A report published by the Ministry of Education of China claimed that the number of Chinese students studying abroad has increased at the staggering rate of 20% annually over the past few years. Estimating that 400,000 Chinese students travelled abroad in 2012 alone. It's easy to see how Chinese students are consistently outnumbering their international peers.
But why?
There are numerous theories but, in all likelihood, it will come down to how universities are selling themselves, and the resources they have to do so. Online presence is imperative, and in a nation where the online population is set to reach 800 million users by next year alongside an estimated 91% of internet users active on social media sites, it's never been more important to reach young people through these streams of communication via digital marketing.
Unfortunately, many Western universities just don't have the know-how when it comes to understanding how to use the social media platforms that prop up the online communication and commentary that young people in China are using daily, such as WeChat and Sina Weibo, in order to raise awareness of the opportunities they can offer.  Those institutions that are utilising the mass sharing that these networks offer, are fast becoming appealing choices for Chinese students. Much of the Western world dismissed sites like Weibo as merely a doppelgänger of Twitter and missed a trick with the promotional power it has. Unlike its Western sister sites, there are methods by which businesses (and educational institutions alike) are able to directly market their target audience.
To be totally frank, if your target audience is young adults you'll be hard pressed to find any higher-ranking factor than 'coolness' when it comes to choosing between numerous options. If you're not on China's most popular social networking sites, how cool can you possibly be seen to be? It is true that there is already a huge draw for Chinese students to travel abroad, proven by the persisting numbers. However there is already a clear hierarchy emerging in the universities they are choosing to go to. If you are going to be competitive and bring the most alumni to your university you need to be reaching your audience with just why that is.
The saying 'quality over quantity' is immensely outdated. We now have the capability to share interesting and informative content with a huge audience at the click of a button. The key to doing so is fully understanding your apparatus and understanding your audience. With no signs that outbound traffic of Chinese students will slow, universities ought to be spending less time concerned about the numbers of international students out there, and focus their efforts on how they will attract those that are, to their particular institution.