CEOs increasingly relying on CMOs for strategic input
The influence of the CMO in the boardroom is rising. CEOs are increasingly call on them for strategic input, to the extent that the CMO now comes second only to the CFO in the level of influence exerted on the CEO (see figure below).
This trend comes from IBM's extensive global C-suite study, which also found that a growing number of CMOs are liaising closely with CIOs – leading to positive effects on the bottom line. Where the CMO and CIO work well together, the study says, the enterprise is 76% more likely to outperform in terms of revenues and profitability.
But it's not all positive news. The study found that very few CMOs have made much progress in building a "robust" digital marketing capability. 20% percent have set up social networks for the purpose of engaging with customers, while the proportion of CMOs who have integrated their company's interactions with customers across different channels, installed analytical programs to mine customer data and created digitally enabled supply chains to respond rapidly to changes in customer demand is even smaller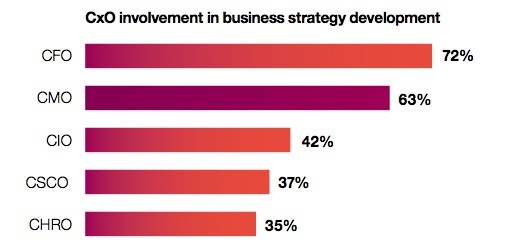 The report, titled 'Stepping up to the challenge: CMO insights from the Global C-suite Study,' comprised interviews with 524 CMOs across the globe.
Readers interested in downloading a copy of the IBM CMO C-suite Study can do so via this link.