Lock up your agency: UnLtd puts adland behind bars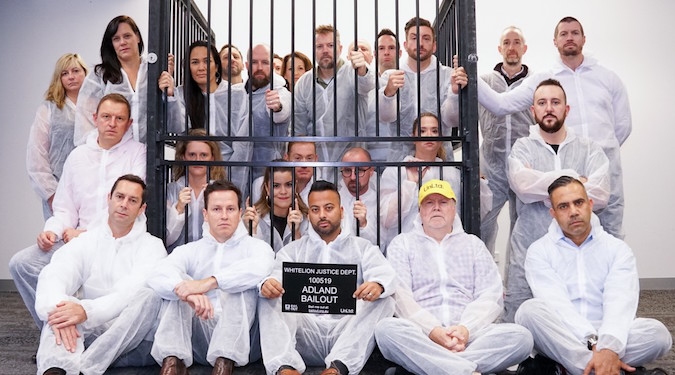 In May, 150 senior leaders from the media, marketing, tech and creative industries will spend a night in prison as part of UnLtd's Adland Bail Out events in Sydney and Melbourne.
In order to be released, each inmate is required to raise $1000 for young people at risk as their bail. Bail Out Sydney will occur on Friday 10 May at Yasmar Juvenile Detention Centre, followed by the Melbourne event on 24 May at Old Melbourne Gaol Watch House.
The event is organised by UnLtd and Whitelion and provides the inmates the unique and eye-opening opportunity to step outside the 'media bubble' and into the shoes of a young person that has been disconnected from the community due to abuse, neglect, drug addiction or poverty.
"It takes most of us to a place we have never been," says UnLtd CEO Chris Freel, "where we get to understand and experience what life is like for kids who have been locked up.
"Often young people find themselves incarcerated because they have had nobody to guide them, nobody to believe in them and offer them hope and a positive life. So we lock them up and basically set many on a path they will never recover from.
"Whitelion and UnLtd firmly believe in rehabilitation. If we can't rehabilitate children, then who can we help?"
Last year, 80 leaders were locked up and raised over $160,000 for Whitelion, funding a critical outreach program assisting at-risk young people with locating stable housing, finding employment, engaging with education and accessing mental health report. This year, the target is to raise over $200,000 across Sydney and Melbourne.
An awareness campaign for Whitelion created by Ogilvy will be launched at the event.
Repeat offender Vanessa Hunt, digital strategy and investment officer at GroupM is returning this year. "In 2018 I joined the UnLtd team and other industry leaders to spend my first night in jail," she says.
"It was one of the most impactful events I have ever been a part of. It highlighted to me one of the biggest challenges our society faces today… With a young industry like ours it's evident that great kids given the opportunity can do great things and literally change the world,
"By raising money and awareness through Bail Out, we're helping Whitelion bring better opportunities to young people who need them."
To help your favourite industry personality reach their bail and be released from prison, please head to bailout.org.au
Inmates announced so far include:
Media Owner Gang:
Andrew Brain, Pacific Magazines
Dan Stinton, The Guardian
Guy Burbidge, Val Morgan
James Bayes, Seven West Media
James McManus, Pedestrian
Max Eburne, JCDecaux
Natalie Stanley, VOM Network
Neil Robinson, News Corp
Nicole Bence, Pacific Magazines
Oliver Newton, JCDecaux
Paul Blackburn, News Corp
Paul Butler, Val Morgan Outdoor
Paul Brooks, Nine
Rachel Tikey, Pedestrian
Scott Corcoran, Nine Australian Community Media
Sev Celik, Tonic Health Media
Tony Kendall
Creative Gang:
Akim Azzi, Suncorp
Alex Lowes, Tourism Australia
Alex Hayes, Clear Hayes
Andy Wright, Streamtime
Brent Smart, IAG
Carol Morris, Suncorp
Clive Prosser, Advertising Week APAC
Damien Pashby, Ogilvy
John Bastick, B&T
Karen Halligan, KPMG
Luke Hawkins, Ogilvy
Maureen Brooks, Indigenous Literacy Foundation
Michelle Holland, Ogilvy
Paul Everson, JWT
Priya Patel, DDB
Rebecca Darley, Westpac
Rob Pyne, Realizer
Sally Kissane, Ogilvy
Shani Langi, Usual Suspects
Sharice Bellantonio, Usual Suspects
Sudeep Gohil, KPMG
Toby Harrison, Ogilvy
Vivienne Kelly, Mumbrella
Media Agency Gang:
Bendon McKeon, Group M
Gavin Gibson, OMD
Greg 'Sparrow' Graham
Jonny Cordony, Zenith
Kim Hamilton, OMD
Kristian Kroon, Omnicom Media Group
Lisa Gray, IPG Mediabrands
Luke Hutchinson, Hearts & Science
Peter Vogel, Wavemaker
Philippa Noilea-Tani, Wavemaker
Ryan Hedditch, Posterscope
Simon Williams, Carat
Stephanie Douglas-Neal, PHD
Venessa Hunt, Group M
Virgina Hyland, Hyland Media
Wendy Gower, Hearts & Science
Tech Gang:
Angus Keene, Twitter
Adrian Vallelonga, Google
Carolyn Bollaci, Facebook
Catherine Bowe, Facebook
Natalie Hodges, Domain
Paul Sigaloff, Verizon Media
Paul Kent, Sizmek
Peter Barry, Pubmatic
Rachel Page, Verizon Media
Ricky Chanana, Unruly
Stephanie Famolaro, The Trade Desk
Tom Weaving, The Trade Desk
Melbourne Bail Out 'inmates' confirmed so far:
Ally Henthorn, oOh! Media
David Ponce de Leon, Ogilvy
Gavin Macmillan, Ogilvy
Jason Pellogrino, Domain
Jessica Christakakis, oOh! Media
Joseph Lyons, REA
Luke Burr, Verizon Media
Luke Smith, Seven West Media
Mel Green, Facebook
Michael Emmerson, Posterscope
Nick Gill, Google
Paul Bates, REA
Sarah James, Initiative
Stuart Jaffray, Starcom
Marketing is proud to have UnLtd as its Content Partner. UnLtd brings the Australian media, marketing and advertising industries together to tackle a big issue: undoing youth disadvantage. We urge you to visit unltd.org.au and get involved.