UnLtd launches an auction item appeal to assist bushfire recovery efforts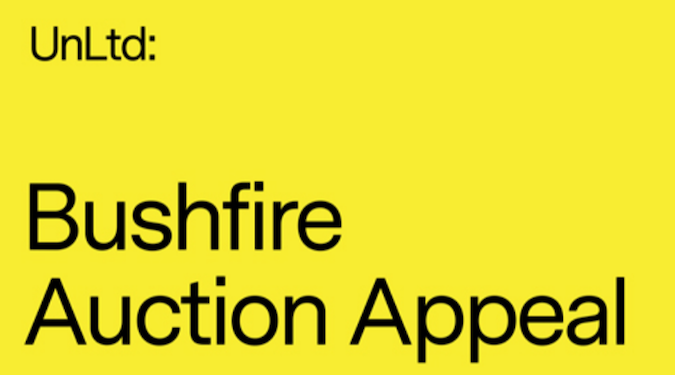 UnLtd has launched an appeal for auction item donations to raise funds for children and young people impacted by the bushfires.
UnLtd has launched an appeal to the marketing, media, creative and advertising industries to donate items and experiences such as tickets to conferences and events, accomodation, unique gifts, items and services.
The initiative offers a different way to give back and allows the industry to raise funds by donating items and experiences that will be auctioned off at the various UnLtd events throughout the year, with all proceeds going to help young people in the bushfire regions.
"Like the rest of the nation, we've been deeply saddened by the bushfire crisis. Having to evacuate and drive through the smoke and red skies in Merimbula, I've seen firsthand the devastating impact the fires have had on the communities across Australia," says UnLtd CEO Chris Freel.
"It was scary as an adult and I can only imagine how frightening it is for the children living in these areas," he says. "What has been incredibly positive though is the response – so many individuals and organisations have given so generously to the various fundraisers. UnLtd is all about giving our industry the power to help but there's only so much you can give as donations so we wanted to find a way for our industry to help beyond just cash donations. We know our industry is a very fortunate one with many of us having access to incredible experiences like corporate boxes at concerts, movie screenings, holiday homes and much more and we want to use those for good," Freel continues.
Those interested in donating can contact UnLtd CMO Nina Nyman, at [email protected].
The items will be auctioned off at various UnLtd events throughout the year, starting at the Big Clash event taking place in Sydney on 13 Feb and Melbourne on 27 Feb.
The funds generated from all the auctions at UnLtd events during 2020 will go towards critical programs helping children and young people in the regions heal from the trauma of the fires.
Rachel Troy, COO of UnLtd explains "What we see often after a natural disaster is an immediate response in donations – which is of course fantastic – but what sometimes gets forgotten is the long-lasting impact these tragedies have on the communities, especially the children. Our charity partners are all experts in breaking the cycle of disadvantage and the funds raised through our auctions this year will go to fund programs that tackle the trauma of these devastating fires, to help children heal and to stop the cycle before it develops into bigger issues."
To donate an item, click here »
Marketing is proud to have UnLtd as its Content Partner. UnLtd brings the Australian media, marketing and advertising industries together to tackle a big issue: undoing youth disadvantage. We urge you to visit unltd.org.au and get involved.