More than $55,000 raised at UnLtd Cup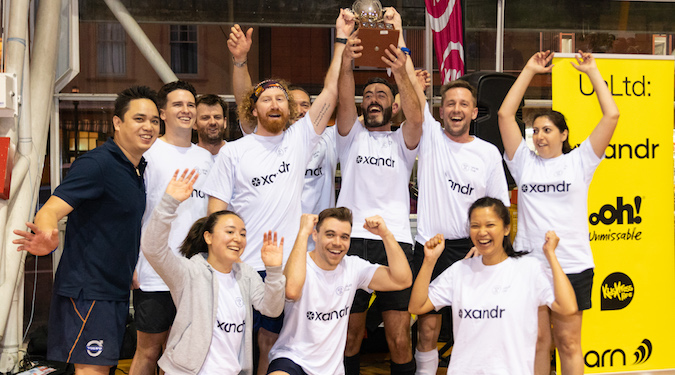 The eighth UnLtd Cup indoor soccer tournament raised more than $55,000 for KidsXpress in Sydney this week.
CBS Interactive and 10 won the tournament, defeating The Trade Desk 6-0 in the final.
The annual tournament sees 16 teams from the media, marketing and creative industry come together for a day of five-a-side indoor soccer.
The event has so far raised more than $300,000 for KidsXpress, an UnLtd charity partners that helps children and caregivers transform the impact of childhood trauma into a life full of hope and a future all children deserve.
"The vital funds raised at this event go directly to provide support for children living with adverse childhood experiences," says Margo Ward, founder and CEO at KidsXpress. "Living with the horror of family violence, abuse and/or neglect, or the sadness and confusion that descends from separation and grief is too much for our children to cope with alone. The UnLtd Cup annually raises funds that allows our therapists to intertwine hope, opportunity and possibility for our children through our trauma informed expressive therapy and education programs."
This year, the event is also launching in Melbourne on 22 August. Limited spots are available. Contact [email protected] to have your chance at glory.
"Now eight years old, this event gets stronger every year," says UnLtd CEO Chris Freel. "With more than 200 men and women coming together from across the industry, it's a great spectacle and the standard is incredible."
The event was sponsored by Xandr, ARN, Amobee and oOh!media. Participating teams included ACM, Amobee, ARN, CBSi/10, Dentsu, Domain, IPG Mediabrands, OMD, oOh!media, PHD, Quantcast, The Guardian, The Trade Desk, Val Morgan, Verizon Media and Xandr.
Marketing is proud to call UnLtd a Content Partner. Last week it announced the launch of the new Pitch for Purpose social purpose award program. We urge you to visit UnLtd.org.au and get involved!
Further Reading:
Image credit: Supplied