When social media is not social media
Recently a client asked me if we could use a term other than 'social media'.
The reason being she wanted to convince her CEO of the need to pursue a social media strategy but realised that social media, in his mind, meant Facebook.
When social media is mentioned, 99% of people think of Facebook (and possibly Twitter) and relate to their own experience/lack of experience, misgivings and scaremongering. It's generally cool to be negative about social media.
So, let's park the term 'social media' when referring to the tools
What's more interesting is the kind of information the tools can impart. Social media now becomes a means to an end, the 'end' being content marketing.
This can be best described as anything a brand produces that, were it unbranded, would still hold value and be of compelling interest. Over time this becomes a platform for positive advocacy as the social media-based community grows.
In the September issue of Marketing magazine 'The Debate' [read online here – Ed] asked several people if they agreed with the following statement 'Content marketing and branded content are simply part of the latest fad in marketing, rather than the future of the discipline'.
In my view three people got the answer very right and one person… very wrong.
Content marketing is not new
One of the earliest forms of content marketing came from John Deere, blacksmith and inventor, who invented the polished steel plough in mid-19th Century. In 1895 'The Furrow' was published to help farmers deal with the challenges of farming and development of the Midwestern United States. Today 'The Furrow' is published in 14 languages for farmers and ranchers in 115 countries and has a Facebook page with 1.3 million likes.
A later example, in 1933, came from Michelin and their famous Michelin Guide. Clever stuff this. There is nothing less interesting than tyres so they gave people a reason to use their tyres by rating restaurants. One star indicates a 'very good cuisine in its category', a two-star ranking represents 'excellent cuisine, worth a detour', and a rare three stars are awarded to restaurants offering 'exceptional cuisine, worth a special journey'.
Jumping forward to today one of the most notable social-content marketing successes is Burberry Group. A recent Booz & Company report 'Scaling Up Social Media' (May 2012) quotes Burberry's creative director as saying, "Burberry is now as much a media-content company as we are a design company."
A few stats from the report which I've updated at time of writing: Burberry's Facebook has 13.6 million likes, YouTube has 16.2 million views and Twitter has 1.2 million followers. You can read the full report here.
Some key stats, from the report, for any one in doubt:
40% of the 117 companies surveyed said it was on their CEO's agenda,
60% said it was a top marketing priority,
78% believe that social media efforts enhance their marketing effectiveness,
95% expected to invest more in social media,
56% expected to at least double their investment within three years, and
28% expected to quadruple their investment.
Three weeks ago I participated in an excellent webinar entitled 'The Content Marketing Revolution: Trends and Tips for Content Marketing Success'. Part way through we ran a poll asking 'What is your biggest content marketing challenge?' Over 50% struggled with engagement and buy-in.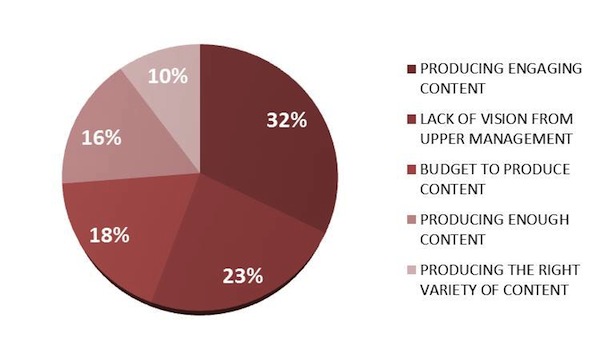 I think these two are inherently linked. After all, if you are struggling to engage with your content approach then it's no wonder upper-management struggle to support it.
My view is simple. Most brands are starting in the wrong place. They should be starting with the 'why?' not the 'what?' or the 'how?'
The 'why?' is about asking what permission you have to engage with your customers and in what context? That is, why should they care what we say? This is the place to start.
From there it flows into the role of content and the type of content needed to meet the objectives, whether it is awareness (entertain/educate) or sales (inspire/convince) on a sliding scale of emotional to rational.
Wrapping itself around this approach are the mandatories of community management and monitoring and measuring. The latter is a combination of bespoke ROI metrics and real-time analytics.
There's much to think about for most brands as they simply leap head-first into Facebook, chasing likes and largely missing the point. Here's how Walmart is learning the hard way.
It's a shame when the term 'social media' is sufficiently muddied that we have to look for alternatives.
Social media experiences, as Booz & Company nicely put it, will dramatically transform how brands connect with customers. By refining their use of social media, companies can not only create rich new social media experiences for their customers but, like Burberry, transform their organisations and unlock market-leading performance.
I'll leave it there.